By Ingrid Sjostrand
FOR ALMOST FOUR YEARS NOW THE FORMER HAZEL PARK RACEWAY has been morphing from an iconic landmark into what could become an iconic economic engine for the city – the Tri-County Commerce Center.
Commercial real estate developer Ashley Capital purchased the land and is currently constructing its second of three buildings on the 120-acre property at 1400 10 Mile Rd, located at the corner of I-75 and I-696.
Building Two, which is 650,000 square feet, is scheduled to be completed in November 2019 and is already attracting potential tenants, according to Construction Project Manager Collin Graw.
"We've already started getting quite a few prospects in a building that's not even done yet. We don't even have a floor yet," Graw says. "With the type of interest we are getting right now, we are comfortable moving forward with getting the site pad ready for Building Three, which won't be done until 2021."
Building One of the Tri-County Commerce Center was completed in the spring of 2017 and quickly attracted three well-known tenants – Amazon, LG Electronics and Bridgewater Interiors – which occupy four of the spaces in the 575,000 square foot building, leaving only one small space still available.
"In one year, we took a property that had maybe 50 jobs and created 340 permanent jobs in one building and literally hundreds of subsidiary jobs," Graw says. "From a financial standpoint, it couldn't be more successful."
The importance and history of the Raceway to the community was not lost on Ashley Capital though, so they found a way to preserve the southern yellow pine that made up the horse stables.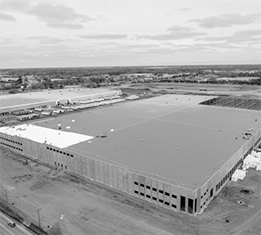 "When we recognized the value of the wood, we thought 'This could be a way of honoring this iconic structure and keeping memories alive by keeping the wood in Detroit.'" Graw says. "We immediately started seeking solutions to save the wood."
Ashley asked two local artisan companies, End Grain Woodworking Company and Architectural Salvage Warehouse of Detroit, if they could repurpose the lumber. Both jumped at the chance and have created custom furniture, and one-of-a-kind pieces available for purchase.
WHILE THE TRI-COUNTY COMMERCE CENTER has received mostly positive feedback and support from the City, Graw says there has been some hesitation from residents that their quiet corner of the city is being disrupted.
"To put it in the most diplomatic terms, the increased traffic has kind of ruffled some feathers some of it rightfully so," he says. "Some people go through the neighborhoods at high rates of speed. We've encouraged the City to enforce the laws and we've tried to put in policies to help control that on the property."
He encourages residents to be open to the change and see the benefits the Tri-County Commerce Center will bring to Hazel Park.
"We encourage the community to embrace it. It's a big change but it's a change for the better and will really improve the city," Graw says. "It's 120 acres that is going to be paying a lot in taxes and is only going to have a positive residual effect on the community as a whole. Really, take pride in the fact that developers like us and others are choosing areas like Hazel Park to invest and really better the entire region."