Loui's Pizza Gets National Recognition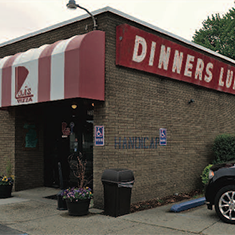 By Sara E. Teller
HAZEL PARK IS NOW TRAVEL CHANNELFAMOUS! The globe-trotting channel recognized city staple Loui's Pizza as one of the best pizzas in the country on a January 2019 episode of Andrew Zimmern's The Zimmern List. But this shouldn't be news to residents, as most have known it as number one since its opening in 1977.
Owner Nykolas Sulkiwskyj says the exposure is a reminder that their formula is working and is creating a whole new crowd of fans.
"It was very surreal to be featured on Andrew Zimmern's show. The large camera crew was a little overwhelming, but it was overshadowed with the pride we have for our craft." He says. "The feature has affected our business in many ways. The positive effect of the show is shown when we see many new faces coming in."
LOUI'S, LOCATED AT 23141 DEQUINDRE RD, is most known for its Detroit-style pizza. Baked in a rectangular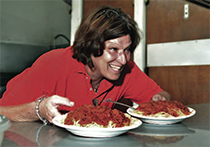 pan, the pie has crispy corners and thick, fluffy dough. Sulkiwskyj says there are a few other tricks that make Detroit-style special, including its caramelized cheese crust.
"Our pizza is special due to our 'old school' cooking style and our 'nevercut-corners' business approach," he says. "We cook our pizzas via brick oven and we vowed to never switch to conveyer-style ovens."
Another appealing aspect of Loui's is the atmosphere. The restaurant gives off a warm, Italian feel and the walls are lined with chianti bottles signed by customers and hung amongst string lights.
"The atmosphere at Loui's is nearly the same as back when it opened, including the beautiful and unique chianti bottles that our customers sign and we in turn use as décor," Sulkiwskyj says. "We try
to keep the 'old school' vibe and style to pay homage to the generations of customers that have supported us for many years."
The most popular pizzas at Loui's are the traditional cheese and the pepperoni. And the antipasto salad with homemade Italian dressing is another musttry. Sulkiwskyj's has a few favorites of his own too.
"Personally, I either go for the cheese, pepperoni, mushroom and onion pizza, cooked well," he says. "Or a baked cappelletti; which is meat stuffed noodles with our homemade spaghetti sauce, then topped with cheese and baked in the oven. It is quite delicious!"
And he knows his way around the menu pretty well, having worked at Loui's since his teen years.
"I started helping my grandfather at the restaurant, while in high school. I would come in on weekends and help with preparation of pizza dough," he says. "After my grandfather passed away, I was given the reins of the business. I continue to prepare the pizza dough, while picking up managerial duties."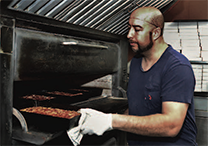 He doesn't see Loui's slowing down anytime soon, especially with the new TV fame, but Sulkiwskyj knows they wouldn't have the success they do without the City of Hazel Park and the community that's been eating there for over 40 years.
"My favorite thing about Hazel Park is how close the community is to one another," he says. "The 'family-type feel' everyone shows is fantastic and we wouldn't change it for the world."