Great Things Happening in Downtown Hazel Park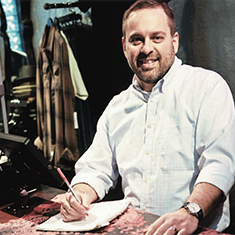 By Maggie Boleyn
"DOWNTOWN" IS A UNIQUELY AMERICAN TERM, referring to the central business district of a city. Plans are continuing apace to develop Hazel Park's downtown. "We have a growing food and nightlife scene," says Mike McFall, member of the Hazel Park Downtown Development Authority. He is spearheading the new "Downtown Hazel Park initiative."
McFall says that restaurants and bars like Mabel Gray, Latido at joebar, and Cellarmen's bring many people into the city who have never been here before. "Once here, though, they discover great longtime Hazel Park staples like House of Shamrocks and Kozy Lounge," he adds.
"Downtown" Hazel Park may not be exactly where you think it is. McFall explains: "Downtown Hazel Park is our John R business corridor, roughly starting at 10 Mile running south to 8 Mile." The two-mile stretch is cut in half by I-75 at 9 Mile. "The city is working on creating a more pedestrianfriendly corridor," McFall said. One goal is to make the corridor "more walkable" as well as adding "protected bike lanes," McFall says.
A big part of Hazel Park's Master Plan calls for "attracting millennials and young families." McFall points to several features that make the city attractive for young people.
"Hazel Park's hot, yet still affordable housing market is attracting many young people looking to buy their first home," he said. "Millennials are attracted to thriving eclectic neighborhoods, which is exactly what Hazel Park has to offer. I believe many young people are attracted to the "bohemian" lifestyle Hazel Park offers," he added.
"The friendly people are Hazel Park's biggest selling point," McFall said. "Neighbors look out for one another and business owners are very community oriented, always looking to give back anyway they can."
CREATING AND RETAINING JOBS AND NEW INVESTMENT within the City in order to expand the City's tax base is another priority.
"There are always challenges when trying to attract new businesses, but I think a lot of entrepreneurs are taking notice of the positive changes occurring along the John R corridor, including south of 9 Mile," McFall said. North of 9 Mile, he pointed to the newly-opened Youngbloods, a barbershop and men's clothing store. McFall says there are also other great developments in the works for both north and south of 9 Mile.
McFall is working on the Downtown Hazel Park website, http://downtownhazelpark.com. "This site will feature businesses and events," he said. "It will also be an entrepreneur hub for those looking to open a business here in the city."
Many arts-based businesses have recently opened their doors in the John R Corridor, helping in part to foster the "bohemian" atmosphere McFall spoke of. "For example, Color Ink Studio recently relocated from Berkley to John R south of 9 Mile," McFall said. "It's a beautiful building they completely renovated. They offer art classes, workshops, and have gallery space."
McFall was quick to counter any critics who might fear that Hazel Park is simply becoming another Ferndale. Maintaining the original flavor of the city is important, McFall says.
"I love Ferndale, but I don't want to be Ferndale, I want to be Hazel Park," McFall said. "I am a big proponent that 'Hazel Park is the next Hazel Park.' I'd like bits and pieces of the things that make Ferndale successful, but our Hazel Park identity is important and we want to remain the friendly little city we are known to be. People are attracted to the quirky hometown vibe that Hazel Park has to offer," he concludes.