Study the Past, Plan the Future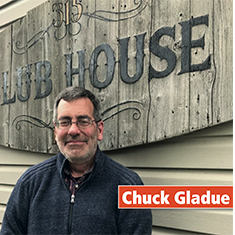 By Maggie Boleyn
To Charles Gladue, studying and learning from history is essential to avoid repeating past mistakes. He quotes Santayana, "Those who cannot remember the past are condemned to repeat it." Gladue uses his love of history to inform his service to Hazel Park residents. Among his many roles, he is President of the Hazel Park Historical Society, a 501(c)3 nonprofit.
"I was drawn to preserving our city's history because, first and foremost, I am a history nut," he said. Gladue adds he was excited to have the opportunity to help establish Hazel Park's Historical Museum, along with his fellow Commissioners. Gladue, a resident of Hazel Park for 24 years, has logged hundreds of volunteer hours, serving on the Planning Commission, Zoning Board of Appeals, Tax Review Board, and Historical Commission and Museum. He grew up in Oak Park and attended Ferndale High School.
Gladue is imbued with a strong volunteer spirit and carries that to his quest for City Council. "I am running for City Council because I believe we need a more balanced Council," he said. "I believe serving is more than just attending the one or two meetings a month that are held. You have to get out and volunteer and interact." In addition to his service to the City through boards and commissions, Gladue chairs the Hazel Park Lions Club Memorial Day weekend.
"This interaction with the community has allowed me to get a good sense of what our residents want to see in our city and more importantly, what they don't want to see," Gladue said.
WHEN ASKED WHAT PLANS HE ENVISIONS FOR HAZEL PARK, Gladue responded, "I would like to see Hazel Park transform back to a city with a vibrant, established downtown. We had it at one time, and if we would have not torn it all down from the '60s to the '90s in favor of strip malls, I firmly believe we would be sitting where Ferndale and Royal Oak are right now."
One City improvement project in the works is the redesign of Scout Park. "I am excited about the upcoming Scout Park re-do, and would like to see that continue, right down to the smaller parks," Gladue said. City Manager Edward Klobucher and the Hazel Park Recreation Department recently presented the design plan for the future Scout Park Playground. The plan, created by children (with help from Playgrounds by Leathers), was made possible by the SutarSutaruk-Meyer Foundation. The playground will be built "by and for" the community. Construction is scheduled to begin in June.
Gladue hopes that the city does not start playing favorites to specific individuals or businesses as has happened in the past. If so, the city would lose opportunities and not allow itself to diversify. A more balanced City Council would prevent this. The City Council and City administration need to be responsive to the concerns of its citizens, including more opportunities for the public to voice their input.
Gladue concludes, "I believe our residents need to be informed of the past, so we, as a city, do not repeat our past errors. And, believe me, we made a lot of those."