Andy LeCureaux: A City Council Member with a Proven Track Record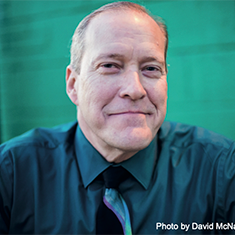 By Sara E. Teller
ATTRACTED TO HAZEL PARK'S "SMALL TOWN" FEEL, Andy LeCureaux moved to the area from Royal Oak in 1994. "I love that Hazel Park is walkable," he said. "And I love the parks."
LeCureaux joined Hazel Park's City Council in 2001 and has been serving on the Council ever since. In recent years, he has been actively involved in the revitalization of the city, stating, "I've been here since we started it, when Hazel Park was nearing bankruptcy, and I want to be here to see the rest of the development through. Being on City Council means we get a chance to set the tone for the entire area by working with everyone and taking into consideration diverse viewpoints."
LeCureaux is currently up for reelection and is campaigning alongside several other candidates. He believes he is best suited for the position.
"I hold a Level II at the Elected Officials Academy, which is offered through the Michigan Municipal League. It gives credits for attending classes at conferences and workshops," he said. "I also have a Public Management Certification from Saginaw Valley State University, which is a program that is offered both online and in-person in Saginaw."
2019 marks LeCureaux's third year on the Michigan Municipal League's Board of Trustees. He explained, "[The League] lobbies on our behalf and educates elected officials, ensuring we're operating properly, letting us know what can and can't work and making sure we understand budgets and project work. Of the two candidates currently on City Council, I have the most experience and a proven track record."
He is the owner/operator of Andrew's Appliance Installation and believes his entrepreneurial experience has helped him during his tenure. "I am a sole proprietor and entrepreneur. As an entrepreneur, I have to listen to my customers," said LeCureaux. "I repaired appliances in customers' homes for 19 years and now install high-end kitchen appliances for builders."
LeCureaux is also Hazel Park's delegate to the Southeast Oakland County Resource Recovery Authority (SOCRRA), and said of his involvement, "I was the Chair of SOCRRA for three years. I was responsible for the change from recycling bins to recycling carts which are larger and increased Hazel Park's recycling by 50 percent. We put the entire operations up for bid and in 2007 entered contracts that reduced costs 15 percent. I helped settle lawsuits on the Authority's behalf and am the only elected official to chair the organization."
As a member of the Hazel Park Youth Assistance Committee since 2001, LeCureaux has helped the area's youth stay out of the court system. He stated, "The Youth Assistance Committee's mission is to give families resources. If a student is skipping school, we provide resources to ensure they stay out of the system. There is a Youth Assistance Officer available to counsel families. Our goal is to strengthen the community. We also provide scholarship money that allows students to participate in day camps and other enrichment activities they otherwise can't afford. This is a coordinated effort between our schools, the city, and the county. Interestingly, the program was founded in Hazel Park by Dr. Wilfred Webb years ago and later became a county-wide initiative."
LeCureaux co-founded the well-known Hazel Park Arts Council, which will hold its eighth annual Arts Fair this August. He said, "Artists who have been involved in the Fair have relocated to Hazel Park, because of its inexpensive housing, good services,and the safe community. Art is an outlet for students, and we're promoting the arts for our kids. It's an important aspect of learning."
MOST RECENTLY, LECUREAUX HAS BEEN INVOLVED IN BRINGING the marijuana business to Hazel Park as part of the City's revitalization initiative.
"It's definitely a revitalization tool that's long overdue," he explained. "We have a set of criteria for those looking to come into Hazel Park and are ensuring they are community-oriented. We are asking that they be involved in the Promise Zone or that a portion of their profits goes back into the community. We are also looking to spread the dispensaries out rather than concentrating the business all in one place. We prefer new construction that doesn't replace existing businesses. We have approved six applicants for licensing, and they are currently awaiting state approval."
On a personal note, LeCureaux has been recruited to sing in the band StarrCross at Starr Presbyterian Church in Royal Oak and has been involved in the church community for many years, stating, "The Presbyterian Church's constitution is pro-choice and pro same-sex marriage. We believe in these things and as a libertarian, that's part of why I'm a member."
Gardening is also a passion of his, which he said is evident by the flowers that color his lawn, and he helps plant vegetables at a neighbor's community garden. LeCureaux is also a member of Hazel Park's Casual Biking Club, which meets at 7:00 P.M. on Wednesdays at Hazel Park High School. Biking is a big part of his exercise routine and gives him an opportunity to get to know residents.
"We've biked to Ferndale, Madison Heights, and other surrounding neighborhoods," he said. "This is my exercise. I often ride my bike around town, and when I collect signatures for petitions, I am usually on my bike. This way, I can always stop and chat."