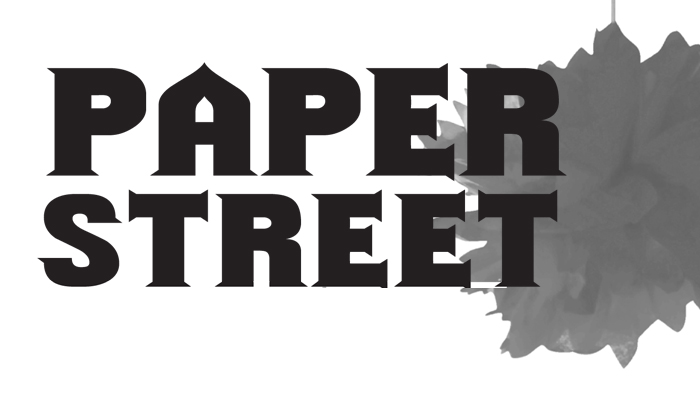 Since it all began almost two years ago, founder and owner of Paper Street Andy Didorosi said, "things are really good. We're working on expanding right now. It's all full at the moment. We've got 14 businesses running full tilt and I'd love to have more space."
Inside the small, bright orange office with the giant fish tank sits Jeff Lazar, just one of Paper Street's many tenants. We caught up with Lazar to find out more about his industrial clean-up business called 877 We Buy Scrap. "We're professionalizing the industry that has often been downgraded by a lot of peddlers," he said. Lazar currently has ten people on his scrap team along with a fleet of trucks parked onsite, just outside in between the warehouses.
Business has pleasantly evolved for Janelle Rogers as well. She's been around Paper Street a bit longer than the scrapper guys on the other side of the wall. Rogers and her business, Green Light Go: Music Publicity, have been working out of Paper Street since 2010. She and her team of creative prodigies focus mostly on indie rock and Americana. "We do national press for our bands," said Rogers. Her clients range from New York to San Francisco, although Ann Arbor's Orpheum Bell was recently brought to spotlightsuccess with the help of Green Light's diverse promotion skills.
So, what's beneficial about Paper Street? "It's a community of businesses where we can bounce ideas off each other. Even if we don't have much in common we're both managing staff," said Rogers. Just outside of Rogers and Lazar's office doors in the center of the common area is a large worktable/lunch table, where both business logic and meals are shared among the Paper Street community members.
The public is invited to eat food there as well. Every third Sunday of the month Paper Street hosts a microgrant program called Ferndale Soup. Attendees pay $5 for soup & bread, and then listen to project proposals from local artisans and entrepreneurs. At the end of the evening, everyone votes for their favorite. The winner gets the cash. Go to www.ferndalesoup.com to find out more.
"We're good friends with the Rust Belt. We're working on offering classes soon on how to make things— how to weld, how to work wood, run a business, do photography," said Didorosi. Soon, he hopes to have many of the products that are sold at The Rust Belt Market made at Paper Street.
Brad Dahlhofer was renting out a portion of what is now Paper Street "and when Andy took over, we just went along for the ride," he said. Dahlhofer is co-founder and CEO of B. Nektar Meadery in Ferndale. He rents space at PS for storage only, but Dahlhofer's Dionysian influence is often enjoyed at one of Paper Street's "ripping after-parties." Beverages can be found at 8 Degrees Plato Beer Company and Western Market, among other area grocers. (Sidenote from the author: I like to bring B. Nektar up to Traverse City, a foodie's paradise, as gifts for the relatives—and to show off the fact that Ferndale is full of local products too. Ha!)
"The locavores trend is really strong here. The closer it's made, the happier people seem to be," said Didorosi. "Because it supports everything — the local tax base, local builders, restaurants — the benefits are endless."
With the buy-local theme slow to catch on in many areas of Michigan, "Ferndale seems to be that green oasis in the middle of that," said Dalhofer. "You lose it when you get out further into the suburbs. They don't seem to really care. They go to their big box stores and buy things that are from God-knows-where."
Co-working space is available for $99 per month and "dedicated desks" are available for $199. Didorosi said that the PS tenants range from people who are fresh out of college and starting their first business to folks who've been at it for 15 years or more.
Paper Street has big plans. Some future highlights are: an auto lab, photo studios, woodworking lab, digital media center, jewelry studio, metalworking lab and whatever else fits the vibe of this funky community- oriented space. Read more at www.welovepaperstreet.com.
We saved Paper Street's location for last. After all, it is named after the sanguinary hiding place in the famous novel and film, Fight Club. To investigate your future office space, take 9-mile east of downtown Ferndale then turn right at Chazzano's Coffee Roasters onto Wanda St. It's at the corner of Wanda and Jarvis on the right. 1511 Jarvis.
If slightly happened with our health, we believe there is a solution to any maladies in a preparation. What medicines do patients purchase online? Viagra which is used to treat impotence and other states united to erectile malfunction. Learn more about "sildenafil". What folk talk about "viagra stories"? The most essential aspect you should look for is "sildenafil citrate". Such problems commonly signal other problems: low libido or erectile dysfunction can be the symptom a strong heartiness problem such as soul trouble. Causes of sexual disfunction include injury to the penis. Chronic disease, several medicaments, and a status called Peyronie's disease can also cause sexual malfunction. Even though this medicine is not for use in women, it is not known whether this medication passes into breast milk.