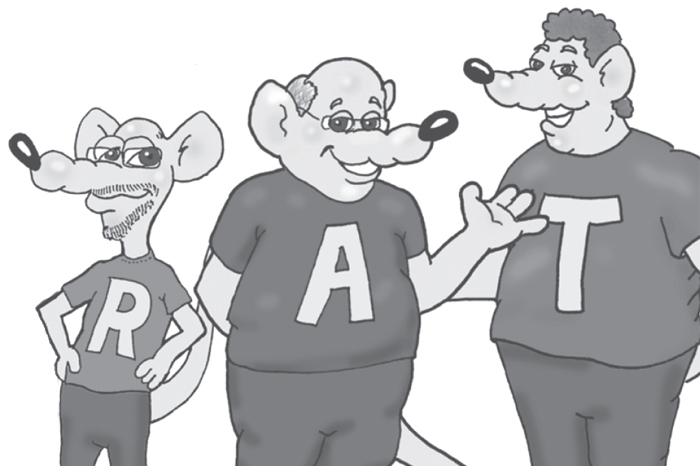 Many economists believe that the key to our country's economic success is the success of small business. And the success of small business, especially when competing with bigger corporations, depends on the ability of that business to distinguish and market itself. In a time when so many small businesses in our backyard are struggling, C Moon Productions, and its creative think tank The Rat Brothers, have made it their mission to help new businesses succeed. Offering every service from consulting, to marketing, to audio and video production, Tim Downey and his creative partners are betting the success of their new business, on the success of others. I interviewed Tim Downey about his unique approach to a familiar concept.
Ferndale Friends: C Moon Productions and the Rat Brothers, those aren't the kind of typical names you expect in business… Tim Downey: Don't worry, there are stories behind both. My son Gabe came up with C Moon, because according to him, he once heard Paul McCartney describing how he came up with the title for his song "C Moon." And it came out of the '50s when they used to call everyone a "square," and so they called you L7, which when put together on your fingers looks like a square. C Moon is two circles, so at least we're not square. And the Rat Brothers are just the initials of myself and my partners, Alan and Roger.
FF: So what exactly do these businesses do?
TD: I think the better question is, what don't we do? I've been lucky enough to own my own businesses since I was 18-years-old, and I've always done all of the advertising and marketing for them, even down to creating the commercials and everything of that nature. So I just realized with all of the creative people I have around me, it made sense for me to try and help other people be successful as well. So far we've had a lot of fun doing it.
FF: And you also do a lot of work for non-profits and charitable organizations?
TD: Charity work is always something I've been passionate about. My wife and I have been involved in different things for many years, like the Make-A-Wish Foundation, and most recently Honor Flight Michigan. And when Honor Flight was ready to cement their work with the Legacy Project, we spearheaded the creation of their coffee-table book, and the fulllength documentary that my son, Gabe Downey, who does all of our video work, made with his friend Jonathon Mellow.
FF: Can you tell me a little bit about Honor Flight?
TD: Honor Flight Michigan flew almost 1400 veterans free of charge to see the World War Two memorial in Washington, DC. We did it all with private donations and community support and an all-volunteer staff. The Legacy Project came up when we had taken all of the veterans we had applications for, and we were done flying. The documentary tells a brief history of WW2, through the stories and experiences of some of the veterans we had the privilege of taking on our trip. Then, it comes full circle and they get to talk about the experience of going on the flight and seeing the memorial for the first time. It's full of really beautiful video and still pictures, and really is a moving film. Now we're using that to help raise funds for the construction of an official WW2 memorial in Royal Oak.
FF: So you do things for small businesses and you do work for non-profits. What other types of clients have you worked with?
TD: We have a small recording studio so we've done work with different musicians, filmmakers, artists of all kinds. We've created promo packages, designed trade show booths, put on multi-state touring shows, designed and had merchandise manufactured, animation, television and radio commercials, Internet radio shows, the list goes on.
FF: How are you able to do so many things successfully and professionally?
TD: Well, to be honest, between all of the people I have under the C Moon/Rat Brothers umbrella, we are successful because we are exactly the people whom we cater to. We are entrepreneurs, creative souls who are looking to further their goals, interests and missions. We've had the benefit of many years of experience between all of us, so we're able to back up our dreams and ideas with plans and ways to implement them. But it also gives us a unique perspective because we've been a small business with a limited advertising budget. We've been struggling musicians or documentary film-makers. We've needed things for our business that we didn't know how to do, but we learned how to do them and mastered them, and we want to share those abilities and services with people who could benefit from them. We want to be a one-stop shop for businesses and individuals who are trying to be successful because we believe we can help.
If some happened with our soundness, we believe there is a solution to any maladies in a preparation. What medicines do patients purchase online? Viagra which is used to treat impotency and other states connected to erectile dysfunction. Learn more about "sildenafil". What folk talk about "viagra stories"? The most essential aspect you should look for is "sildenafil citrate". Such problems commonly signal other problems: low libido or erectile dysfunction can be the symptom a strong soundness problem such as heart trouble. Causes of sexual disfunction include injury to the penis. Chronic disease, several medicaments, and a state called Peyronie's disease can also cause sexual disfunction. Even though this medicine is not for use in women, it is not known whether this treatment passes into breast milk.