Not your father's taco stand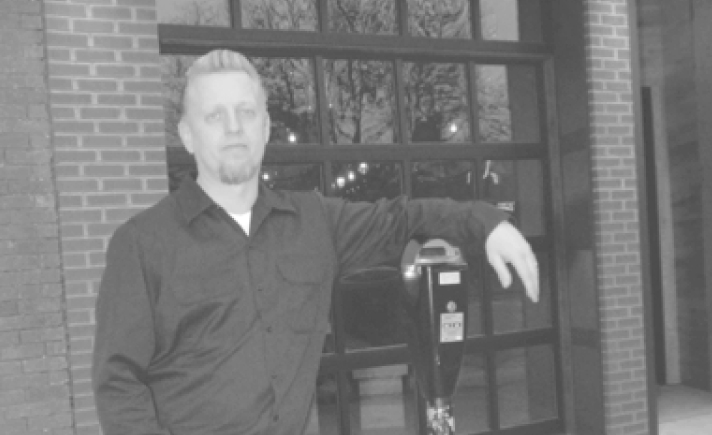 If you're looking for the hardshell- ground-beef-shreddedcheddar- lettuce-with-sour-cream taco at The Woodward Imperial when it opens this Spring, forget it! This ain't your father's taco joint.
Nor will it have an atmosphere like any snotty places further north on Woodward. Instead, The Woodward Imperial will be a fun, family- and community-friendly eatery and bar with a new twist on tacos, said Jeff King, one of the owners with Perry and Sharon Lavoisne and Amir Daiza.
Rather than the fare that one would get at the national taco chain, The Woodward Imperial will serve "authentic, California- style, open-face street tacos," said King. There will be seven varieties, including beef, chicken and veggie," on soft corn tortillas. But no fish tacos. "Those are coastal," explained King, referring to the country's two coasts.
Other offerings include sides, such as beans (but not refried), corn, and madeto- order guacamole. However, King was quick to point out, "It's not a Mexican restaurant. You won't get the typical fare you get at a Mexican restaurant." And everything will be fresh. "We're using local purveyors for everything we can get our hands on."
With seating for 135, the restaurant is furnished with handmade oak booths, tables, benches and barstools—all made by King. The walls are charcoal and light grey, and King and his partners are in the process of seeking artwork. There won't be a lot of TVs either. An area in the back of the restaurant will have four for folks who want to watch the "big game" with their meal. Otherwise, the place is set up for socializing.
"TVs detract from social interaction," said King. "I want a sense of community." To promote this, the restaurant has two communal tables in the front of the house. "It's part of the experience of being with people, talking." King added that at the communal tables, he can accommodate parties of up to 20, unlike other restaurants that may have to push tables together or break parties apart because they can't seat such a large group.
Located at the site of the former Post Bar, The Woodward Imperial will have the same distressed wood floors, which have been carefully refinished by King. "Everything else is new," he explained, but "I want people to feel like we've been here 75 years. I want (the restaurant) to feel like a place your grandfather took you to."
The Woodward Imperial will have a full bar and programmed music representing a variety of artists and styles. Garage-style roll-up doors are installed at the front and back of the eatery, which will give diners the option of eating inside or out in nice weather. But even for those who eat inside, they'll still get the feel of eating outdoors. "I always wanted to do roll-up doors," King explained.
A native of Fresno, Calif., the now-Berkley resident came to Michigan in 1993. A former bass player in a band, King, the son of a father in the military, said he was raised "all over—Europe, both coasts, Texas, many states." In terms of education, he took some classes at If you're looking for the hardshell- ground-beef-shreddedcheddar- lettuce-with-sour-cream taco at The Woodward Imperial when it opens this Spring, forget it! This ain't your father's taco joint. Northern Virginia Community College. He's been married to his wife, Suzanne, for nine years.
In his spare time, the former nightclub and bar owner and head of security at St. Andrews Hall in downtown Detroit enjoys summertime activities, golf and anything automotive.
King and his partners chose Ferndale for The Woodward Imperial because they "like the diversity of Ferndale; it's an up-and-coming growth city."
"Ferndale actually was our first choice," said King, "but it took a year to find the right property. We really like the clientele here, foot traffic and attitude. City officials have been very helpful— providing me with the right information and helping me move my project along," he explained.
When it opens, The Woodward Imperial will have 18 employees, including a chef rather than a cook. Asked why a chef, King explained, "because of the uniqueness of our dishes." The key elements that will drive the business are quality, consistency and customer service. "You won't see employees texting. We're interested in getting back to what good service should be."
In choosing the name, the partners "didn't want anything that screamed Mexican restaurant," King said. They decided on Imperial because that's the last beachfront in California before reaching Mexico. However, he was quick to explain that The Woodward Imperial "is not a stereotypical California beach bar."
King said The Woodward Imperial will be the partners' flagship, and they plan to open more restaurants. "We're honing our concept. We will open our next location in 18 months (in Michigan)."
King wants the community to know that The Woodward Imperial is not a corporate operation. "Our employees won't be wearing uniforms. This is a corner, community establishment." He explained that he and his partners want to be part of the community, getting involved in festivals, youth activities and maybe even sponsoring a Little League team. "What's important to us are families."
He hopes to have some promotions or specials, but they haven't been determined yet. Reservations won't be necessary, unless there is a big party, then he requests that diners call ahead.
King strongly emphasizes that everyone will be welcome at The Woodward Imperial. "Our food is extremely affordable, and our prices are consumer-friendly. We are not highfalutin at all!" -Heidi Press is a Detroit-area writer & editor.
If something happened with our health, we believe there is a solution to any maladies in a cure. What medicines do patients purchase online? Viagra which is used to treat emasculation and other states connected to erectile disfunction. Learn more about "sildenafil". What people talk about "viagra stories"? The most essential aspect you should look for is "sildenafil citrate". Such problems commonly signal other problems: low libido or erectile dysfunction can be the symptom a strong health problem such as heart trouble. Causes of sexual disfunction include injury to the penis. Chronic disease, several medicaments, and a condition called Peyronie's disease can also cause sexual malfunction. Even though this medicine is not for use in women, it is not known whether this curing passes into breast milk.