Stories by Sara E. Teller
Photos by Bernie Laframboise
Statement from the Superintendent
Dr. Daveda Colbert
The City of Oak Park is a great place to live, eat, and work. It also provides amazing learning opportunities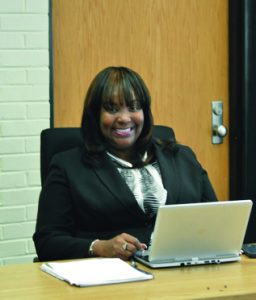 for students of all ages. Oak Park schools truly provide a great educational experience for students with various abilities. The goal is for all students to reach their full potential. We are closing the opportunity gap. We are working daily to increase student achievement while providing exposure and opportunity that removes barriers that hinder success. Oak Park schools has a caring and committed workforce, as well as very dedicated employee partners. We also have a very supportive resident and business community.
As a resident of Oak Park since 2003 and the proud Superintendent since December 2010, Oak Park is the place I call home. Here are a few of our accomplishments throughout my tenure:
■ Increased enrollment from 3,100 to 5,100 students from December 2010
to December 2017.
■ Inherited a $8 million deficit in December 2010, and as of the June 2017 audit, the district has a $14 million surplus.
■ Passed Sinking Fund Renewal for 20 Years.
■ Award-winning marching band, drum line, and step team which includes students involved in these activities at elementary, middle, and high school levels.
■ Award-winning choral programs at each level with stand-out performances from Pepper Choir, Oak Park Voices of Inspiration, and Oak Park High School Choir.
■ Award-winning underwater robotics at all schools (elementary, middle, and high school).
■ "Three-Peat" State Championship Division I Girls Track & Field Team, also national champions.
■ State Championship Division I Boys Track & Field Team, also national champions.
■ Infused technology at all levels to establish 21st Century Learning Environments at elementary, middle, and high school level.
■ Partnership with St. Johns Providence Health Systems and opened a school-based health clinic in OPHS.
■ GSRP (Great Start Readiness Programs — Pre-School for four-year-olds) in all three elementary schools.
■ Two Alternative Learning Programs and One Virtual Program – Options for all students, which includes a career-based high school program, a second-chance program, and an online program to meet the needs of all students.
■ A number of Wade McCree Scholars and Gates Millennium Scholarship finalists and winners.
■ A number of students taking Advanced Placement classes at Oak Park High School and CASA (Center for Advanced Studies and the Arts).
■ Great partnership that works with the City of Oak Park (Mayor Marian McClellan, City Manager Erik Tungate, Oak Park Public Safety Director Steve Cooper, and many more elected officials and department heads).
Notable District Highlights
Oak Park Preparatory Academy Students Share Their Poetry
On Wednesday, June 7, 2017, Oak Park Preparatory Academy (OPPA) released their fourth volume of poetry, entitled, "Words Ain't No Walk in the Park." The book was written entirely by OPPA students, and published by the InsideOut Literary Arts Project.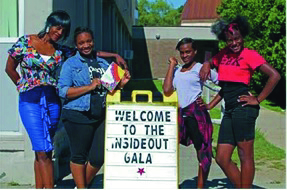 InsideOut is Detroit's largest literary arts non-profit and Oak Park Schools has had the honor of working with the non-profit for four consecutive years. Since 1995, InsideOut has helped more than 50,000 Detroit youth express themselves through the written word. The InsideOut Poetry Gala featured OPPA students reciting their work, and staff sharing some of their favorite selections from the book.
Elementary School Students Help to Feed the Hungry
Einstein Elementary and Key Elementary students recently participated in the "Change the World with Onigiri Project" under the guidance of world language teacher, Ms. Yukliko Fujiwara.
The program was coordinated by Table for Two (TFT), which originated in Japan. TFT is an international non-profit organization that aims to solve the program of unbalanced food distribution between the U.S. and development countries. Each year, TFT spearheads the World Food Day campaign with the goal to deliver one million meals to children in need. Oak Park elementary school students helped to feed children in Africa by making onigiri, a rice ball, which is considered a traditional, healthy snack in Japan. Photos of the onigiri made by students were posted to TFT's website. For every photo posted, the sponsor companies donated five hot meals to a child in Africa.
21st Century Learning: Pepper, Key & Einstein Elementary Schools and Preparatory Academy
Pepper, Key and Einstein Elementary Students, as well as those at Oak Park Preparatory Academy will find
their classrooms fully equipped with 21st Century learning tools when they return on Tuesday, August 29, 2018. Interactive projection screens called Promethean Boards, and laptop carts will be available. These tools are designed to keep students engaged while enhancing their technology skills and overall learning environments.
Alternative Education Center Students Gain Real World Experience
The Oak Park Alternative Education Center is open to students ages 15 to 21 who are seeking a high school diploma. Basic vocational skills are also offered to prepare students for a future career path. Enrollment is Monday- Friday from 8:00 A.M. to 3:00 P.M., and is offered throughout the entire school year. All academic courses are facilitated by certified teachers. Some recent student initiatives include:
Staff Lunch Project
Alternative Education Center Culinary Arts students launched a Staff Lunch project. The project is designed to help the students gather important information about starting their own business. Students go to each staff member and present a menu for the day. Each student rotates to the lead cook position weekly. The lead cook directs the flow of the kitchen and assigns the job responsibilities to others. After the meals are prepared, a select number of students deliver them to the staff. The goal is to teach students basic catering techniques.
Video/Music Production Students: Interactive Video Project
The Video/Music Production students teamed up with Everest Institute of Southfield to create an interactive video. Three students were selected to go to the campus with camera equipment. The final product will allow potential Everest students to take a virtual tour through the campus.
Building Trades Students Given Hands-On Training
Building Trades students are working on a project that allows them the opportunity to use the tools of each trade to find what he or she has a natural inclination towards pursuing. The joining of each component that brings the units together gives the students hands-on experience producing a functional product. The Building Trades students also visited the Detroit Electrical Industrial Center. The center provides a paid on-site apprenticeship program and classroom training. Student Khalil Brown, who was identified as qualified for the program, stated this is the most fun in school he has ever had.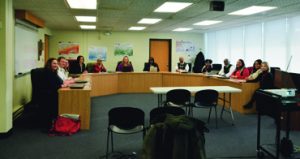 Oak Park Schools, a school-of-choice district, has more than 5,000 students. Oak Park is a school-of-choice district. Students must be a resident of Oakland, Macomb, or Wayne Counties, between the grades of Pre-K-12, to attend.
• Einstein Elementary School (Pre-K-5) 14001 Northend St 248-336-7640
• Key Elementary School (Pre-K-5) 23400 Jerome Street 248-336-7610
• Pepper Elementary School (Pre-K-5) 24301 Church Street 248-336-7680
• Oak Park Preparatory Academy (6-8) 23261 Scotia Street 248-336-7620
• Oak Park Freshman Institute (9th Grade only) 22180 Parklawn St 248-336-7780
• Oak Park High School (10-12) 13701 Oak Park Blvd. 248-336-7740
• OP Alternative Education Center (Ages 15-21) 12901 Albany Street 248-291-6722