Mayor Marian McClellan : Envisioning A Vibrant Future For Oak Park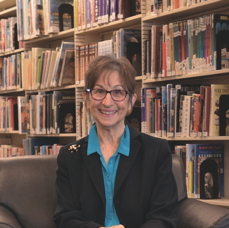 Story by Mary Meldrum
Photo by Bernie Laframboise
Marian McLellan, Mayor of the City of Oak Park since 2011, is part of an enthusiastic municipal team that is focused on creating a vibrant and progressive future for Oak Park.
Two big strides that the City made that contributed to the progress, according to Mayor McClellan, have been establishing an Economic Development Department and jump-starting the City's communications department. New infrastructure projects, business development, affordable housing options, clear and upbeat City messaging and exciting activities have all strengthened the quality of life that Oak Park offers. And all of this is turning heads.
The housing market is robust and gaining momentum, with market trends showing a 23 per cent increase in median home sales over last year. The commercial real estate market is following this trend. With many properties available at a good value, businesses are shopping the selection.
"Our population is going up and we have multi-family housing moving in. Oak Park is still the last good bargain for wonderfully built homes," says McClellan. "We see more and more young people deciding to make Oak Park their home. I see retail getting renovated. And, as we finish the renovation on the Nine Mile Redesign project, we'll attract more and that will bring people from other cities in."
One other piece of big news that will give Oak Park an economic boost: after 60 dry years, licensed Oak Park restaurants can now sell beer, wine and mixed drinks. Under the Michigan Liquor Control Commission guidelines, a liquor license can be issued to one business for every 1,500 residents. This gives Oak Park the ability to issue approximately 20 licenses. Only two licenses have been issued out of the 20, with a third in consideration at the time of this writing. This will catch the attention of restaurant chains that previously would not consider Oak Park as a viable location for their business. Liquor licenses uncap potential in Oak Park and will bring in more jobs, tax dollars, more traffic and revenue from residents inside and outside the City.
Mayor Marian McClellan says, "This allows family restaurants to serve beer, wine and mixed drinks with meals, and shows promise in attracting the type of commerce that can spur economic development within our city while serving the citizens who would love to patronize businesses close to home."
The economic profile of Oak Park has a great foundation with sidewalks on all the roads, LED street lights, a mature tree canopy, and three public school districts in the city–Ferndale, Berkley and Oak Park schools. Additionally, the housing stock is beautiful, solid mid-century modern brick homes that are in high demand.
"Oak Park has always maintained infrastructure," Mayor McClellan describes. "We have the best city services in the area. Our Public Works employees take a lot of pride in what they do. There is a lot of good will in the city. Police officers do triple-duty in Oak Park; the same officer is police, fire and medical first-response."
One noteworthy thing that separates Oak Park from many other communities in the area is their very stable diverse population. There is a lot of attention paid and energy put into supporting and promoting its valuable diversity. This is reflected in their events as well as the private Montessori and Jewish schools located in the city. There is also an accredited Rabbinical college where people all over the world come to study.
Economic development is on a breakneck pace and gaining steam. People are waking up to the City's blooming potential, its great location and the value of the City's real estate.
Mayor McClellan is excited when she envisions the city's future: "I see new energy and excitement. There will be businesses right up to the sidewalk – not behind a parking lot. There will be many storefronts that are mixed-use construction with a place to eat, a place to live, a place to shop and a place to play," envisions McClellan. "They will have two and three stories, all within walking and biking distance. There will be boulevards, green spaces and parks."