Highlighting Oak Park High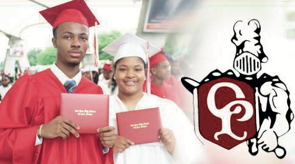 Story by Sara E. Teller
Photo by Bernie Laframboise
Oak Park High School is a secondary learning environment nestled in the heart of the City of Oak Park. A community of educators proudly serves the diverse needs of the student body and functions as a professional
learning community with data teams as our nucleus," said High School Principal Charity Jones.
Oak Park High has received its fair share of notable recognition and awards. In 2017, the high school was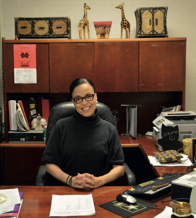 recognized as a model . Only approximately 200 schools nationwide and in Canada receive this honor. "PLCs are schools and districts in which educators recognize the key to improved learning for students is on-going, job-embedded learning for the adults who serve those students," Jones explained. Educators focus on learning, build a collaborative culture, and create a results orientation.
"By functioning as a professional learning community, implementing the data team process, and focusing on continuous school improvements over the next few years we will have a data-driven culture that focuses on meeting students' individual learning needs," Jones said. "It is our goal to build positive relationships, to cultivate a healthy and safe learning environment where all faculty and staff are using data to inform decisions and exercise accountability across the board to ensure increased student achievement for all."
As the high school evolves to meet the expectations of a professional learning community, faculty and staff will prepare fully connected, college, career, and global-ready graduates that will successfully pursue and attain their post-secondary aspirations. Graduates will be fully college and career-ready when their high school experience culminates.
"It is our unique school structure, college preparatory education, fine and performing arts, co-curricular and athletic opportunities that build community and lead our students on a pathway to excellence," Jones added. "Our students also have the opportunity to pursue coursework at Oakland Schools Technical Campus and the Center for Advanced Studies and the Arts. They participate in cooperative internships at William Beaumont Hospital, participate in work-based programs in the community, engage in career days, network with professionals in the Detroit Economic Club Academy and the Women of Tomorrow program. They also obtain technical training in robotics, engineering, health occupations, forensic science, theatre production, music, art, choir, band, Wayne State University C2 Pipeline, etc., to strengthen skills, cultivate talents, and engage in deep learning."
In addition to relevant content material and extended learning opportunities, students will experience the rigor of curriculum aligned with the common core standards, advanced placement courses, honor classes, dual enrollment, test preparation for state and national examinations, and character education. "Our fundamental purpose is to ensure that all students learn at high levels and develop academic and social skills to prepare them for college or a career," Jones explained.
Oak Park High has a uniform set of values that educators abide by. These include:
– Building Relationships and Community
– Prioritizing Learning with High Expectations
– Taking Ownership and Being Accountable
"To accomplish our purpose, we focus on capturing kids' hearts, while functioning as a PLC with data teams as our nucleus. We believe that consistency and intentional efforts to uphold the shared values will help us accomplish our purpose," Jones said.
The Knights in Shining Armor – Oak Park High Athletics
The Oak Park High School Knights are co-champions of the Oakland Activities Football Association White Division, along with Farmington Harrison and Birmingham Groves. They are also 2017 MHSAA District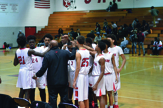 Champions. Coach Greg Carter and the athletic staff led the students to victory.
Oak Park High School's Boys and Girls Track Teams are defending Division I State Champions and demonstrated that on May 11, 2017, at the OAA Gold Championship held at Oak Park High. The girls track team were finalists in the Division I State Championship. Four Oak Park High School All American Track Student Athletes signed letters of intent on college signing day: Cameron Cooper; Louisiana State University. Tamea McKelvy; University of Texas. Bryce Pickett; University of Michigan. Carlita Taylor; Columbia University.
Marching Band Making Its Mark
Oak Park Schools Marching Legion was the big winner at Flint Hamady High School's "Battle of the Bands"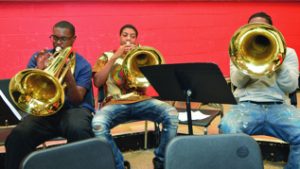 competition on September 23, 2017, claiming victory over marching bands from six schools in the State of Michigan. The Marching Legion swept all six major categories, winning first place trophies in Overall Auxiliary, Overall Drum Major, Overall Drumline, Overall Music, Class A Band, and Overall Grand Champions. "The band's motto is 'Enthusiasm is the Key.' When we are performing, we must always be enthusiastic about it. We believe that by embracing our motto we are able to offer performances everyone can enjoy and appreciate wholeheartedly," said Mr. Virgil Goodwine, Band Director of the Marching Legion.
Notable Staff Achievement
Ms. Kathryn Locano, Oak Park High's ELA Curriculum Coordinator; Young, Optimistic, and United student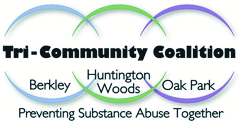 organization (Y.O.U.) sponsor; and teacher leader, was presented with the prestigious 'Power of One' Award at the Tri-Community Coalition's 19th annual Leadership Breakfast held on December 8, 2017.
The non-profit Coalition's mission is to prevent substance abuse in the surrounding cities. Locano was recognized for her commitment to excellence in education, for being an impactful, caring and servant leader, and a long-time sponsor of Y.O.U. Y.O.U. is a student-led club that discusses and addresses issues students face in the school, including mental health difficulties, drugs, bullying, and distracted driving, among others.
Mayor Marian McClellan Visits Oak Park High
Oak Park High School students recently engaged in STEM-based fun during C2 Pipeline's Lights on After-school Event. Wayne State University's C2 Pipeline is an afterschool program that is funded through the Michigan Department of Education to be a 21st Century Community Learning Center.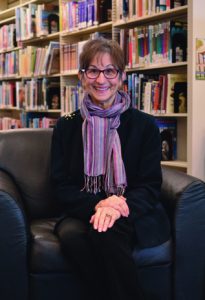 C2 Pipeline has been shown to boost students' grades in math and English a quarter higher by the end of the school year. All high school students are eligible to participate in the program. C2 Pipeline's Lights on Afterschool Event takes place annually, and offers a way for students to showcase to the Oak Park community how the program truly enriches their learning. Oak Park Mayor Marian McClellan participated to show her support of the students.
Ascension St. John Providence Provides In-School Student Care
Ascension St. John Providence has partnered with Oak Park School District to improve access to healthcare for the students and Oak Park community at large. The school-based health center services students ages 5-21 years irrespective of insurance coverage. The health center is staffed with Board-Certified Family Nurse Practitioner Tammie S. Williams, Registered Medical Assistant Krystal Williams, and Licensed Mental Health Counselor Darryl Allen.
Students receive a multitude of health services, including yearly physical exams, sports physicals, vaccines, acute care visits, minor sports injury care, vision and hearing screens and screening for sexually transmitted infections. Also available are programs for health promotion and risk reduction, and mental health counseling including substance abuse and behavior therapy for individuals and groups. Written parental consent is needed for all students under the age of 18. The center hours are 7:30 A.M. to 4:00 P.M. Walk-ins are accepted but appointments are preferred.