Berkley Schools : Helping Oak Parkers Achieve Their Personal Best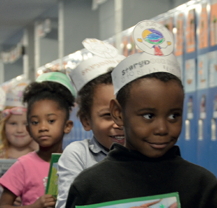 Story by Sara E. Teller
The Berkley School District includes all of Berkley, Huntington Woods and a portion of Oak Park. The District schools inside of Oak Park city limits are Norup International School, a K-8 school, and Berkley Building Blocks childcare centers (Avery and Tyndall). "Children in the Berkley School District boundaries attend neighborhood schools.
Norup serves students who live in Oak Park, and some Schools of Choice students, for elementary school,"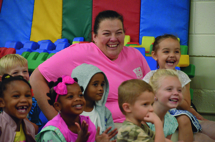 explained Berkley Schools Communications Director Jessica Stilger. She added, "Its middle school, which includes grades 6 through 8, combines Oak Park residents with those from Huntington Woods. This school is very diverse in its student body socio-economically, racially, and religiously. The school is a current International Baccalaureate school."
Norup is known for reaching all learners, and the District has a goal overall to create pathways for students to achieve their personal best, whatever that looks like for each student.
"In elementary school, students excel at their own level using Cultures of Thinking and Reading and Writing Workshop models to enhance their literacy skills to improve comprehension in all subjects," Stilger said. "Students are exposed to weekly art, vocal music, technology, physical education. And in 5th grade students have the option to participate in instrumental music, and attend camp with all other 5th-graders in the District."
When they reach middle school, Stilger said "students can explore robotics, foreign languages, journalism, and various music options, just to name a few. In addition, many students complete high school credits while attending Norup, and 8th-grade students complete a year-long, in-depth community research project. Middle school students can participate in an extensive list of athletics and clubs like swimming, football, cross country, basketball, skiing, tennis, track and field, book club, student newspaper and more."
THERE ARE ALSO EARLY CHILDHOOD DEVELOPMENT CENTERS designed to cater to families in Berkley as well as surrounding neighborhoods, including those in Oak Park. "Berkley Building Blocks serves students
six-weeks-old through age five. The two centers collectively have infant, toddler and preschool classrooms that run both school-year and year-round schedules. The center houses state and federally funded preschool classrooms, including Great Start Readiness Program (GSRP) and Head Start. Enrollment for Building Blocks is not limited to Berkley School District boundaries. In Fall 2018, the two buildings will combine into one childcare center at Avery, after extensive work completes over the summer due to a 2015 Bond passage," Stilger said.
Over 300 students in total enroll in the various Berkley Building Blocks programs each year. "Our centers are known for being high-quality, accredited care centers, dedicated to nurturing, growing and loving each student," Stilger explained. "Building Blocks forms strong family connections, encourages family involvement, hosts three parent/teacher conference sessions each year with all age levels and brings in-house field trips in many times each year to bring the outside world in."
Last year, a Norup student robotics team placed first in the state for their pothole-fixing robot. The students went on to participate in the World competition and placed 4th. A Building Blocks staff member also presented at a national early childhood conference this past Fall.
The biggest charitable initiative Berkley schools are involved in is the Caring & Sharing program run by the Berkley Area PTSA Council. This program is in its 37th year, and each school, including Norup, Avery and Tyndall, work together to collect breakfast foods, canned goods, peanut butter and jelly and any monetary donations. Food and money collection starts in November and wraps in December with hundreds of district families receiving food for the holiday season.
"Berkley School District schools are always giving back to the community," said Stilger.