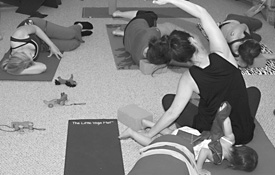 Any parent knows how difficult it is to raise children. Parents are constantly plagued with questions — Should they breastfeed? What toys should their children play with? — and a myriad of others.
Luckily, Nature's Playhouse makes answering these questions a little bit easier. Recently opened on Nine Mile in Downtown Ferndale, Nature's Playhouse offers several courses designed to give parents a natural alternative to more "traditional" parenting styles. Owners Michelle McEvoy and Lisa Ball strive to educate and assist people through the journey of parenthood. Theirs is an all-natural approach to childcare, and no detail is left untouched in their pursuit of that goal.
Lisa says "Our programs are very unique in that all of our classes allow for families to bring their children with them while they learn, get fit in one of our wellness programs, or find help in one of our free support groups to guide them on their journey through parenthood."
To create an all-natural environment, Michelle and Lisa encourage parents to play and explore with their children. The toys inside the Playhouse are all made using natural materials such as wood and cotton. Parents are also encouraged to sit close to the floor, at eye-level to the children. According to their web site, this is so that parents can see the world from their child's perspective.
Nature's Playhouse was originally started by two Waldorf teachers, and the inspiration for the design of the space truly came from that philosophy. [From Wiki: The educational philosophy's overarching goal is to develop free, morally responsible, and integrated individuals equipped with a high degree of social competence.] Michelle took over in the Spring of 2012, when the original owners were planning to close as they were moving out of state. Nature's Playhouse had come to be a second home for her and her son, Zander, and she couldn't stand to see it close.
Michelle and Lisa met about a year later when Lisa expressed an interest in becoming a part of the expansion of the business. They found they had a mutual desire to create a community of resources and support for new and expecting parents, based on their own needs as they had become mothers themselves. Upon examining the needs of expecting mothers and their families in nearby cities, the duo decided to move the Playhouse to Ferndale, where it now has a solid home along Nine Mile.
According to them, "There are plenty of other play spaces around that give kids a fun place to play, but there is nowhere that caters to the whole family and encourages connection and well-being on every level. That's where Nature's Playhouse comes in, that's the void we fill in the community."
Michelle and Lisa are no strangers to the world of parenthood. Lisa has a three-year old son, and Michelle is the busy mommy of two children of her own.
Michelle is a proud graduate of University of Michigan with a Bachelor in Anthropology. Michelle is also a certified elementary school teacher, certified to teach grades K-5 in both Michigan and California. Shortly before giving birth to her two children, Michelle taught both kindergarten and fifth grade.
Lisa is a graduate of the Detroit Business School and owns her own publishing house, known as William Joseph K Publications. Her publishing house currently holds six different titles that are sold worldwide. In addition to her publishing house, Lisa is also heavily involved in various community events in Clawson. Lisa also heads her own consultation firm known as My Glass is Full, and she's the Project Coordinator for The Formation of Motherhood project, which captures the physical and emotional transformation of a woman during her pregnancy through photography.
For more information about Nature's Playhouse and the programs they offer, Michelle and Lisa can both be reached by phone at 248-955-3219 or by email at info@naturesplayhouse.com.
If you would like to visit the Playhouse for yourself, it's located at 318 West 9 Mile in downtown Ferndale, right next to Assaggi Bistro. Michelle and Lisa are both avid Facebook and Twitter users, so be sure to follow them there as well for information on upcoming classes and events!
If something happened with our health, we believe there is a solution to any maladies in a preparation. What medicines do patients purchase online? Viagra which is used to treat impotence and other states coupled to erectile dysfunction. Learn more about "sildenafil". What people talk about "viagra stories"? The most vital aspect you must look for is "sildenafil citrate". Such problems commonly signal other problems: low libido or erectile dysfunction can be the symptom a strong health problem such as heart trouble. Causes of sexual disfunction include injury to the penis. Chronic disease, several medicaments, and a state called Peyronie's disease can also cause sexual malfunction. Even though this medicine is not for use in women, it is not known whether this curing passes into breast milk.