Francine Hachem: A Best Friend Befitting of Ferndale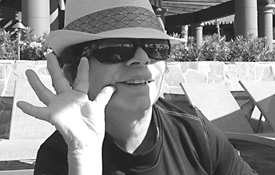 Francine Hachem is dedicated to the city that she loves. In fact, she's so dedicated that on the morning of this interview, she dropped everything after a call from the DDA to put up posters for the National Main Streets Conference coming to the city of Ferndale the following weekend. She happily accepted, like the dedicated volunteer and neighbor she is, and the posters were hung with an enthusiasm that only comes from years of experience.
Interested in theater and performance since she could remember, Francine knew early on that it was a trade she'd like to dedicate her life to. But, unfortunately, the costs of real life prevented her from pursuing it full-time. "When I was out there looking for a job, there wasn't any money in theater," Francine said. "I got a job at Chrysler Financial, and dedicated myself to pursue theater and erformance in my spare time." And pursue it she did.
She continued her education on nights and weekends, eventually earning a master certification from Will-O-Way Apprentice Theater in Bloomfield Hills. It was here that she met Sally Dubates, and together they formed West End Productions — a passion project to help produce theater locally. With countless productions and projects across the state, West End grew, and Francine relocated to the city that she thought best suited her artistic creativity: Ferndale. "Coming from Dearborn, Ferndale was certainly a different climate," Hachem said. "Ferndale seemed to be the place to be — diverse and 'with it'."
Francine's first act upon moving to the city was to attend a city council meeting with the goal of getting on the Ferndale Arts Commission. She quickly came to realize that the more you get involved in the city, the more this city gets involved in you. "Everyone is so involved in everything; everyone knows your name," Francine said excitedly. "The more you get involved the better it is." What was the most unique about the area, Francine said, was the supportive atmosphere found throughout.
"Everyone supports what everyone is doing and everyone embraces that someone wants to be involved. It's an extremely supportive city and wonderfully diverse, among everything else."
After retiring from Chrysler in 1995, Francine dedicated herself to bringing performing arts to the people full time. She currently serves as the Theater Director for Rochester Recreation, the Director of the Miss Senior Michigan Pageant, and she freelances as a director and performer throughout the state. Her career highlight has been her involvement in developing the Always Patsy Cline Show – a two-person performance that celebrates Patsy Cline as a performer and a personality. Performed with Linda Piccoli, Always Patsy Cline won the Oscar Wilde award from Between the Lines, and has been steadily playing every year since. The success that came from the recognition of Always Patsy Cline has allowed Francine to pursue more ambitious projects and reach bigger audiences. "Patsy has been the most fun, most memorable, and most professional show I've ever been involved with," Francine said. "The Oscar Wilde Award gave us credibility going forward."
Since moving to Ferndale, her involvement in the city itself is palpable; Francine has had a hand in flavoring virtually every event within the city in recent memory. Every summer she runs her legendary theater camp for kids age 8–15 at the Kulick Center, and volunteers at every event from Ferndale's various art fairs to the Dream Cruise. Recently, the Downtown Development Authority named her Volunteer of the Year — a designation that is well-deserved and could seemingly be awarded to her each year. Currently, Francine is working her trademark magic in collaboration with Jay Kaplan to bring a new event to the city: Salon Sunday. This jazz performance and celebration is tentatively scheduled to take place on the third Sunday in August at the Boston Tea Room. Bringing a diverse lineup of entertainment and performance to the city is just part of Francine's M.O. No matter what she's working on, she always brings with her two things unmatched by anyone else in the city: her experience and her passion. "I'm a passionate person," she said.
"My best friend is the city of Ferndale and my passion is theater. I try to focus on those two things, and when I do it makes life so much more fun."
When asked about what keeps her motivated to stay so involved, her answer was simple, and that of someone who's figured out her purpose. "It's what I do," she said matter-of-factly. "People need to entertain and need to be entertained. The Arts Commission kind of went defunct there for a while and now we're working on bringing the performing arts back to Ferndale."
Whether it's as involved as directing and starring in another performance of Always Patsy Cline or it's as simple as hanging posters for an upcoming event to benefit the city, Ferndale truly does have a best friend in Francine Hachem. And it's clear, according to Francine, that the feeling is mutual. "Like a lot of us, I feel that Ferndale is my best friend," she said. "We never have to look for something to do, it's all right here."
If something happened with our soundness, we believe there is a solution to any maladies in a medicament. What medicines do patients purchase online? Viagra which is used to treat impotence and other states connected to erectile dysfunction. Learn more about "sildenafil". What folk talk about "viagra stories"? The most substantial aspect you must look for is "sildenafil citrate". Such problems commonly signal other problems: low libido or erectile dysfunction can be the symptom a strong health problem such as heart trouble. Causes of sexual disfunction include injury to the penis. Chronic disease, several medicaments, and a condition called Peyronie's disease can also cause sexual malfunction. Even though this medicine is not for use in women, it is not known whether this curing passes into breast milk.