Local Transgender Activist, Founder of Crossroads Receives Good Neighbor Award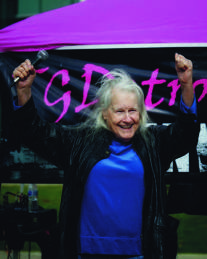 Story by Sara E. Teller
GRACE BACON IS A LOCAL ICON, AND A 2018 RECIPIENT OF FERNDALE'S GOOD NEIGHBOR AWARD. BACON STARTED CROSSROADS IN 1977. "THE GROUP WAS DESIGNED TO BE A TRANSSEXUAL SOCIAL GROUP AND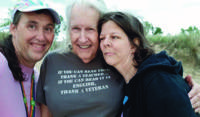 PLACE WHERE WE COULD GET TOGETHER," SAID BACON. "We were still in the dark ages at that time. We couldn't just walk into Walmart, you know? I started the group in Flint. Then, we moved to Ann Arbor, and finally, the group ended up in Royal Oak. I left the group at that time."
After Bacon left, Crossroads moved again, to Lavender & Lace at 8 1/2 Mile and Van Dyke in Warren and a senior center in the area, before finally landing at Affirmations in Ferndale. "It just depended on what place was available and at what price. Members could dress up and be themselves," she said. "The only other group of its kind for years was started by Virginia Prince, and I felt that didn't give us enough leeway. Crossroads was a new concept, a nonjudgmental group where you could come and be welcomed while still figuring out who you were and go from there."
Many well-recognized leaders were inspired by Crossroads, including Rachel Crandall-Crocker, founder of Transgender Michigan and the internationally-known Day of Visibility, which began in 2009, Michelle Fox of the Gender Identity Network Alliance, Samantha Rogers of Detroit Invasion, and Sandra Cole, founder of the University of Michigan gender identity clinic.
After leaving the group, Bacon traveled to Cincinnati to help start the Crossport group, which was founded on the same principles. She was also instrumental to the formation of Be-All, which was established in Detroit and grew to be nationally recognized.
The Be-All Weekend, which was in existence for thirty years, was a mix of social gatherings and seminars that took place Thursday through Sunday. "Every profession was represented in some way or another," Bacon said. "There were authors, photographers, doctors, lawyers, therapists. It was a way to get known and to introduce yourself. The event was modeled after Fantasia Fair in Provincetown, MA, that has been around since the late-1970s."
Bacon also took an interest in photography in the 1960s, while still in college. She said, "I started hanging around with people with cameras. I was a journalism student at the time and the sports editor for the school newspaper."
SHE WOULD EVENTUALLY BECOME KNOWN IN THE FLINT AREA for her high school sports photography and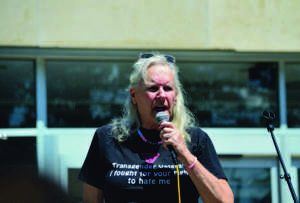 would become a local sports editor and photographer. Bacon started a business creating films of the high school games at the same time, which she operated for three years before selling it to Saginaw Photo. And, she did wedding photography professionally for a number of years.
"I ended up dropping out of college to find myself, and in that time, the Army found me," Bacon remembered. "I enlisted, and it was well worth it. I ended up being a non-commissioned officer, the equivalent to a sergeant, so I was in a leadership position."
She spent her service time in Germany. "It is an entirely different culture," she said. "Some are intrigued by it, some are not. I was. They have different values and ways of treating people."
After the year-long stint, Bacon would end up spending more than twenty years as a production control analyst, working herself up the ladder. She said, "I started as a paper-handler, the lowest position there, and got to the point where I memorized the distribution system and moved my way up to production control. I would take a look at jobs that didn't end correctly, figure out why, and get them up and running again. I eventually became a control room supervisor, then a manager with direct hiring and firing capabilities."
Bacon added, "GM eventually sold me to EDS." There, she moved to various locations and performed in different capacities before eventually leaving. "I then became a contract worker in the Detroit area for ten years, working with temporary agencies," she said, and she has since retired.
Of her award, Bacon said she's unsure who nominated her, "I have a framed certificate with signatures from the Michigan Legislature. It's for my work as social activist, I suppose, and for starting Crossroads, which is affiliated with Affirmations in Ferndale. I guess I'm kind of known in Ferndale."