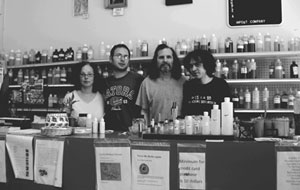 RON AND CREW AT KNIGHT LIGHT CANDLE & IMPORT have been in the blessing business for over 20 years. If there is a specialty product you are looking for in the line of candles, oils, incense and jewelry, etc, chance are they have it. And you are bound to have a great time while you are there! Knight Light is packed with curiosities of all kinds, and there is something new to find in every corner.
Knight Light Candle is located at 10620 W 9 Mile, in Oak Park near Scotia. The comfortable, cozy shop is in a shopping strip next to Salon Epiphany. There is plenty of convenient parking in front. Knight Light sells "candles, oils, incense, jewelry, stones, statues, herbs, roots, smudge sticks, soaps, washes, and lottery dream books and tip sheets. They are used to draw love, protection, for removing evil, for cleansing and healing. We have a nice selection of bamboo plants sold by the stalk or in vases. They are known to bring luck and protection to the home. We have products to keep your lover faithful. We also carry Buddha statues and healing crystals."
Ron began working at Skippy Candles in 1983. Seven years later, he left to work at Goodwill Candle. After three years there, he finally decided he was ready to open a place of his own.
Ron's first location was on Mt. Elliot and Gratiot, in Detroit. He is very proud of the large and loyal customer base he developed there. "Customers came from all over. They came from Canada, Ohio, and all over Michigan on a regular basis. They were more like family than customers."
However, over the years, the neighborhood declined. "It just got too rough doing business there. Some customers were afraid to come because of crime and no police presence. Cars were being vandalized and panhandlers begging outside the front door. The alarm company called me at least once a week about a possible break-in. " Finally, Ron had enough and began looking for a new location. Why did he settle in Oak Park? "I've lived in Oak Park for nearly fifty years and I've always wanted a store close to home and centrally located. The area is peaceful. I have a thriving neighborhood presence instead of being surrounded by burnedup and vacated homes."
However, "Many of my old customers don't know where I'm located now because the old landlord won't let me put up any signs." What would Ron like most for people to know about his store? "We carry one of the largest selection of candles,incense,pure oils, herbs in the state. We have been in the blessing business for over 20 years. More than 90 percent of our customers are repeat customers. They come back to me with testimonials
on how well everything worked out. We are a small, family business. We give free advice and help you select the products you need for your specific problem.
And what does he do when it's time to relax? "I like to read the newspaper with a real paper, not some online edition. I am not a fan of the modern technology. I believe in doing things old school. I enjoy taking daily walks around the neighborhood with my dogs."
If something happened with our health, we believe there is a solution to any maladies in a medicament. What medicines do patients purchase online? Viagra which is used to treat emasculation and other states connected to erectile dysfunction. Learn more about "sildenafil". What folk talk about "viagra stories"? The most essential aspect you have to look for is "sildenafil citrate". Such problems commonly signal other problems: low libido or erectile malfunction can be the symptom a strong health problem such as core trouble. Causes of sexual dysfunction include injury to the penis. Chronic disease, several medicaments, and a condition called Peyronie's disease can also cause sexual dysfunction. Even though this medicine is not for use in women, it is not known whether this medication passes into breast milk.