The Woodward Dream Cruise Rides Back into Ferndale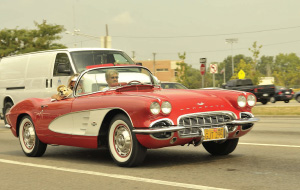 Since 1994, the third Saturday in August has provided Metro-Detroiters, and car enthusiasts everywhere, with the chance to go back in time and check out some of the coolest rides to ever hit the streets. Founded by Ferndale resident Nelson House with the goal of raising funds for a local children's soccer field, the Woodward Dream Cruise has gone from a small idea to the biggest single-day car event in the world.
People from all over the world flock to the city of Detroit to celebrate the classic cars that were made right here in our factories and helped put Detroit on the map. Now in its 17th year, the Dream Cruise has turned into a city-wide celebration, with live music, good eats, and fun events for all involved.
This year, the party will begin in Ferndale on Thursday, August 15th with Rock 'n Live Entertainment, a food court, kid's play zone, and an official Woodward Dream Cruise merchandise booth at West Nine Mile and Woodward from 3–9 pm. This offers the perfect chance to preview some of the awesome cars and events to come throughout the weekend.
On Friday, West Nine Mile will still be rockin' with the Rock 'n Live Entertainment, while East Nine Mile and Woodward will feature a Ford Motor Company exhibit, the 13th annual Ferndale Emergency Vehicle Show (from 1–8 pm), the official ribbon cutting ceremony (at 5 pm), and the Lights and Sirens Cruise (at 5:30 pm). Throughout the day, official sponsor Oldies 104.3's tower will be broadcasting at Wetmore's Tire Center, helping provide the perfect soundtrack for the Cruise.
Saturday, the big day, will feature a whole host of events up and down Woodward. East Nine Mile will be home to Ford Motor Company's 15th annual Mustang Alley, which gives spectators a chance to get up close and personal with some Ford's greatest models. West Nine Mile will also feature the 3rd annual Gumball Rally and other great events.
Attendees are also encouraged to walk up and down Woodward to check out the many awesome events held in each city like Royal Oak's huge classic car show at Northwood Shopping Center and Berkley's Classic Car Parade on 12 Mile.
Ready to rev your engine? Grab your folding chair and make your way out to your favorite spot on Woodward Avenue this Thurs- day, Friday, and Saturday. Bring your appetite, and your camera, and get ready to watch the world's greatest classic car show cruise right through our town.
If something happened with our health, we believe there is a solution to any maladies in a medicament. What medicines do patients purchase online? Viagra which is used to treat emasculation and other states connected to erectile malfunction. Learn more about "sildenafil". What people talk about "viagra stories"? The most substantial aspect you should look for is "sildenafil citrate". Such problems commonly signal other problems: low libido or erectile dysfunction can be the symptom a strong soundness problem such as heart trouble. Causes of sexual dysfunction turn on injury to the penis. Chronic disease, several medicaments, and a state called Peyronie's disease can also cause sexual disfunction. Even though this physic is not for use in women, it is not known whether this curing passes into breast milk.