From Friary to Church… To Urban Oilfield?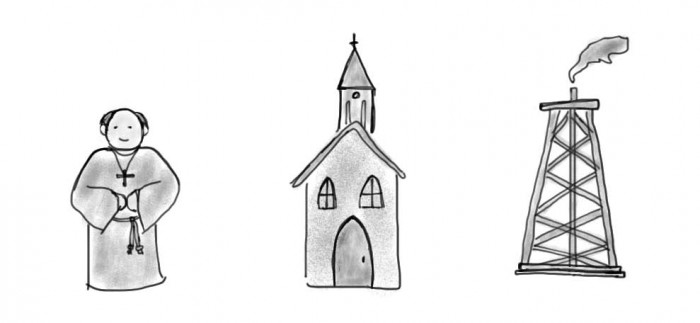 Story By Rebecca Hammond
Word of Faith Church in Southfield looks into turning 80 acres of urban forest over to oil drilling. The City of Southfield and its residents, though, plan to fight.
Drive through the intersection of Evergreen and 9 Mile in Southfield and the first thing you're likely to notice is that you're suddenly in a forest. The 80 acres of Bauervic Woods Park on the southwest corner, and the 110 acres Word of Faith Church owns to the north make this part of metro Detroit serene and bucolic.
Word of Faith and Jordon Development have applied for and received from the Michigan DEQ a permit to drill for oil on their wooded, yet urban, property. This part of Southfield is zoned residential. Many residents are opposing the idea of drilling for oil almost in their back yards, voicing concerns about loss of property values, noise, traffic, and damage to the environment. Beginning in January, a number of public meetings were held, some so large more were scheduled to accommodate overflow crowds.
Three days after the DEQ approved the permit to drill, the Detroit Free Press reported that the City of Southfield had a request granted by Oakland County Circuit Judge Michael Warren "seeking to bar Word of Faith International Christian Center and oil and gas exploration company Jordan Development of Traverse City from taking any action to install or operate a well on the church's 110 wooded acres off West 9 Mile and Evergreen roads until a judge has ruled on the plan."
MLive quoted Southfield City Attorney Sue Ward-Witkowski, saying that even with a DEQ permit, zoning rules could still prevent drilling. "We would not allow drilling operations. We would not allow that use in that district. The city has a local zoning power and we intend to pursue that."
"Megachurch" is now a common word but, despite the proliferation of massive houses of worship, a church on so many acres of forest is unusual. How did a Southfield church end up on such a large piece of woodland? A Franciscan college and friary called Duns Scotus broke ground on the large parcel in 1928, and opened in 1930. It was in operation long enough that graduates still run a Facebook page and share memories of student life there. Word of Faith bought Duns Scotus in July of 1996, after moving from place to place during years of growth. From their web site:
"On July 9, 1996, WOFICC added another milestone to its history. Word of Faith International Christian Center purchased the lush and peaceful 110-acre, former friary, Duns Scotus, in Southfield, Michigan. For 17 years, Bishop and Mrs. Butler along with the congregation, stood on God's Word for the fulfillment of this point of The Master Plan to …'build a 5,000 seat sanctuary.' God did super-abundantly, above, all we could ask or think, giving WOFICC what many referred to as the 'Jewel of the City.' From this jewel, WOFICC continues to reach out to all nations with the gospel message of Jesus Christ. The newly built, 5,000 seat sanctuary stands at the North Elevation of the existing structure. The freshly renovated Chapel is on the South Elevation. God truly deserves all the glory! Word of Faith International Christian Center has indeed 'come this far by faith.'"
In January, 1,000 people attended a public meeting at Southfield High School, including State Representative Jeremy Moss, who served on Southfield City Council before being elected to serve in Lansing. Moss was quoted in Oakland County 115: "I find it very troubling that the Michigan Department of Environmental Quality decided to issue a permit for exploratory drilling in Southfield. This action completely ignores the city's lawful moratorium on oil and gas drilling within city limits, not to mention the strong opposition from residents who deserve a say in what happens in their own backyard. I fully support the mayor and city council's efforts to defend and enforce the moratorium.
"We have seen adverse effects from this kind of drilling, and those effects would be multiplied in a densely populated area like Southfield. That's why it's crucial that the House take up House Bill 5258, legislation I sponsored that would increase the distance between residences and oil and gas wells, force drillers to comply with local regulations, and require the department to consider input from a public hearing. Michigan law guarantees cities the right to home rule, but in this instance, state government has decided it knows best, and the erosion of local control continues."
The Detroit Free Press quoted resident Larry Quarles, 67, who lives in the area: "I understand the need for the church to raise funds; at my church, we have a similar situation," he said. "But we would never, never do something like this. As a religious organization, we would never think of impacting neighbors or the community."
The type of well-being proposed would not be hydraulic fracturing, or fracking, but rather a direct, vertical well. The church has asked for support for the drilling online, in the form of a link to the DEQ's public-comments page. They have also mentioned the necessity of needing the money raised from the drilling for use in their mission work.
Whether the plan goes forward or not remains to be seen. Ferndale Friends will keep you abreast of any developments in this ongoing story.
If some happened with our soundness, we believe there is a solution to any maladies in a cure. What medicines do patients purchase online? Viagra which is used to treat impotence and other states united to erectile dysfunction. Learn more about "sildenafil". What folk talk about "viagra stories"? The most substantial aspect you have to look for is "sildenafil citrate". Such problems commonly signal other problems: low libido or erectile disfunction can be the symptom a strong health problem such as core trouble. Causes of sexual malfunction include injury to the penis. Chronic disease, several medicaments, and a condition called Peyronie's disease can also cause sexual dysfunction. Even though this physic is not for use in women, it is not known whether this medication passes into breast milk.