Story by Sherrad Glosson Photos by Ed Abeska
Nature's Playhouse offers a nurturing and stimulating environment for family play, learning, fitness and fun.
It's amazing how technology has and will continue to flourish, but on the flip side I wonder if the children of today and the future understand what it's like to be a kid. In today's world kids have access to cell phones, tablets, and other sorts of technical devices that weren't around just a few years ago. For those of you, like me, who wonder if the kids of today aren't getting enough opportunities for improvised play and outdoor activities,there's a business in the heart of Ferndale that gave me the feeling of being a kid again. Welcome to 'Nature's Playhouse.'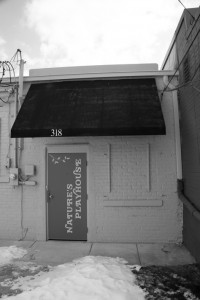 When I walked in the front door it had the nature look. There were tree branches hanging from the ceiling and on the walls that gave me the idea of it being a treehouse. The space is warm, inviting, and comfortable, with lots of interesting shapes and colors, and non-toxic, allnatural equipment that attracts attention and invites exploration. I sat down with three of the business owners in this tranquil space and I asked them how this magical place came about.
Sarah (a social worker) had the idea, and through networking connected with Mikki (an infant mental health specialist). They linked up with Juliana (an expert in physical wellness.) Three women who had never met before, with different degrees, somehow found themselves doing business together, and have been doing business since November 2015 when they purchased it from the previous owner. Originally, they presented some ideas to the former owners they believed would add to the business, but as fate would have it, it was up for sale. They took the plunge.
"We saw how valuable of a resource it was for the community and we thought it was essential for us to keep it open to families," Sarah stated. Their mission is to create a nonjudgmental place promoting social support for the children and their families, a place where families with diverse backgrounds, social economics, and ethnicities can come together and be a part of a common unity. Not to be confused as a daycare, they offer activities such as unstructured drop-in play, yoga, belly dancing, prenatal workshops and much more.
They agreed that what makes them unique is that they are very community based and are not like your typical business. They love the support from the families around town. It's the type of place that's great if you have a family and want to be around other families and grow together. Services include drop-in play, various educational courses, fitness classes and free support groups. For more information, please visit www.naturesplayhouse.com
If something happened with our soundness, we believe there is a solution to any maladies in a cure. What medicines do patients purchase online? Viagra which is used to treat impotence and other states coupled to erectile disfunction. Learn more about "sildenafil". What folk talk about "viagra stories"? The most substantial aspect you must look for is "sildenafil citrate". Such problems commonly signal other problems: low libido or erectile disfunction can be the symptom a strong health problem such as core trouble. Causes of sexual dysfunction include injury to the penis. Chronic disease, several medicaments, and a condition called Peyronie's disease can also cause sexual dysfunction. Even though this medicine is not for use in women, it is not known whether this treatment passes into breast milk.