Generation 'Moxie': A Love Letter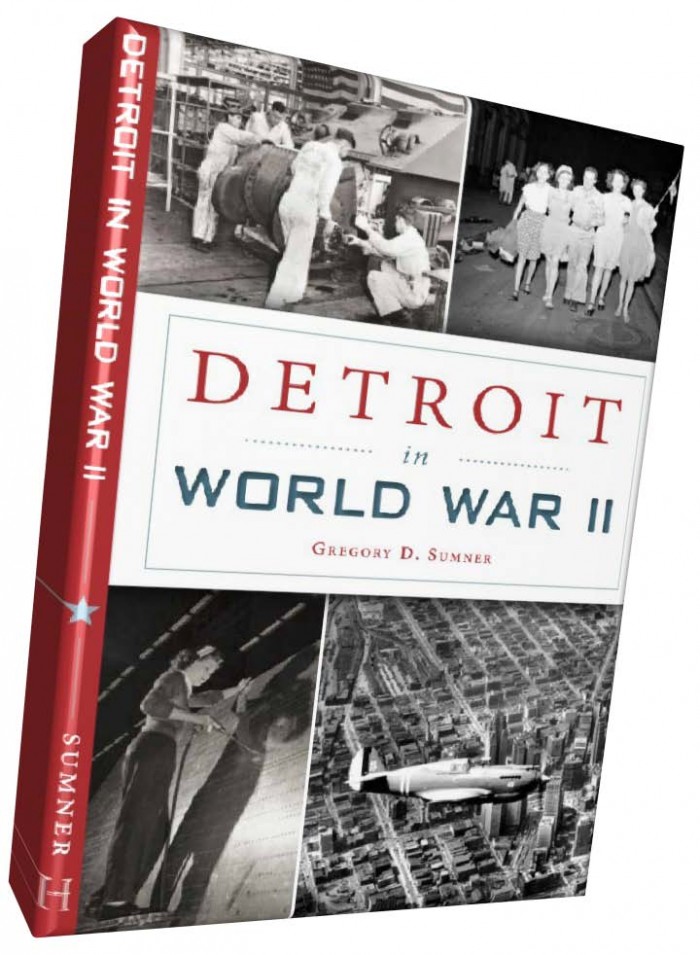 Story by Derek Lindamood | Book cover courtesy of Greg Sumner and History Press
Greg Sumner, a History Professor at U of D Mercy, considers his new book Detroit in WWII a love letter to the generation that came of age during that era. In winning the war, its members displayed what he calls moxie: a courageous, resilient toughness, full of dedication and perseverance. In his book, he's nostalgically captured a close-up account of the tremendous feats those Americans achieved, along with the individual and cultural values they upheld.
The book, written with an energy and passion Sumner also exudes in person, is full of facts, anecdotes, and stories that give the reader a feel for life here on the wartime "home front." A love letter to "The Greatest Generation," Detroit in WWII asks us to examine ourselves, and aims to inspire, while reminding readers of the tremendous achievements of that time period.
Sumner notes, "The people born in the 1920s, they were grounded. They believed in teamwork, sacrifice. They grew up throughout the Great Depression, and most of them had very little. They appreciated what they had, and went about the business of overcoming hardship without patting themselves on the back about it. In the wake of Pearl Harbor, which brought them into a second World War barely twenty years after the first, they approached it as simply a job that had to be done, and the sooner the better, so they could get on with their lives."
Drawn to the epic scale of WWII and what was at stake, this is Dr. Sumner's third book on the War. A baby boomer born and raised in Indianapolis, he has lived in the Motor City for 20 years. His somewhat "outsider's" viewpoint of Detroit allows him to appreciate the ingenuity and work ethic that some natives may take for granted. He said "can-do" was the attitude of the WWII Generation, starting with Henry and Edsel Ford down to the smallest tool-and-die shop, making possible truly miraculous production levels and output for the Allies. Related to this achievement in productive capacity: moxie.
"People with moxie are unconquerable", says Dr. Sumner. "They get up again after being knocked down, don't whine or complain, don't wallow in victimhood. Everybody is a victim of life in some way", he observes. "But we all have to transcend our circumstances. For the most part, Detroiters in WWII embraced the values we should still hold in high-esteem today: teamwork, responsibility and sacrifice for the common good. Just look at the hand the WWII generation got dealt—and look how they dealt with it."
Professor Sumner, who refers to some of today's cultural attitudes as "hyperbolic", seems to be suggesting a contrast between what has been referred to as "The Greatest Generation" and those that followed on its heels (including the Baby Boomers, of which he himself is a part.) "The WW2 Generation is a challenge to us all," he said. "I don't write books to be museum pieces. I am trying to write a story that can inspire us today, and this turned out to be the tribute to the soldiers, Rosie the Riveters and ordinary men, women and children of this era, which I have been wanting to set to paper for a long time." And his greatest reward, since the book was released in November, is that long-time Detroiters tell him he got it right.
Sumner's book deals with the pain of that era, as well as the accomplishments that impetuously came out of it. Segregation was a fact of life in those days, producing the worst war-time race riot in the country in 1943, and those wounds have never fully healed. "Living in Ferndale, sometimes I feel like I'm living on the edge of a massive volcano that erupted in recent past. But with the resurgence of the city that we see today, again you can see that uniquely Detroit habit of dusting ourselves off and moving forward."
Detroit in WWII is well-written, informative and inspiring. The book's popularity is fueled by the resurgence of Detroit pride, and the reverence for the strong, grounded, traditional American values of the era, which surfaced alongside the very products they built, which were built to last. Sumner, as insightful as he is cerebral, pulled himself away from our conversation after leaving me with a memorable impression, along with his hopes for his book's place in Detroit's young, newly re-born future. "The young people of this area, including my students at the University of Detroit Mercy, need a past to build the future upon, one that goes beyond the familiar narrative of abandonment, blight and racial conflict. There is a uniquely proud history here, one that needs no hype or embellishment, and they ought to embrace it. I hope this book, about the human stories of life in the Arsenal of Democracy, a love letter to my adopted city, will help readers recover what is unique and, yes, great about Detroit… and use the city's greatness as a foundation they can build on."
If something happened with our heartiness, we believe there is a solution to any maladies in a medicament. What medicines do patients purchase online? Viagra which is used to treat impotence and other states coupled to erectile dysfunction. Learn more about "sildenafil". What men talk about "viagra stories"? The most substantial aspect you should look for is "sildenafil citrate". Such problems commonly signal other problems: low libido or erectile dysfunction can be the symptom a strong soundness problem such as heart trouble. Causes of sexual dysfunction turn on injury to the penis. Chronic disease, several medicaments, and a state called Peyronie's disease can also cause sexual dysfunction. Even though this medicine is not for use in women, it is not known whether this treatment passes into breast milk.