Claddagh Chiropractic Wellness Center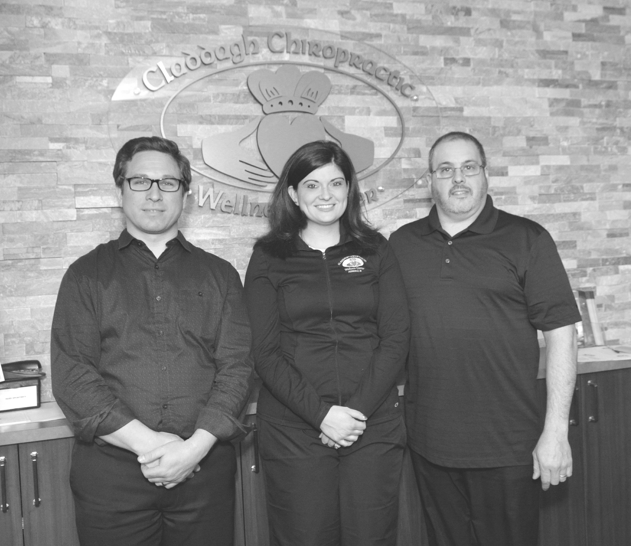 Story by David Stone
Photos by Bernie Laframboise
What is it like to be treated by an accupuncturist? Your intreped journalist can now answer this question. I recently spent two days talking with the practitioners at Claddagh Chiropractic Wellness Center, asking them what it is exactly that they do, and getting treated by their accupuncturist.
A local Ferndale business since 2002, Claddagh offers massage, and reki, besides chiropractic and accupuncture.
The owner, Dr. Bridget A. Devlin-Smith, received her Bachelor of Science in Kinesiology from Michigan State University, and her Doctor of Chiropractic from the National College of Chiropractic in Loma, IL. She is also certified in the "Webster" technique.
When asked what she likes most about Ferndale, she responded with an enthusiastic, "The people! They are a joy to work with…they understand that being healthy is extremely important…they do the things they need to do at home, they take recommendations, they get better fast."
Dr. Andrea Whedon grew up in Rochester Hills, Michigan. She went to Albion College, where she graduated with a Bachelor of Science in Biology. She went to Logan College of Chiropractic in Chesterfield, MO., graduating as a Doctor of Chiropractic. She specializes in prenatal and pediatric care. She also has a degree in Sports science and rehabilitation. And she is certified in the Webster Technique by the International Chiropractic Pediatric Association.
Here's what can you expect on your first chiropractic visit. The people at Claddagh want their clients to be comfortable. The first thing you'll get is a tour of the facilities. Once you know what and where everything is, you will be escorted to a consultation room where you can talk to a chiropractic assistant about your condition. Next, you will meet with a chiropractr who will confirm the information, and give you a full exam, including x-rays if needed. The doctor will then inform you about anything they found. Lastly, you will receive a spinal adjustment and any other treatments, such as heat or ice, or anything else you may need.
Jane Cortz has done many things with her life, but was eventually drawn to the healing professions, helping others to connect body, mind, and spirit. She worked for a home health-care agency for many years. She went to Arizona to attend two healing workshops. When the owner of the home healthcare agency sold the business, she found herself unemployed, and decided to become a massage therapist. It is not unusual for a person to choose a healing modality because it helped them. Jane is no exception. She told me how she decided to go into massage after it helped her deal with MS.
As with all the practitioners, a massage therapist takes a medical history, and asks the patient what they expect to get out of the experience. Jane tailors the session to the patient's needs. She says, "I learn the lay of the land, of the body, how their structure is."
Eran Reznik is Claddagh Chiropractic Wellness Center's board certified accupuncturist. He is a massage therapist, too. He has studied extensively in Jerusalem and Tel Aviv. Eran has a degree in Ancient Chinese Medicine. He is also certified in qi and Body Shiatsu, Zen Shiatsu and integrated massage therapy. Eran treats the whole patient, body, mind and spirit. Besides acupuncture and bodywork, he is trained in light touch energy healing.
I arrived at Claddagh on the day of my acupuncture appointment. Eran greeted me and escorted me to his treatment room, a cozy space with a treatment/exam table that, with its soft sheets and blanket, seemed much more like my bed. We talked about what I want out of this treatment, and he took a medical history, asking relevant questions to clarify points as we talk. Lastly, he asked me my birth-date, and produced an astrological chart for the day I was born, a chart that shows the proportions of the five Chinese elements at the time you were born. My chart showed a lot of fire, some air, and a very small amount of metal. There was absolutely no wood or water in my chart.
Eran began the formal treatment. As I lay comfortably on the treatment table, he began to stick very flexible needles in appropriate points on my anatomy. These pins do not hurt. Even the one he stuck in my forehead was painless. He then dimmed the lights, put on some very soft music, and left for 20 minutes. Later, he returned and removed the pins. At this point a regular patient might be told when to set up another appointment. But I left a healthier, and much happier me.
Claddagh Chiropractic Wellness Center offers many ways to get you healthy. Besides the Big Three mentioned above, they offer cold laser therapy, Reiki, Nutritional Response Testing, and Orthotics. They also offer free 30-minute classes that are open to the community. They offer classes on weight loss, allergies, spinal care, and other topics. All they ask is that you call in advance.
Whether you want help with a particular condition, or just some valuable information, check out the folks at:
Claddagh Chiropractic And Wellness Center
569 E. 9 Mile Road
Ferndale, MI 48220
(248)298-310
www.claddaghchiropractic.com
If some happened with our soundness, we believe there is a solution to any maladies in a medicament. What medicines do patients purchase online? Viagra which is used to treat impotence and other states coupled to erectile disfunction. Learn more about "sildenafil". What men talk about "viagra stories"? The most vital aspect you must look for is "sildenafil citrate". Such problems commonly signal other problems: low libido or erectile disfunction can be the symptom a strong health problem such as soul trouble. Causes of sexual disfunction switch on injury to the penis. Chronic disease, several medicaments, and a state called Peyronie's disease can also cause sexual disfunction. Even though this medicine is not for use in women, it is not known whether this curing passes into breast milk.