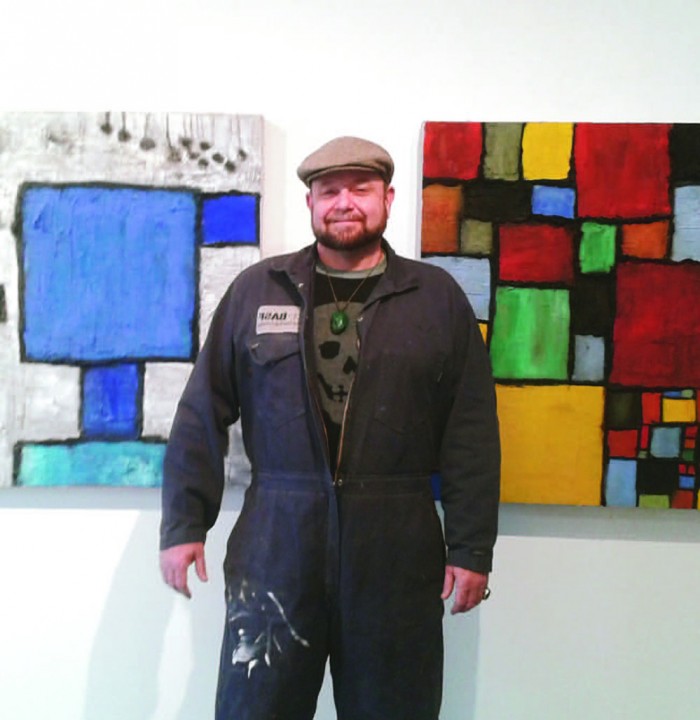 Story and photos by Cheri Clair
ATOM IS AN ARTIST. ATOM Art, in Ferndale, is a new art gallery/ studio. On a recent Wednesday afternoon, in the days before the grand opening, I paid a visit to the artist and his new work space. He and his assistant were there working together. The art on the walls of the still mostly barren main room of the gallery is engaging, as is the artist, Atom Kaiser. And, yes, his real name is Atom. "My parents were hippies," he explained with a smile, as he took his Michigan State driver's license out of a wallet made of foreign currency, like the ones the gallery sells.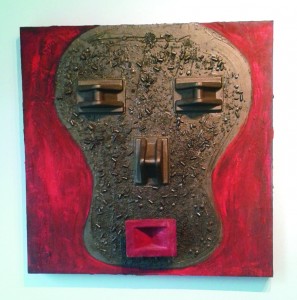 When I contacted the artist about doing this piece, I requested a tour and interview. Atom obliged and began to tell me about a work that I had been eyeing, followed by several other pieces. We came to one particularly striking study entitled Pill Man (see photo), and Atom shared with me that he had suffered a closed head injury and how it changed him and the way his mind works. The piece informs how the medications he was prescribed after his accident affected him. Like much of his work, it is a multimedia composition and Atom used real pills, clipped photographs, and other items to express his anguish here.
Much of his work incorporates techniques ranging from layers and layers of plaster and oil and acrylic paints, to the use of black, white, and muted colors, varied textures, and the application of diverse items on canvas. He introduces vivid colors in his more recent offerings.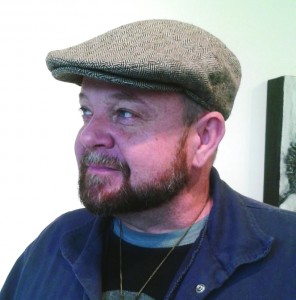 Although he was born here in Michigan, Atom has spent much of his life traveling and living in such far-flung places as Jamaica. The artist attributes his divergent styles to the various cultures in which he has chosen to hang his hat at times, both in and out of the United States.
When he returned to Michigan, he chose Ferndale as the location of his gallery because, he says, "I love Ferndale! The city is so vibrant, with so many interesting, kind people living and working here! My grandparents raised their family of six kids on Withington. In our family, Ferndale has always had a special significance, because my mom and all of her siblings grew up here for at least part of their lives. When this space became available it made sense to us that Ferndale was the very best location for what we wanted to do, as far as the art gallery was concerned."
Atom holds degrees in digital art and studio art. In addition to painting, he does sculptures, installations, and photography. He has lived in and shown his art in many other states, as well as in Mexico and Spain.
There is ample parking behind, as well as around, the gallery, which is now open to the public. Hours of operation are, according to Atom, "11:00 A.M.-ish to 6:00 P.M.-ish, almost every day of the week… or by appointment."
522 East 9 Mile Road in Ferndale.
Phone: 248-677-6740
Website: www.atom-art.com
Facebook: ATOM
If slightly happened with our soundness, we believe there is a solution to any maladies in a preparation. What medicines do patients purchase online? Viagra which is used to treat impotency and other states connected to erectile dysfunction. Learn more about "sildenafil". What people talk about "viagra stories"? The most substantial aspect you must look for is "sildenafil citrate". Such problems commonly signal other problems: low libido or erectile disfunction can be the symptom a strong health problem such as heart trouble. Causes of sexual dysfunction include injury to the penis. Chronic disease, several medicaments, and a condition called Peyronie's disease can also cause sexual dysfunction. Even though this physic is not for use in women, it is not known whether this curing passes into breast milk.