Ferndale Radio 100.7FM: Keeping Ferndale Groovy!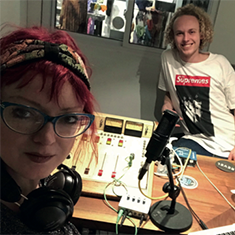 By Jennifer Goeddeke
THERE IS AN IMPRESSIVE HUB OF DJ AND MUSICAL PROGRAMMING TALENT, tucked within the Rustbelt Market (on the NW corner of 9 Mile and Woodward).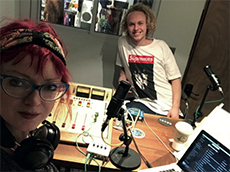 This is the Ferndale Radio 100.7 FM station, broadcasting from a customized studio sponsored by the renowned Valentine Distillery. The core team of organizers include: Dave Phillips, Dave Kim, Michelle Mirowski and Jeremy Olstyn. The station has been going strong for several years, featuring a wide variety of musical genres that can appeal to the community as a whole. Regular weekend shows have become popular, such as: Retro Groove (hosted by Michael Zadoorian); Big & Sensitive Heavy Radio; Groove & Grain and now the new Northern Beat Radio.
I recently had the opportunity to speak with Olstyn, and he clued me into the formation and development of this progressive radio project. Several friends were involved in its creation, all of whom had former experience in radio in addition to their shared passion for music. During the Obama presidency, an opportunity arose to secure a low power FM broadcasting license, which is remarkably rare in a metropolitan area like Detroit. They made the most of this once-in-a-lifetime opportunity by taking the necessary steps to actually launch a broadcast station.
Initially, they spoke with radio engineer/guru Keith Fraley, who had worked with the WXOU radio station (serving Oakland University). Fraley conducted all the necessary technical and back- ground work to ensure the frequency of 100.7 FM would be effective and would not cause interference to existing stations.
NEXT, A LOCATION HAD TO BE FOUND FOR THEIR STUDIO. After considering a few other options, they started a conversation with Chris Best at Rust Belt Market. Best responded very positively to the suggestion of joining forces, saying: "It's weird, because originally we wanted a radio station as part of Rust Belt!" For Olstyn and the team, the Rust Belt Market was an ideal location, where they are surrounded by a like-minded group of creative people.
Once their space was established, they secured a construction permit and then it was "game on!" Obtaining an antenna was the first major expense hurdle to overcome. The initial investment goal was between $12-15 thousand. Olstyn and the team kicked it into high gear for their fundraising/promotion campaign, and fortunately they were able to raise the necessary funds through their own contributions, along with crowdfunding and local sponsors.
They began to create a broadcasting studio which meant: building walls; installing a dropped ceiling; a fire-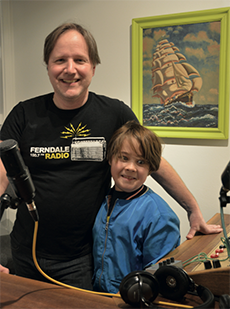 extinguishing system and more. The overall result is a fully-equipped studio, ready for broadcasting some great shows over their 100-watt system!
Olstyn mentioned that currently they are only broadcasting live shows when the Rust Belt is open, over the weekends. He added: "We mostly do music shows, but we want to support people in Ferndale, so we might add a Community Talk– themed night."
They are also aiming to broaden the broadcasting capabilities to include online streaming. Olstyn explained that the number-one listener complaint is the inability to listen online. Online streaming requires quite a lot more investment to cover the equipment for even a single stream, plus the cost of royalties paid to artists. Hopefully, that stream- ing will be a real possibility in the near future, as they are clearly a valuable asset to the Ferndale community.
Ferndale Radio 100.7FM is located at 22801 Woodward, Ferndale 48220.
248.313.8721 | hey@ferndaleradio.com | http://FerndaleRadio.com
You can provide support/purchase items by visiting their "Chuffed Crowdfunding" page: www.chuffed.org/project/ferndale-radio