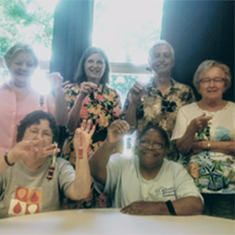 ROUGE MAKEUP & NAIL STUDIO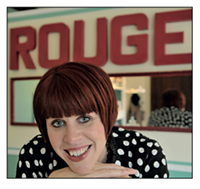 ROUGE MAKEUP & NAIL STUDIO WAS STARTED IN 2010 by sisters Jeny Bulatovic and Cheryl Salinas-Tucker, who have always believed in the importance of using organic products rather than chemical-based. Bulatovic and Salinas-Tucker began working with a small, Michigan-based company, Eve Organics, to deliver high quality, natural products to their customers. "We want to offer our clients only the best ingredients – we call
it their 'personal eco-system'," Bulatovic explained.
The sisters loved Eve's products so much that in 2019 they decided to purchase the company, moving the entire operation onsite. "We're super-excited," Bulatovic said. "We will be undergoing major renovations beginning next month, focusing on enhancing our makeup studio up front and offering makeup classes. It's great to be able to bring this home to Ferndale."
Integrating Eve Organics into the rest of services the business offers means customers who love the organic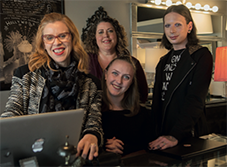 product line will be able to shop directly with Rouge. The sisters are also in the midst of making changes and improvements to further enhance its quality.
With the new business focus, Rouge is no longer offering massage or Reiki services. However, clients will still be able to receive top-of-the-line facials and nail care. Microblading, brow-waxing, and lash extensions are also available.
For more information regarding Eve Organics and all of Rouge's products and services, visit
rougemakeupandnails.com or call 248-439-6012.
HOUSE CAT GLASS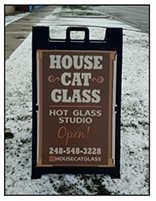 DONNA MASKILL STARTED WORKING ON GLASS IN THE LATE '90s while attending the College for Creative Studies in Detroit. Afterwards, she became involved with many studios in the area, including Greenfield Village, and eventually, her passion led to the opening of her own shop.
"I loved working with glass and enjoyed teaching others so much that I decided to start my own studio in 2001," Maskill said. Having lived in the Ferndale area since 1992, she knew it was the perfect spot for House Cat Glass. "With the help of two close friends – and many others – I was able to build all the equipment necessary to melt glass and produce handmade, one-of-a-kind art."
Maskill recently joined the Ferndale Area Chamber of Commerce and offers many events at the shop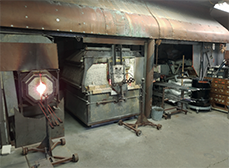 throughout the year. House Cat Glass also includes a gift area with handmade pieces available for purchase.
"I offer classes for beginners and small groups," she added. "Studio rental time is available for experienced glass blowers. Beginners are given one-on-one attention and are able to use the tools of the trade to learn to shape molten glass."
For more information or to sign up for a class, visit the shop on Instagram @Housecatglass or call 248-548-3228.
FERNDALE SENIORS GROUP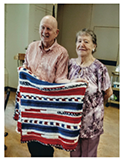 "COME PLAY WITH US." The motto of the Ferndale Senior Group says it all: Come play, learn, expand, and socialize with us.
We are a social group formed to enrich the quality of life for senior citizens in Ferndale and neighboring communities. We do this through programs, trips, and activities. We offer fun trips within the Tri-County area, including museums, fashionable restaurants, festivals, and whatever else takes our fancy.
Our meetings are packed with speakers familiar with community information, fun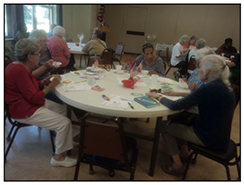 facts, ways to ease our lives, not to mention simply socialize and relax. We are famous for our potlucks. We meet on the second and fourth Wednesday of the month at 11:00 a.m. at the Kulick Center. Attendance is free. So, come join us.
Jeannie Davis, 248- 541-5888