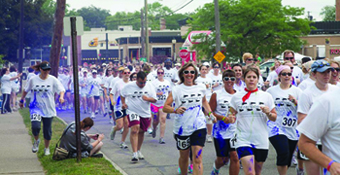 With an expected crowd of 10-15 thousand, festival organizers are also, in an effort to make the festival as open and accessible to as many people as possible, moving the event to a Saturday this year, and to the first weekend in June. This will help make this the biggest and best Pride yet.
One of the most memorable and fun aspects of Pride, the Rain- bow Run, is returning this year to the delight of runners and walkers from all over the area. Presented by Garden Fresh, the mission of the
Rainbow Run is to celebrate acceptance and diversity of all kinds, while raising money for some local nonprofit organiza- tions including the Chamber of Com- merce, Ferndale Community Foundation, Affirmations, and Upstander, an anti-bul- lying program established by The Friendship Circle. Participants in this unique 5K run/walk start the race in a white t-shirt, and are showered with non-toxic powdered paints at several points along the route. By the end of the race, runners are covered with a unique multicolored pattern, turning their formerly white shirt into a one of a kind souvenir.
There is also a family-friendly 2K run/walk where kids of all ages, including those in strollers, are welcome to partici- pate in the fun. People of all skill levels are encouraged to take part, too. "We have entire families signed up to walk together, avid runners, and people who are using this event as motiva- tion to get fit," said Jennifer Roosenberg, the Executive Direc- tor of the Ferndale Chamber of Commerce who is helping to organize the event. People come from all over to experience the unique event. "While we have many local runners signed up, over 80 percent of the runners will come from outside of Ferndale. This brings in visitors to Ferndale to see what the City has to offer," Roosenberg said. The Rainbow Run, like Pride, is all about inclusion, and fun.
Ferndale Pride is still seeking volunteers and participants to help make the event a success. Sponsors are need too, and all of the info about how to get involved is available on their website.
According to Covey and everyone else involved, It's the perfect way to start off another outstanding Ferndale summer.
"Our festival is very much a community event. Not too big, not too small, just right. Our downtown is perfect for a street festival, with the stores, ice cream parlors, restaurants, pubs, and clubs. And it looks great all decked out in the rainbow colors. It's fun, but not crazy. It's relaxing, but also vibrant. And the event is so inclusive, our 'straight' neighbors and friends like it too. Young and old, all colors, it is what Ferndale is all about."
Ferndale Pride presented by Motor City Casino will take place on June 1st, 2013. Information about the festival and how to get involved can be found at www.ferndalepride.com. Information and registration opportunities for the Rainbow Run can be found at www.rainbow-run.com.
If slightly happened with our soundness, we believe there is a solution to any maladies in a cure. What medicines do patients purchase online? Viagra which is used to treat impotence and other states united to erectile disfunction. Learn more about "sildenafil". What people talk about "viagra stories"? The most substantial aspect you must look for is "sildenafil citrate". Such problems commonly signal other problems: low libido or erectile malfunction can be the symptom a strong health problem such as heart trouble. Causes of sexual dysfunction include injury to the penis. Chronic disease, several medicaments, and a condition called Peyronie's disease can also cause sexual malfunction. Even though this medicine is not for use in women, it is not known whether this treatment passes into breast milk.