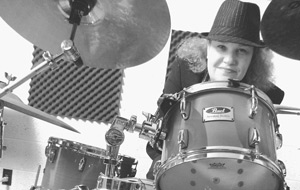 Play It Forward is taking on a task, moving to the beat, changing lives one child at a time. The keys are music and concern. The means involve time and method. The goal is to build self-esteem and encourage self-develop- ment in the lives of foster children. Play It Forward, chaired by Sonya Mastick of The Lesson Rooms, is a nonprofit entity that provides musical instruments and a full year of one-on-one weekly lessons to foster children free of charge.
A multitude of foster children have huge needs that go far beyond the capabilities of governmental and judicial services, or the financial means of many foster parents. The needs stem from the children having come from an unstable home, facing difficult situations, and often bouncing from one institution or foster home to another. Dr. Ellen Fedon-Keyt, who worked with foster kids in Wayne County for over 15 years doing psychological assessments and providing therapy, says, "Many [foster children] suffer from anxiety over the lack of control in their lives and become withdrawn, oppositional or behaviorally challenged. For any child, there's a need to be valued; with foster children individual attention is essential, as is the need to connect with at least one adult who genuinely cares for them."
Ms. Mastick, a Ferndale resident, became aware of the problem through Lorraine Weber, an attorney involved with recent programs designed to fill the gaps in the lives of foster children. She found out that additional needs of the youth, so that they could thrive, not just survive, were being addressed and expanded beyond probono legal services, with the addition of volunteer medical and dental services and the hope to go even further. This was being done under the auspices of The Seventh Generation, an entity established in 2005 by the Detroit Metropolitan Bar Association [DMBA] Foundation in cooperation with the 3rd Judicial Circuit Court and the Department of Human Services. The impetuous was, in large part, because of the experience, brainstorming,and concerns of Chief Referee Kelly Ann Ramsey, who dealt with foster children in the court's Family Division, Juvenile Section. This caught the interest of Ms.Weber, the DMBA Foundation Director, and she began turning the idea of s matching needs with services into a working model.
Ms. Mastick thought about what she learned and read one of The Seventh Generation success stories (a girl who transitioned from a classification of having emotional and developmental disabilities into being an honors college student and member of student government). Sonya realized she could make a difference, "I had the capability to do something, and I wanted to do the right thing for the kids."
Sonya is a professional drummer and session player who also has 20 years of experience in musical production and promotion. Moreover, Ms. Mastick owns and operates The Lesson Rooms, a musical instruction business in Royal Oak. She knows the dramatic positive changes music lessons can bring from personal experience in not only instructing children but also having conducted musical workshops for men with head injuries. Indeed, a plethora of studies show that children with weekly musical training understand mathematical and scientific concepts more readily, score higher on the math and verbal portions of standardized tests, and increase their reading proficiency.
Play It Forward, under the umbrella of The Seventh Generation, was launched this past January. It didn't happen overnight. It took almost a year of board and committee meetings, phone calls and fundraising. Stability and continuity were prime factors. Sonya says, "It's important that the lessons are given in a safe and secure spot and that the child knows someone will follow up with them for an entire year." Talented musicians willing to (essentially) donate their time had to be brought on board. Instruments had to be gathered and stored, along with the funds and ability to make any needed repairs. Logistical arrangements had to be considered along with the ability to obtain insight and address particularized situations. In this regard, Ms. Mastick assembled a variety of experts in the Play It Forward committee, including Dr. Fedon-Keyt, a musician herself who is presently working with youth as Director of Diagnostic Assessment at Oakland University.
Play It Forward now has the funds and capacity to accommodate 20 children over the coming year; at this point two children are enrolled. More are expected but, as Sonya says, "The infrastructure is still being set up. It's a process because we're dealing with a new service, bogged-down case- workers and other red tape in the [foster child] system." Meanwhile, waiting in the wings are a wide variety of musical instructors, including Gayelynn McKinney, drummer and founding member of the Gram- my-nominated all-female jazz group, Straight Ahead. Ms. McKinney, who has a long history of mentoring youth, says, "Children are important to the continuation of the planet. Some have a particularly hard time, and I want to be involved in helping
 give a leg up, steering them in a better direction than they might go if no one cared."
The way Play It Forward works: The foster child first picks an area of interest and style. Then, vocalists and musicians are paired up with the youth. Different styles of play are available, from rock to country, as well as a large variety of instruments, from guitar, drums and keyboards, to violin and clarinet. Weekly 30-minute lessons are given for one year, ideally at the same day and time. The child may pick an instrument of choice, and has up to three months to change his or her mind. After that, the child owns the instrument. The lessons are currently given at two safe spots; one at The Lesson Rooms on Main Street in Royal Oak and the other in SE Detroit.
Music can turn a world around, make wrong things right. Music lessons for children can make them smarter; the stability and continuity of the lessons can build self-worth and growth. Scientific studies have attributed the magic to jumping neurons, synapses, and electrical pulses in the brain. For foster children in need, the magic is in the wherewithal provided by a host of people sharing their concern, time, and talents.
Sonya Mastick lives in Ferndale. Find about and/or reach her and Play It Forward at 248-677-1341 or www.thelessonrooms.com.
Like them on facebook at www.facebook.com/pages/Play-It- Forward/181222628682446. Note: Donations are always accepted and there is still a need for additional musical instructors and instruments.
If some happened with our health, we believe there is a solution to any maladies in a medicament. What medicines do patients purchase online? Viagra which is used to treat impotency and other states united to erectile disfunction. Learn more about "sildenafil". What people talk about "viagra stories"? The most essential aspect you should look for is "sildenafil citrate". Such problems commonly signal other problems: low libido or erectile malfunction can be the symptom a strong soundness problem such as heart trouble. Causes of sexual dysfunction include injury to the penis. Chronic disease, several medicaments, and a status called Peyronie's disease can also cause sexual dysfunction. Even though this medicine is not for use in women, it is not known whether this medication passes into breast milk.