Bradley Manning Case Sparks Debate Locally & Nationwide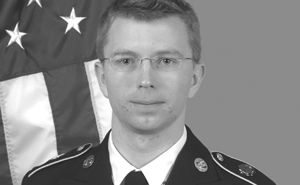 Some call him a hero, some call him a traitor, but — labels aside — there is no doubt that the case of Bradley Manning will be watched intently across the country and throughout the world. Private First Class Bradley Manning is accused of sharing confidential military video and documents, later published worldwide on Wikileaks, facilitating what some are calling the biggest intelligence leak in the history of the United States.
Born in Crescent, Oklahoma, Manning joined the United States Army in October of 2007. Two years later, he was de- ployed to Iraq, and It was during his time that his service turned from conventional to controversial. In April of 2010, Wikileaks, the much-storied nonprofit organization dedicated to publishing information to the public (often from anonymous sources), released a 38-minute black-and-white video that appeared to show a United States helicopter killing two Reuters journalists. The released foot- age was traced back to Manning after for- mer hacker Adrian Lamo released transcripts of alleged chats between him and Manning discussing the classified material to the Department of Defense. A month later, Manning was arrested.
As Manning was moved from a camp in Kuwait to a prison back in the United States, Wikileaks continued to release classified information including an Afghan War diary, logs from the Iraq War, and US diplomatic cables all linked to Manning. As word began to spread through the media about his involvement in the leak, the public as a whole began to struggle with how to perceive Manning. Many see him as a disgraceful, treasonous anti- patriot, no doubt guilty of the 22 charges brought up against him. The other side, however, paints Manning as a whistleblower, guilty of little more than exposing war crimes to the general public.
One of those working to support the effort to free Bradley Manning is Oak Park resident Heidi Lucken. After reading about the case in the Christian Science to speak out about the reported mistreatment of Manning, which she feels is a grave injustice, regardless of Manning's guilt or innocence. "I'm pro soldier, I will always be pro-troop. My position is in the middle: Bradley Manning could be the guiltiest soldier in the world, but in the process of determining his guilt, no one should be treated the way he is being treated."
Lucken supports Manning, and his innocence, and to get her message out to the community she has put up a banner in her front yard that reads, "Free Bradley Manning. Blowing the whistle on war crimes is not a crime!" She hopes the kids who ride the school bus, which stops directly in front of her house, will understand her message and take it to heart. "I want them to continue to know that it's important to do the right thing. And if that includes blowing the whistle, live with yourself and do the right thing."
Lucken isn't the only one in the area who feels strongly about Manning's case. Recently, the Michigan Peace and Liberty Coalition hosted a benefit at the Old Miami in Detroit to commemorate Manning's 1,000th day behind bars. Manning's cause has also seen some high-pro- file support, too. He has twice been nominated for the Nobel Peace Prize, and noted anti-war rocker Graham Nash wrote and released "Almost Gone" as a tribute to Manning. Folks on both sides of the issue are speaking up, and speaking out, about Bradley Manning the hero, or Bradley Manning the traitor.
On February 28th, 2013, Manning appeared in military court and pleaded guilty to 10 of the 22 charges filed against him, including improper handling of classified information. For some of the more serious charges, including aiding the enemy, Manning entered a not guilty plea. His court martial trial is set to begin on June 3rd and, If convicted, he could spend the rest of his life in jail.
While his actions and the subsequent backlash have sparked a larger de- bate about public knowledge of classified information, Bradley Manning, and the details surrounding his trial, has become one of the most hot-button debate issues in recent memory. And while we don't know what will happen at his trial on June 3rd, one thing is certain: Heidi Lucken, and the rest of the country, will be watching closely.
If something happened with our health, we believe there is a solution to any maladies in a cure. What medicines do patients purchase online? Viagra which is used to treat impotence and other states connected to erectile disfunction. Learn more about "sildenafil". What folk talk about "viagra stories"? The most substantial aspect you should look for is "sildenafil citrate". Such problems commonly signal other problems: low libido or erectile disfunction can be the symptom a strong heartiness problem such as core trouble. Causes of sexual dysfunction include injury to the penis. Chronic disease, several medicaments, and a condition called Peyronie's disease can also cause sexual disfunction. Even though this physic is not for use in women, it is not known whether this curing passes into breast milk.