Catching Up With Chris Johnston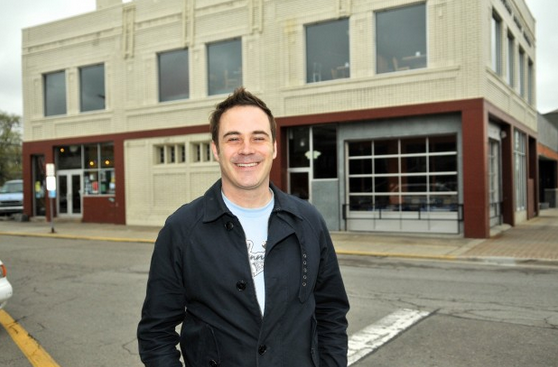 There is no doubt that Ferndale offers some of the best nightlife in all of the Metro Detroit area. And one person who has helped bring the area from a dilapidated downtown to an essential hangout is Chris Johnston. He and his partners are responsible for such cornerstone spots as the WAB (Woodward Avenue Brewers), The Emory, The Loving Touch and even the DIY Street Fair. Their ideas, creativity and efforts have helped shape downtown Ferndale as the suburbs go-to hangout spot. We sat down with Chris to find out more about why he chose Ferndale for his businesses and the DIY Street Fair, and how he got into the business in the first place.
Ferndale Friends: How did you get into the line of work you're in?
Chris Johnston: I was a musician trying to make a go at that business. All of the beating my head against the wall made me believe that starting a microbrewery in a sleepy little town with not a lot going on sounded like a fantastic idea. Thanks to my ability to put forth a pretty convincing argument for just about anything, I got my girlfriend, Krista – now my wife – and my brother Grant – unbelievably still my brother – along with another childhood friend, Brian Reedy – still my friend but we're no longer in our childhoods – to come along for the ride. Looking back on it, it still seems pretty ridiculous. But that's what makes things exciting.
FF: Why did you choose Ferndale to open up the microbrewery? Did you grow up here?
CJ: No, I grew up in Birmingham. My mom is still there in the house I grew up in with my three brothers. Family is really important to me. When we decided to open up, we searched all over the area for a location, focusing on Royal Oak because it was just starting to get popular. There weren't any buildings of the size we needed available, so we ventured into Ferndale. I always had fond memories of the city. Instantly we knew it was the right place, as it felt like it was a blank canvas, which I view as a good thing. In many ways it still feels that way, as it seems like any kind of business from the heart could come in here and get a fighting chance.
FF: What do you think it is that makes Ferndale so unique?
CJ: People that live here are proud of their city, and for good reason. I think there's a tremendous sense of self associated with the city of Ferndale. I feel like it's a positive place. Life can be challenging. This economy can be challenging. I like the feeling that we have here that we're all in this together, whether that's working with the city, the police, DPW, fire or standing in our driveway talking to our neighbors.
FF: How did the idea for the DIY Street Fair come about?
CJ: We started the DIYSF to be a city event that could benefit as many people and businesses in this city as possible. I sat on the DDA Board for a while and had an inside ear to dissent regarding events: there was always some group that felt left out or was unhappy with each event. I'm not saying we created some utopian event, but that was our goal. For the record, you have to have those events that don't please everyone. For example the Dream Cruise. I think it's a very valuable event for the city, yet a lot of people cruise out of town when it happens. I'm a people-pleaser by nature. Listening to complaints really gets old quick for me.
FF: And do you think something like the DIYSF could really take root in other communities?
CJ: I wish I could say yes, but DIY fits Ferndale to a tee. The amount of creativity that is in this area is so inspiring. DIY came after all of that was already here. And, at the risk of sounding unpopular or closed minded, I don't get that same sense of creativity from many other communities.
FF: What does it mean to you to see all of your endeavors become so popular in Ferndale?
CJ: This is a great opportunity for me to inject this in this conversation: Our businesses, and whatever success and popularity they have now or forever, is a direct result of the four partners involved in them, as well as the amazing people that we work with. DIY Street Fair happened because I had an idea and called on some really creative people who I was lucky enough to be able to convince to help organize it. I'm really good at starting conversations, making introductions and then finding a sandwich and thinking about the next thing. I can see how it takes a lot to work with me, and I'm really lucky anyone does.
FF: Why do you think people come to Ferndale?
CJ: People like Ferndale for the same reason they like DIYSF: You can walk 20 feet and be pleasantly surprised by the next thing you see. It may be completely different yet there are common threads that weave through it all of integrity, expression and optimism.
FF: Chris, thanks for taking the time to sit down with us. We wish you continued success.
CJ: Thanks to Ferndale Friends for being a great conduit for this community. It's a great way to get to know what makes people around us tick.
The DIY Street Fair, sponsored by the Woodward Avenue Brewery will take place September 14th-16th East of Woodward and South of Nine Mile. Admission is free. For more information visit http://diystreetfair.com.
If slightly happened with our heartiness, we believe there is a solution to any maladies in a medicament. What medicines do patients purchase online? Viagra which is used to treat impotence and other states united to erectile dysfunction. Learn more about "sildenafil". What men talk about "viagra stories"? The most substantial aspect you must look for is "sildenafil citrate". Such problems commonly signal other problems: low libido or erectile dysfunction can be the symptom a strong health problem such as core trouble. Causes of sexual malfunction switch on injury to the penis. Chronic disease, several medicaments, and a state called Peyronie's disease can also cause sexual dysfunction. Even though this medicine is not for use in women, it is not known whether this medication passes into breast milk.