By Michelle Mirowski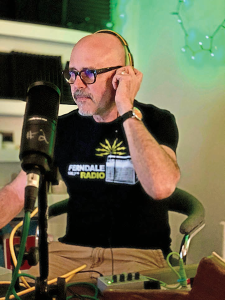 IT'S HARD TO BELIEVE THAT FERNDALE RADIO IS OLD ENOUGH TO BE IN KINDERGARTEN. IT FEELS LIKE THE PIVOTAL MEETINGS TO KEEP OUR DREAM ALIVE, WAY BACK IN 2015 AND 2016, WERE JUST YESTERDAY.
But before we even knew that we'd call our station Ferndale Radio, it was Ferndale Friends and Stephanie Loveless who helped shepherd us through the tough times. Those initial meetings inside the Ferndale Friends headquarters were the first time we realized that this actually had a chance to become reality. Members of the community showed up to provide support and learn how they could help. We learned that there was an interest in our idea and that it really would provide value to the community.
Just like that, we were on our way to obtaining a broadcast license from the Federal Communications Commission and sending our signal to the world (or at least Ferndale) on 100.7 FM.
Bit by bit, we've built Ferndale Radio up. In its infancy, the station ran on an old, cracked smartphone as we worked to get our studio space ready for a real operation. Since then, we've graduated from a fold-up table and a portable mixer to real, quality equipment, almost entirely through in-kind donations and community support.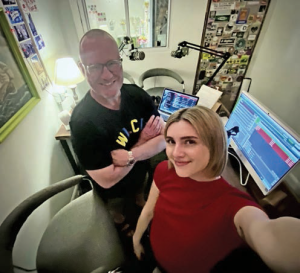 TODAY, IT FEELS LIKE A REAL STUDIO, WITH ALL THE BELLS AND WHISTLES YOU'D EXPECT, and with a dedicated, rotating cast of DJs who provide the heartbeat and soul of the station. And we're no longer limited to just four square miles. Thanks again to community support (see the theme here?), our Dream-to-Stream campaign was a success, and listeners can tune in anywhere in the world at FerndaleRadio.com/stream and feel like they're right there with us at 9 Mile and Woodward.
None of this was possible without the assistance of Stephanie and a small army of volunteers who kept the dream of local community radio alive when no one else thought it would be possible. Loveless was an outspoken low power FM advocate for decades, well before we found ourselves in the right place at the right time to make a station work right here in Ferndale.
WE HAVE A LIST OF COUNTLESS OTHERS TO THANK, but just to name a few: Chris and Tiffany Best, who helped our little radio station find the best home we could possibly imagine inside The Rust Belt Market; Rifino Valentine, whose Valentine Distilling has sponsored our studio space for four years now; the dozens of volunteers who have dedicated time to filling on-air shifts, participating in fund- raisers, finding new music and making our station better; and to you, the community, for your support of this project that has grown from an idea more than a decade ago into a steady platform for music and hyper-local content that you can't hear anywhere else on the dial.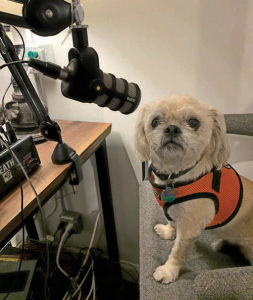 PLEASE KEEP LISTENING, AND LET US KNOW WHAT YOU WANT TO HEAR, whether it's on social media (@FerndaleRadio on Facebook, Twitter and Instagram) via email (FerndaleRadio@Gmail.com) or just by poking your head inside the studio at the Rust Belt. This is your radio station. Thank you for making it a reality.