By Mary Meldrum
Get ready for a brand-new Nine Mile! One of Oak Park's major thoroughfares is about to undergo a major makeover.
The Nine Mile Redesign project was borne from the leadership change and a paradigm shift in the Oak Park City government's focus that began in 2011, following an economic recession that almost bankrupted
the City. One big change came in 2014 when the City hired Kimberly Marrone, Economic Development &
Communications Director. Marrone explained the objectives and the progress of Oak Park's Nine Mile Redesign project:
"My role in the City is for economic development, so we want to attract new businesses and retain the businesses we currently have in the city as well as help them grow and expand," says Marrone. She is part of an Oak Park government leadership that has implemented service-oriented and pro-growth policies. These policies are gaining momentum – funding and creating an impact for the city's future.
In 2014, a Strategic Economic Development Plan was adopted by the Oak Park City Council. The plan outlined action steps to assist in sparking additional economic development to Oak Park. Marrone discusses the growing evidence that providing places to walk and bicycle is a successful strategy for maintaining and restoring economic vitality. Indeed, there is solid research that supports the connection between pedestrian-friendly environments and economic viability.
Major firms around the country are beginning to loudly advocate for pedestrian, bike and transit-friendly development patterns. And they are voting for these changes with their walking boots on, relocating to city centers that are a better fit for their business, their ideals, and for their employees. Booming business centers like Atlanta and the Silicon Valley are showing how an over-dependence on the car can stall economic development. Businesses are increasingly concerned with lengthy commutes, gridlock, lack of transportation choices, air pollution, and the overall decline in quality of life that can make recruiting and retaining skilled workers difficult.
According to the 1997 Journal of Park and Recreation Administration, the number and location of open space/parks/recreation ranks high among factors used by small businesses in choosing a new business location. According to a 1998 analysis by ERE Yarmouth and Real Estate Research Corporation, real estate values over the next 25 years will rise fastest in "smart communities" that incorporate a pedestrian and bike-friendly configuration.
Road Diet
A study conducted for the City in 2015 with grant money showed it was feasible to redesign Nine Mile Road with a so-called "street diet." The road will be reduced from five to three lanes, and the City will create linear parks, additional parking, bike lanes and streetscape amenities, a known formula to spur economic development.
"Businesses want to know if they can be successful here in Oak Park. They want to locate into a community that people are attracted to live in," says Marrone. Oak Park and surrounding communities have seen a steady demand for homes and an uptick in median home prices over the past several years, making Oak Park an attractive place for businesses to settle in and grow.
Reducing traffic noise, traffic speeds, and vehicle-generated air pollution will increase property values. Adding green space, parks and public gathering places are multipliers in the property value equation. One study found that a five-to-ten mile-per-hour reduction in traffic speeds increased adjacent residential property values by roughly 20 per cent.
"We applied, jointly with Ferndale, for the grant from MDOT last spring and received notice in September of 2017 that they would partially fund the project. The total project cost is roughly $1.4 million. We received a grant award from SEMCOG and from MDOT in the amount of $983,826. This would require a 30 per cent match from the cities," shares Marrone.
In 2018, The City of Oak Park will finalize road plans for Nine Mile, solicit bids this Spring. The City will add bike lanes and redesign the parking starting in late Spring or early Summer. The majority of the work is repainting of lines with minimal actual road construction.
Nine Mile Road was developed before I-696 was finished, and now carries much less traffic as it once did. In fact, the car count is roughly 17,000 cars per day now, making it a "tired" street with too many lanes. People drive past businesses on Nine Mile without noticing them. A road diet would slow the traffic and improve safety, allowing businesses to enjoy a spark of additional success, as well as fill vacant storefronts.
In the 1970s and 1980s, there was a push to move away from downtown areas, like Detroit. That movement has recently reversed, and there is a shift to embrace downtown density again in most communities. Oak Park's Nine Mile Redesign project is quickly getting traction to promote a vibrant, pedestrian-friendly downtown area by addressing traffic issues, greenway development, and density.
Pocket Parks
Oak Park residents were interested in creating space where people could gather. As part of the Nine Mile Redesign project, a park was tested with the Sherman Summer Pop-Up Park in 2017. The City closed about 100 feet of Sherman Street.
In June, and put in tables, chairs, games, activities and programming. Sometimes they held scheduled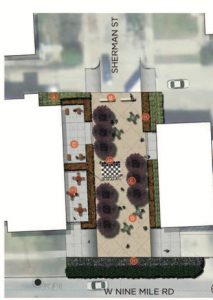 musical entertainment, exercise classes, art and STEAM programs from the Oak Park Library and Recreation Department. Sherman Street residents were asked for input and invited to help create the space. In feedback following the pop-up park, 83 per cent of survey responses said they were in favor of the permanent park. The City applied for, and received, a grant from Oakland County.
"We went to great lengths to take into consideration the wishes of the community and to ensure that the needs of the residents were being met," said City Manager Erik Tungate.
For the Nine Mile Redesign, the engineering firm suggested closing three streets at Nine Mile Road to create pocket parks. The City decided to close only two, Sherman and Seneca.
When people on Seneca were approached, most were happy about it. Of those with reservations, they expressed worry that emergency vehicle access would be impeded to homes and businesses; that school buses might not be able to travel the street; and questions on whether the park could invite crime to the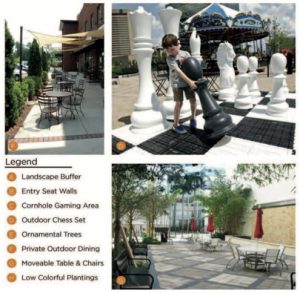 area. Not one item went missing from the temporary pop-up park; creating more of a crowd typically creates less crime. The Public Safety Department reported that emergency vehicle and bus access was not impeded, and noise and vandalism was not an issue.
Bringing people together has long been known to produce economic value. Population density creates and increases social capital and economic opportunity. Social capital has value in fellowship, shared information and common goals; it thrives in communities that provide platforms and places for people to come together to shop and share their knowledge and information, while collaborating and socializing. Social capital allows people to become invested in the outcome of their neighborhoods, and economic capital to flourish.
"When talking to new potential businesses about locating in Oak Park, they become very excited about the vision and plans we have, specifically for the Nine Mile Redesign Project," says Marrone.