Rabbi Alana Alpert : A Jewish Voice In the Progressive Community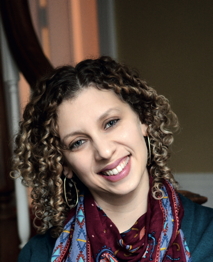 Story by Mary Meldrum
Photo by Bernie Laframboise
In 2014, Congregation T'chiyah welcomed Rabbi Alana Alpert from California to Oak Park, Michigan. Her arrival initiated a new direction for the congregation as she began a dual position, serving both as Rabbi and as a community organizer with Detroit Jews for Justice.
Rabbi Alpert arrived prepared for the challenge. She graduated from UC Santa Cruz where she studied resistance and social movements and learned about faith-based community organization. She had already en-gaged in leadership around feminism, Israel/Palestine, GLBTIQ rights, and prison reform. She attended rabbinical school to prepare for Jewish leadership, and she also spent three years in Israel and speaks Hebrew fluently.
Congregation T'chiyah was founded in Detroit in 1977, and they were "lay led" for most of their existence. About five years ago they decided they wanted a rabbi and that they wanted to focus on social justice work. But they didn't need a full-time rabbi. While there was good work happening on the community relations and social service level by the local Jewish community, they felt that there was room for more meaningful work with racial and economic justice. The congregation set about looking for a rabbi that had a background in community organizing who would be their part-time rabbi and their part-time organizer for the broader Jewish community. That idea eventually developed into what today is Detroit Jews for Justice.
The congregation now resides in Oak Park, and has approximately 90 congregational members – more than double the membership from when Rabbi Alpert arrived in 2014. Rabbi Alpert attributes this growth to her smart congregation that adopted a social justice mission. Having an energetic, young rabbi out in the community raising awareness has attracted additional members, as well.
Aside from the original members setting some good objectives, their work is now resonating with a greater cross-section of people from a wider geographic area around Detroit, and includes new members from younger generations. While established members tend to be a steadfast part of the congregation, younger members connect with the social justice mission of Detroit Jews for Justice, and they eventually become more interested in the larger scope of work that the congregation does.
Detroit Jews for Justice is based off a successful model in New York, the Twin Cities and Washington, D.C., which they have adopted and adjusted to their context for their program in Oak Park. "Our mission is to be a Jewish voice in the progressive community and the Jewish community. We are interested in engaging Jews in movements for racial and economic justice," describes Rabbi Alpert. "We have built a base of about 100 people who identify as Detroit Jews for Justice leaders, and they choose as a group to focus on certain topics."
Rabbi Alpert is clear that their work distinguishes them from other groups; what they do is not social service. They are trying to change conditions. She also says there are lots of folks who live in the suburbs who want to put in time and get involved with Detroit. Detroit Jews for Justice is giving people more meaningful ways to connect with the city and be supportive of Detroiters.
As outlined in their core values, Detroit Jews for Justice honors the long history of activism that came before them and organizes around aspiring towards a better world. They choose work that is actionable, winnable and relevant to the lives and experiences of communities in the region. Their work follows the lead of people who are directly impacted by injustice; they support the work around key issues of Detroit and surrounding communities, and they address root causes of injustice.
The group now meets once a month at Rabbi Alpert's home because young people seem to prefer to meet in homes. They also meet twice a month at the Mondrey building in Oak Park, and twice a month at various locations in Detroit. "We have a high percentage of attendance from our membership," says Rabbi Alpert.
"We usually have at least 20 people on a Saturday morning and about 40 people on a Friday night."
Rabbi Alpert reports that congregational members, as well as members for the Detroit Jews for Justice, travel from all over the metro area including Detroit, Shelby Township, West Bloomfield and Huntington Woods. As an organization that serves families who live in Detroit and the surrounding suburbs, Oak Park has proved to be a comfortable commute and very convenient meeting point for everyone.