Sudha Sekhar : Dedicated to Dance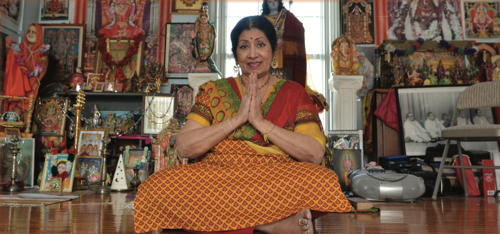 Story by Sara E. Teller
Photo by Bernie Laframboise
Sudha Sekhar, a 40-year resident of Oak Park who began her passion for dance at the young age of three, has been teaching the art since 1958. Her desire to share her talent began in India, and she eventually took her expertise with her to Canada in 1967, then the United States. Sekhar is originally from Mumbai and came to Canada after her arranged marriage.
"It's been a 60-year journey as a teacher, guru, and mentor for hundreds of students," Sekhar said. "I teach the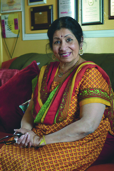 sacred, ancient, classical dance form called Bharata Natyam, which we consider a fifth Veda. I have also taught Kuchipudi of Andhra Pradesh, as well as the Kathak form of North Indian classical dance and Indian folk dancing."
Sekhar feels teaching dance to others is her life's purpose. She explains, "It has been a deep dedication for me to promote, preserve, and share the ancient arts of Indian music, dance, poetry, and theater with the younger generation. I have been trained by bona fide gurus, and would like the world to know about the discipline, devotion, and greatness of these arts that enhance the quality of life through development of a strong character, mindfulness, and mind, body, and soul consciousness."
The 77-year-old has also served with Oak Parks Arts & Cultural Diversity Commission since 2007, as well as being an active member and the Charter President of the Oak Park-Royal Oak Township Optimist Club. "We are a group of like-minded individuals with a variety of interests and accomplishments. We have annual spring and summer festivals, and an annual World Dance Day on April 29th which I started in 2010 to promote collaboration with the diverse dance groups in our city," she explained.
Sekhar holds private dance lessons and group sessions in her home studio in Oak Park. "Finding a place is hard for our type of dances, as we dance barefoot," she said. "It was easier for me to teach at home for some girls, and that way my daughters also made friends and learned about our traditional arts." She also teaches in Farmington Hills, Canton, Ann Arbor and Troy, and will be starting a group in West Bloomfield soon.
Sekhar is used to traveling for the art. "My husband and I have driven with our daughters to Lansing, Dearborn Heights, and Westland, to name a few. I drove to Flint, and Saginaw for almost 20 years to teach students there. Before coming to Detroit, my family lived for 11 years in Windsor, Ontario, where my daughters were born. I was invited to teach in Windsor, Ontario, St. John, New Brunswick, Newfoundland, and Bar Harbor, Maine until the year 2000."
All of those years spent dedicated to extending the art to her children paid off. "My oldest daughter, Vidya, is a two-time world record holder for solo classical dancing. She got her first world record in 1989 when she danced for 48 hours in aid of the American Cancer Society. She beat her record by dancing for 72 hours for the American Heart Association in 1996 in memory of her father. She contributed $10,000 to each of these organizations."
Sekhar said her family has always been very much involved with charitable organizations. "We have always contributed to worthy causes for advancing education and health consciousness." Sekhar loves Oak Park, especially the city's diversity. "It's a beautiful family city," she said. "We made our home here because we felt welcome here. We have a great mayor who has put Oak Park on the map. So many people from different lands have made their home here, bringing with them the richness of their unique culture, talents, and mannerisms which has added to the colorful mosaic of this city.
I try to attend classes at our Oak Park Community Center, offered by our Department of Recreation, whenever time permits. This is a city of fine restaurants, shops, pharmacies, schools, parks, and admirable services."
Students interested in connecting with Shekhar can visit her website at www.hindutemplerythms.org