Anne Marie & Kenneth Reed: Transforming Lives at Divine Favor Ministries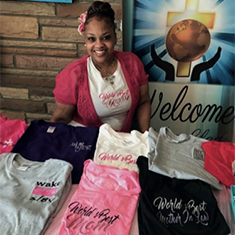 By Sara Teller
DIVINE FAVOR MINISTRIES BEGAN IN 2006 and relocated from Roseville in 2012 to Hazel Park. They currently offer services at 22223 Rhodes Ave.
"We are a small but mighty group of believers who honor God and love people," explained Ann Marie Reed. "We held services for two years in what is now Joebar and was then a dance studio. In October 2014 we were able to purchase the former Hazel Park Masonic Temple and transform it into Divine Favor Ministries. Our nondenominational worship opportunities are held Sunday mornings at 10:00 A.M. and Bible Study is Wednesday evenings at 7 P.M."
The congregation is led by Ann Marie Reed's husband of 28 years, Pastor Kenneth D. Reed, Sr. The group also offers opportunities to serve the community through various programs organized throughout the year, and there are opportunities for members to connect outside of service through involvement in small groups. The women's ministry, Women W.I.N., for example, offers a chance for women 18 and over to gather together once a month and discuss topics of interest, and WE FEED is a program that has grown substantially since its inception.
"One of our largest ongoing projects is our WE FEED program," Reed said. "Not only do we distribute food to families from Hazel Park and surrounding areas, we also have several events throughout the year where we distribute new clothes, school supplies, household and personal care items, and even new toys for Christmas at our annual Breakfast with Santa."
WE FEED distributes the last Saturday of each month at 10:00 A.M. "We ask that our intake paperwork is completed and recipients bring valid ID," Reed explained. "Another project we are working on is Divine Connections Life Solutions. We are hoping to be able to provide homes, childcare, and other wraparound services to single parents in need."
TEENY TINY TERRITORY TAKEOVER WAS A FUNDRAISER held specifically for Divine Connections Life Solutions, a non-profit extension of Divine Favor Ministries Church that offers programs designed to help single moms with their bills, housing assistance, referrals, and childcare in Southeast Michigan. Reed came up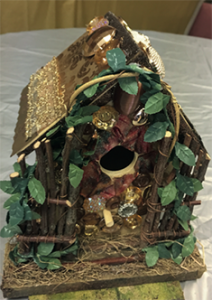 with the idea of the Teeny Tiny Territory Takeover, which was based on the concept of tiny homes. During the event, "awesome artists from the Hazel Park Arts Council transformed birdhouses into amazing works of art," she said, adding, "They were definitely the highlight but we had other items available for auction, too. We also had take-home kits that you can decorate yourself."
Residents were able to support the endeavor by donating online via an auction as well as attending the event in person at the church. Linda Yono from the Arts Council made four birdhouses and Nina Cairo, also from the Arts Council, made one. Yono, who has been a member of the Arts Council for almost four years, said, "I have been an artist all my life." She added, "Hopefully, the Arts Council can help do this again."
Reed said, "They just did a phenomenal job. The birdhouses were completely transformed. They were all themed – one was a peacock; one was a Candyland theme. I had no idea they were going to come back the way they did! I would say we raised around a thousand dollars."
The mission of Divine Connections Life Solutions is "to facilitate the movement of homeless families toward self-sufficiency by providing shelter and other services that will increase the interpersonal, parenting and household skills." Reed acts as the organization's Executive Director and is a perfect fit for the position as a former childcare center owner/operator with over 20 years of housing management experience and ten years in the nonprofit sector. Monthly women's events held at Divine Connections Life Solutions include counseling, spiritual guidance, self-esteem building, and meetings centered around other personal care topics.
REED ALSO WORKS AS AN AGENCY RELATIONS COORDINATOR FOR GLEANERS COMMUNITY FOOD BANK, where she is able to help hundreds of other churches and non-profits start, build, and maintain food pantries throughout Southeast Michigan. She is a graduate of Grace Bible College (Magna Cum Laude). A wife and mother, she also manages to squeeze in some time for a personal passion of hers – crafting.
"I love crafting! Machine embroidery, candle making, and quilling are my current favorites, but I've been known to crochet, knit, and sew just about anything. I would like to start a monthly crafting class at the church, Crafted in His Image, where we would highlight a different craft each month," she said.
Anyone interested in the WE FEED program or Crafted in His Image (either as a participant or instructor) can contact Ann Marie at ladyamreed@yahoo.com.