Civitas: Creating A Coffee Community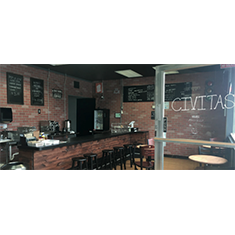 By Maggie Boleyn
CIVITAS COFFEE HOUSE MAY BE YOUR FIRST HINT that this is not your grandfather's Hazel Park. As the city slowly transforms from an economy which heavily relied on the Raceway for revenue, you see more service-related businesses opening, creating new opportunities for residents to connect with one another, forming a new sense of community.
Students of ancient Rome will immediately recognize that Civitas Coffee House, by its very name, aims to be such a communal place. The Latin term civitas, in the time of the late Roman Republic, referred to the social body of the citizens. While ancient Roman citizens were united by law, Civitas Coffee House unites those who love good coffee and tea.
Jessica Bracker, owner of Civitas explains, "We wanted to create a space for people to get together in the community and get to know each other."
This feeling of community helps shape the vision for Civitas as a "place to meet and get to know neighbors." Civitas supports local artisans with nearby artists displaying their work in coffee shops on weekends in the past.
"There are not a lot of places, except bars, to get to know your neighbors," she said. While local bars can be a good way to meet others, Bracker joked that one advantage at Civitas is "it's easier to talk to others in a coffee shop."
Bracker and her husband have visited coffee houses around the world, logging trips to over 250 coffee houses. Bracker's husband has been steeped in coffee house culture since his teen years. The couple has lived in Hazel Park for ten years.
Bracker says she likes Hazel Park and what the city is about. "It's a nice little city." She likes the recent growth and the opportunity for further development. "We like the Ferndale, Royal Oak, Hazel Park area," she continues. She enjoys the "small-town/city-life" feel of the area.
BUT YOU WANT TO KNOW ABOUT THE COFFEE. Civitas serves lattes, mochas, and other flavored drinks. "Our main focus is coffee," Bracker said. There is also a selection of loose-leaf teas for customers to savor. There isn't a large food menu. Bracker says, "We'd rather do a few things really well." You can grab a muffin or a piece of fruit to go with your coffee or tea. Initially, Civitas did not offer decaffeinated coffees, but Bracker said that they have recently put decaf selections on the menu, and there are several caffeine-free teas available.
Civitas aims for strictly fresh coffee, providing the best customer experience. "People really don't know how long coffee has been sitting," she says. Two methods the shop uses are the French press and pour-over. "French press" uses coarsely ground beans which are stirred into water boiled at 195 degrees and then left to sit for four minutes. "Pourover" is a drip-coffee method in which the water is poured in a thin, slow, steady stream over a filter cone. Both methods provide a superior coffee experience.
The Civitas website warns new customers not to be alarmed if your French Press drink has a few coffee grounds. "A small amount of grounds in your cup is perfectly fine and normal."
Memorial Day weekend marked the first anniversary for Civitas. Bracker says future plans for Civitas include using their own roaster to offer customers an even greater variety of coffees from other countries. Civitas Coffee House is located at 906 E. Nine Mile Road next to Hungry Howie's. Visit their website at civitascoffeehouse.com.