Shellback Manufacturing: Hazel Park's Oldest Manufacturing Business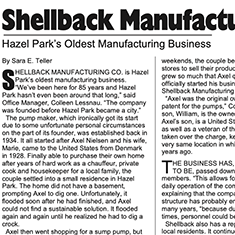 By Sara E. Teller
SHELLBACK MANUFACTURING CO. is Hazel Park's oldest manufacturing business. "We've been here for 85 years and Hazel Park hasn't even been around that long," said Office Manager, Colleen Lessnau. "The company was founded before Hazel Park became a city." The pump maker, which ironically got its start due to some unfortunate personal circumstances on the part of its founder, was established back in 1934. It all started after Axel Nielsen and his wife, Marie, came to the United States from Denmark in 1928. Finally able to purchase their own home after years of hard work as a chauffeur, private cook and housekeeper for a local family, the couple settled into a small residence in Hazel Park. The home did not have a basement, prompting Axel to dig one. Unfortunately, it flooded soon after he had finished, and Axel could not find a sustainable solution. It flooded again and again until he realized he had to dig a crock.
Axel then went shopping for a sump pump, but when he took a close look at the device he thought he could probably build his own. So he picked up all of the components he'd need instead and assembled it at home. It worked! Apparently, Axel and Marie's home wasn't the only one in Hazel Park with a flooding basement and the couple soon started receiving requests from their friends, asking if Axel could make them sump pumps, too.
The Nielsens eventually had more orders for pumps than they knew what to do with and it became apparent the endeavor was a gold mine. Axel worked at General Motors during the day and assembled the sump pumps at night. Marie would paint them while he was at work. On the weekends, the couple began driving to hardware stores to sell their products. Finally, business grew so much that Axel quit his day job and officially started his business, incorporating Shellback Manufacturing Co.
"Axel was the original owner and he has the patent for the pumps," Colleen explained. Now his son, William, is the owner." William J. Nielsen, Axel's son, is a United States Air Force veteran as well as a veteran of the Korean war. He has taken over the charge, keeping Shellback in the very same location in which it started all those years ago.
THE BUSINESS HAS, AND WILL CONTINUE TO BE, passed down to the Nielsens' family members. "This allows for a personal touch in the daily operation of the company," Lessnau said, explaining that the company's family-oriented structure has probably enabled it to survive for so many years, "because during hard economic times, personnel could be adjusted easier." Shellback also has a reputation for employing local residents. It continues to operate as an OEM repair shop for all types of home and industrial application pumps and pump mechanisms; manufacturing, distributing, and repairing its Torpedo Sump-less Sump Pumps and Laundry Tray and citing customer service as a top priority. Asked why being located in the heart of Hazel Park is ideal, Lessnau responded, "Employees can walk to work."
Residents looking for a new pump or to service an existing one can contact Shellback Manufacturing Co. at 248-544-4600 or sbmfg1320@gmail.com, or just stop on by 1320 E Elza. The office is open 8:00 A.M.-4:30 P.M., Monday through Friday.