Youngbloods is Putting Down Roots in Hazel Park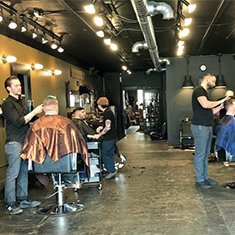 By Sara E. Teller
YOUNGBLOODS IS A BARBERSHOP AND MEN'S RETAIL STORE that sits at the former Phoenix Café location on John R. in Hazel Park. Husbandand-wife team Lyle Hayman Jr. and Angie Yaldoo officially opened for business in July 2018. Hayman and Yaldoo both have years of experience in their field – Hayman as a hair stylist and Angie as a retail and fashion guru. Hayman was formerly a stylist at the Berkley Chop Shop and Yaldoo was a manager of Incognito, a now-defunct Royal Oak boutique.
The "youngbloods" are excited to start their first venture together and blend their expertise to offer a unique experience for members of the community. Their shop is an eclectic mix of dark colors with pops of red and gold – a masculine, yet classy look with a touch of edgy rock n' roll. On racks and shelves at the back of the store, patrons will find men's hats, jackets, jeans, shirts, and accessories. The shop is lined with Straight to Hell apparel, which is inspired by music and culture and includes leather and denim jackets, animal prints, and more.
There's even a line of all-natural, soy, handmade candles available in black and white. And, of course, at the front, the shop offers a wide variety of men's hair styling products, including pomade, balms, and sprays.
Yaldoo explains, "We offer everything from haircuts and beard trims to men's apparel, accessories, grooming products and candles."
Hazel Park was a great place to establish because of the tight-knit neighborhood and ability to connect with residents. When locals walk in they're looking to get to know and trust their stylist, so they can return time and again. Hayman was already wellknown around town and has maintained some of his Berkley clients.
"WE LOVE THAT HAZEL PARK ISN'T OVERRUN BY BIG CORPORATE CHAINS and individuality is still embraced.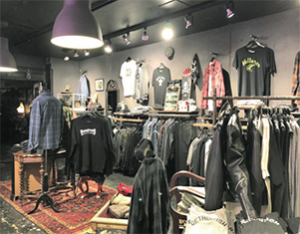 We also love the people! Everyone has been very welcoming and supportive," Yaldoo said, adding that they chose the location because "we loved the energy of Hazel Park and the renaissance that is expected to happen within the city."
Keeping with the vibe of the once prominent Phoenix Café, which was a place for residents to come out and listen to live music, the couple has incorporated music into their routine as well.
"We strive to provide an experience," Yaldoo said. "It's more than just a place to get your haircut or pick up a shirt. We recently hosted a show where a handful of bands played after hours. We hope to have other events and pop-up shops here as well."
Hayman and Yaldoo believe they can offer something a large chain cannot. "Youngbloods is owner run and operated and the staff genuinely cares about their craft and their clients," Yaldoo explained.
As far as the "experience" that kicks in as soon as patrons walk through the door, it's one that is unique to the barber shop and boutique. It's not simply about a quick haircut and shopping trip. "We love to have a good time," Yaldoo said. "Come in and find out!"
For an appointment or to learn more about Youngbloods, stop by or call 248-629-6626 Tuesday through Friday between 9:00 A.M. and 7:00 P.M. or Saturday from 9:00 A.M. to 4:00 P.M. Check out their Facebook, www.facebook.com/YoungbloodsBarberMenswear Boutique, and Instagram pages, @youngbloodsbarberboutique, to keep up with what's happening.