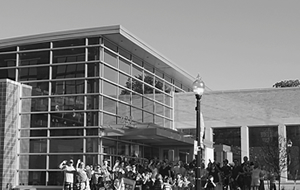 Every day I am witness to the power of the public library to transform lives. At the Ferndale Public Library, we serve an average of 650 individuals every day. We offer around 30 educational, cultural community programs each month for all ages. We have a baby story time every week to stimulate the emerging literacy skills of our youngest residents.
We partner with the Ferndale Public Schools to support all students in achieving their academic goals. We host art receptions, film screenings, book discussions, community story telling sessions, concerts, local author fairs, and the list goes on. We lend over 10,000 items every month.
At the Library, we offer free access to the Internet, and we have friendly, knowledgeable staff on hand to help. And do we ever help! We help search for jobs, fill out job applications, create resumes, access government services, prepare for the GED, search for housing, navigate databases, recommend books to readers of all ages, teach patrons how to download eBooks onto their devices, and a myriad of needs on any given day. We provide a warm place to relax and friendly human interaction with no expectation that you buy something in exchange.
In this month's issue of Ferndale Friends, you will read more about some of our great programs at the library, as well as exciting new social media initiatives and mobile apps for accessing library services written by Circulation Specialist Jeff Milo. Some people predicted that the Internet and eBooks would make the public library obsolete. That prediction could not be farther from the truth; we are busier than ever, helping more people than ever.
As Jeff's column demonstrates, we are embracing technology and using it to deliver the core services that have remained fundamental to public libraries since their inception.
The library is of vital importance to our community, and it is highly valued and enjoyed by our residents. Yet in spite of all of the support that we enjoy from the residents of Ferndale, and the dedicated tax funding that was approved by the voters, library revenues have declined precipitously since the housing market crashed. Even after making significant cuts to our spending, the Ferndale library is still operating at a deficit. Libraries and municipalities will not recover from the recession for many years due to the Headlee Amendment to the Michigan Constitution, which was passed in 1978, and Proposal A of 1994, which means they cannot collect as much money as they did before the recession, even as property values increase. If our statewide system for funding libraries and local government is not reformed, it will likely take 15–20 years for revenues to return to their pre-recession level. At the same time our local funding has been depleted, State Aid to libraries in Michigan has declined 76 percent since 2000. The use of Tax Increment Financing (TIF) is on the rise in Michigan, which also limits the amount of funding a library receives.
Many libraries throughout the state have been forced to cut their hours and reduce staffing and services due to the depletion of funding. In Ferndale we believe our library is too important to our community; to make such cuts will be an absolute last resort.
We currently have a fund balance that we are using to supplement some of the revenue we have lost. However, this is obviously not a long-term solution. The library is exploring several possible avenues for increasing our revenues so that we can continue to deliver the high level of services that Ferndale residents have come to expect. We're working with a fundraising consultant, and planning an important fundraising initiative next year. The Friends of the Ferndale Library work enthusiasti- cally to support the library. I encourage anyone who cares about the Ferndale Public Library to consider joining the Friends group and getting involved. The Friends meet at the library on the second Monday of each month at 7 p.m. I highly encourage you to reach out to our elected officials at the local and state level and tell them that you support reforms that would restore funding to Michigan libraries.
I am grateful to live and work in a community that values our public library so highly. I am confident that we will find a way to navigate these challenging financial times, and emerge a strong institution.
Thank you, Ferndale community, for your continued support.
Sincerely,
Jessica Keyser, Director, Ferndale Public Library
If some happened with our soundness, we believe there is a solution to any maladies in a medicament. What medicines do patients purchase online? Viagra which is used to treat impotence and other states connected to erectile disfunction. Learn more about "sildenafil". What folk talk about "viagra stories"? The most vital aspect you must look for is "sildenafil citrate". Such problems commonly signal other problems: low libido or erectile disfunction can be the symptom a strong health problem such as soul trouble. Causes of sexual dysfunction turn on injury to the penis. Chronic disease, several medicaments, and a condition called Peyronie's disease can also cause sexual dysfunction. Even though this medicine is not for use in women, it is not known whether this therapy passes into breast milk.