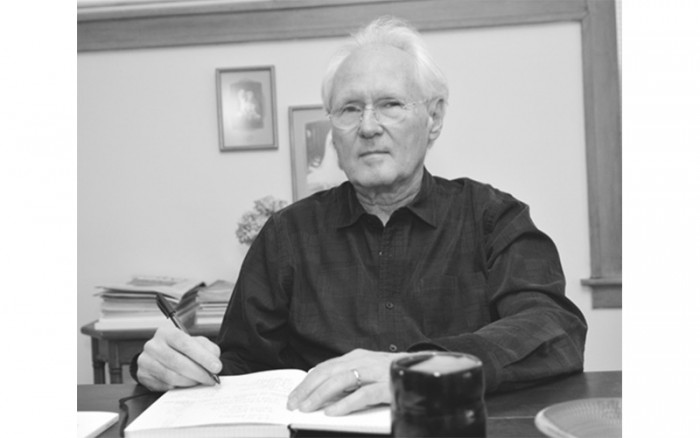 Story by Rebecca Hammond | Photos by Bernie Laframboise
George Tysh spent his early years in New Jersey, but he's now firmly rooted in Ferndale and metro Detroit. And he's recently received quite an honor: a 2015 Kresge Artist Fellowship.
When Tysh arrived in this area and eventually enrolled at Cass Technical High School, he found his classmates to be nice, and they found his Jersey accent amusing. His fields of study at Cass were theater arts and radio speech, and those helped turn his speaking voice "midwestern." The development of his writing voice began at age 17, when he arrived home from school to find the house empty. He perused his dad's library and found Walt Whitman's Leaves of Grass and an anthology edited by Langston Hughes called Poetry of the Negro. After reading some of each, he was inspired and wrote his first poems that afternoon. Though he wryly describes some of them as "horrible," he knew they were the beginning of a new path.
Tysh, like most Cass Tech graduates, loved the school, and its focus on learning. "It was an awesome place," he told me. "It was a place where you could try out things. One semester in one class we read 30 plays. It was a place where I could study literature and different forms of narrative." It also let him experience directing, set design, stage management, even working with a puppet theater at the DIA. After Cass, Tysh attended Wayne State, and was invited to join an experimental college within WSU called Monteith, which existed from the 50s to the 70s. "It was a liberal arts college within Wayne State. It was a new approach to liberal arts."
Ending up in Europe after the draft board gave him permission to study French in Paris, Tysh spent some time exploring. He met his wife Chris, a Paris native, in Poland, and they lived in Paris until 1973, then returned to Detroit. Since then, he's taught English and film studies at Wayne, and at the Roeper School. He also began publishing his poetry.
"The main reason I retired from teaching is I wanted more time to write. I found myself wondering when the last time was that I had had a book out. I checked. It was 12 years. The next book came out in five."
Tysh has collaborated with Ferndale visual artist Janet Hamrick, whose work graces two of his book covers and appears along poems inside one as well. He's now turned out nine volumes of poetry.
The Kresge Artist Fellowship comes with $25,000 that allows him to "do anything I want for a year." Kresge chooses artists from the tri-county area, alternating disciplines every two years. "If you have a record of your work, you can apply," Tysh told me. "They emphasize emerging artists, often kids in their 20s. My stuff is experimental, but they have kids doing hip hop poetry and performance poetry." They also offer seminars in things like organizing an artistic career.
Tysh describes writing as "making music with words" and enjoys classical music, and jazz and rock.
—-
Tysh and Janet Hamrick will present an exhibit of collaborations at the College for Creative Studies Center Galleries at the corner of Brush and Fredrick Douglass, opening at 6:00 P.M. on January 22 and running until February 27.
If something happened with our health, we believe there is a solution to any maladies in a cure. What medicines do patients purchase online? Viagra which is used to treat impotence and other states coupled to erectile dysfunction. Learn more about "sildenafil". What people talk about "viagra stories"? The most substantial aspect you should look for is "sildenafil citrate". Such problems commonly signal other problems: low libido or erectile dysfunction can be the symptom a strong health problem such as soul trouble. Causes of sexual dysfunction include injury to the penis. Chronic disease, several medicaments, and a condition called Peyronie's disease can also cause sexual malfunction. Even though this medicine is not for use in women, it is not known whether this curing passes into breast milk.