The Aloha Spirit Remaining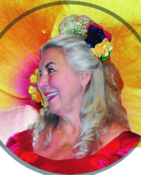 By Rose Carver
Students of Auntie Fran's Polynesian dance classes say they will continue to learn after their teacher's retirement.
Frances Price, or Auntie Fran (as her students affectionately call her) has been teaching the art of Hula and Polynesian dance for over 46 years. After more than a half of a lifetime teaching several classes a day, six days a week, driving all over South East Michigan , this year marks her retirement.
With her whole life being about either her family or her dancing, Auntie Fran's passion has kept her very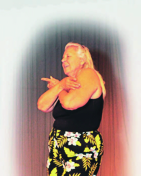 busy. Hula is as much a part of her life as eating or sleeping. When she isn't teaching, she crafts all of the traditional costumes from her workshop in her house, plans events, and choreographs her own dances, which she calls her "novelty" dances.
"You should see my house," Price says with a chuckle.
Price exudes such devotion that when she describes the art she has spent her life honoring, you can easily feel it too. Her students move their feet from side to side while communicating with their hands the words Price says, telling a story through dance.
"The feet keep the beat with the ocean, and the hands tell the story," Price said. "It's about storytelling but it's more than just mechanical movement… it's about loving what you're doing and giving that love away."
Price gives that love to her students, and says she sees them all as special individuals with a strength to offer. She discourages competition and keeps a focus on learning and growing. Price has had students of all ages, bringing to them the gift of recognition that you can take time for yourself and learn something new no matter what age you are.
"If you are feeling any anxiety, you put the music on and it calms you." Janice Ahmadie, a student of Price's for 19-years said. "[Price] teaches in a way that you remember… she knows how to teach each person because she knows us all so well."
Price has been drawn to Polynesian dance her whole life, but she began practicing when she was 32 after she found a Hawaiian Dance class just a few blocks from her house, through the Ferndale Adult Community Education program. She was mourning the death of her son at the time, and Hula became a therapeutic way to work though her emotional pain. The dance made her feel joy again, and she began teaching the class after 10 years of practice.
Auntie Fran has devoted students who help her with every need she could possibly have. They don't do this because she expects it, they do this because it is a true practice in the "Aloha Spirit," as the students
describe it. The "Aloha Spirit," represents love, sharing, compassion and openness, but the tenants of their practice also include Huikala (forgiveness); Kupono (honesty and integrity; and Lokahi (balance, unity and harmony).
This attitude of togetherness radiates a special and almost holy union for a lot of the students, as is the over-
arching essence. But Price is also very serious about the details of her craft. "She's a stickler for teaching exactly the way her teachers taught her at the Polynesian Cultural Center in Hawaii," student Diane Gietzen-Jett said about Price's discipline in regard to authenticity to the culture.
"I want to have it [the traditional dance] as close as to how my teachers taught it to me, because they're the experts," Price says. She added that one of her career's crowning achievements was when her dancers received a standing ovation from an audience of Hawaiians.
While Polynesian dance remains a permanent love of hers, 79-year-old Price has found a new way to fill her heart. She has fallen in love, and her students couldn't be happier for her. After the death of her husband a few years back, she's been very eager to find another soul to spend her days of retirement with.
"I feel really sad, and I will miss spending time with her, but I feel really happy for her because I know that she has been waiting to meet someone and she deserves to be happy," Anastasia Akana, a student of two years said. "I will definitely miss dancing with her, but it feels like the right time."
Perhaps it shows the effectiveness of Price's teaching, because her love of Hula was transferred into her students; Jett, Akana, and Ahmadie all said they will continue learning from the art of Hula from Price's granddaughter Pamela, who will be taking over the classes, as well as Price's professional group, "The Polynesian Fantasy Dancers," who perform for parties, weddings, and other social gatherings that would be enhanced by the blessing of Hula! Find out more on the web site:
polynesiandancers.us