Home
Art & Music
From Photography to Pencil : Local Artist Finds His Passion
From Photography to Pencil : Local Artist Finds His Passion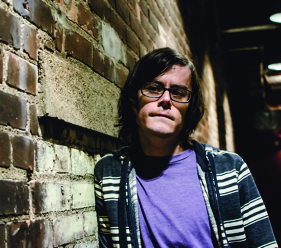 Story by Ingrid Sjostrand
Photos by David Mcnair
ONE CHANCE ENCOUNTER WITH A STRANGER IS SOMETIMES ALL IT TAKES TO IGNITE CREATIVITY AND ENCOURAGE YOU TO PURSUE A PASSION. That's exactly how Alex Denell turned his talent for pencil art and photography into a potential career.
"I was at Great Lakes Coffee in Detroit with my camera on the table, this lady just started talking to me and asked what kind of camera I had. Long story short — I showed her my portfolio and she said, 'you should

draw my granddaughter.' And a month later I sent it to her," Denell says. "That was the first profile I did, and it made me realize I might have something here."
Since that meeting in the Fall of 2016, 28-year-old Denell has drawn about ten pencil portraits for clients ranging from images of babies, pets and –most recently – a wedding. His clientele has been mostly family and friends, but recently he's gained a following through the Ferndale Forum – a Facebook group for residents and friends of Ferndale.
Denell, a Clawson native, works at Woodward Camera and has always had art in his life. His grandfather was a cartoonist, his father is a graphic designer and Denell grew up sketching still life images and taking advanced placement art classes through high school. In 2007, his interest shifted from drawing to photography when he started taking photos with his cell phone.
"Over the years, I found my place in nature photography; I took some photography classes at Oakland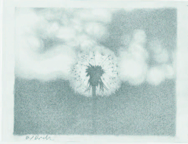 Community College, then at College for Creative Studies," he says. "I never really had any big dreams of making a lot of money off photography, I just enjoyed doing it, and found it to be very calming."
In 2008, Denell had a health scare and, since 2014, has since been on medication that limits the amount of time he can be outdoors. While it sounds discouraging, it only motivated him to refocus on drawing and use his previous photographic work as a starting point.
"With my current situation forcing me to be indoors I picked up drawing again," he says. "Over the last five years of shooting, I've accumulated hundreds of pictures so this time around I began drawing my nature photographs. It's all my original artwork which is cool – it's my original photograph and my drawing."
Denell still draws nature scenes from time to time but says he finds more passion and inspiration from portraits.
"Drawing the portraits are probably my favorite to do, although the portraits take longer to complete, they also tend to mean much more to people," he says. "It's a personal gift, and that's important to me. The best part is to see the person's reaction when I finally hand over the drawing. That's what makes it all worthwhile."
A portrait takes, on average, about 20 hours of work to complete but it can depend on the detail and size of the image. He starts by printing a black and white photo of the image, taping it to the back of his page and lightly outlining it using a light board. Once he's traced everything, he removes the photo and starts freehand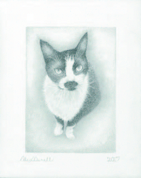 shading. Recently he's started recording the entire creative process and sharing the video with his clients, giving an intimate look at the work that goes into his art.
As his customer base grows, Denell says he is exploring other options for getting his work out there. He is considering displaying his work at Lawrence Street Gallery or maybe even getting space at Rust Belt Market. For now, his work can be seen on his Facebook and Instagram. He is always looking for more clientele and is willing to negotiate on price – depending on the size and subject matter of the image.
"Today I draw a wide range of things from nature, cars, pets, portraits, even wedding photos," he says. "I still continue to learn something new with every drawing I do and I like to challenge myself, so I've been just trying it all, whatever comes my way I go for it."