Let's Make a Difference : ALL TOGETHER NOW!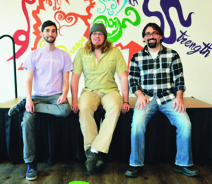 By Sara E. Teller
Photo by Bernie Laframboise
All Together Now! consists of a group of activists who joined together to create a website where organizations from all over Southeastern Michigan can collectively post their events. According to the site, All Together Now! is "a growing group of complex people from diverse backgrounds and many walks of life who find ourselves inspired to promote social and economic equality, to encourage healing for ourselves, for our neighbors, for humanity, and for the planet."
The group was founded by a few volunteer Ferndale residents in the days following the 2016 presidential election. Current members include Sean Mason, who believes we "cannot allow the voices of bigotry and hatred to be the loudest voices in the room," Jeannie "Bean" McCarthy, who "has a vision that mutual respect, equity, justice, and compassion can bring us together," Jacob Bolton, who is "passionate about building power for people who are disenfranchised," Adam Shissler, Rebecca Phoenix and Amy Sawicki.
The group has no political affiliation and posts are from a variety of local organizations. "Some of these groups are dedicated to improving regional transit while others focus on sheltering the homeless. Some work to stand against Trump. Each of these organizations represents a beacon of hope, offering opportunities to see you're not in this alone. Offering opportunities to build a path forward," the site states.
"These events are directed towards building hope and unity, peace, compassion, and inclusivity as well as resistance and revolution," says member Adam Shissler. "We hope it will be treated as a menu from which a person can choose the events that most fit their schedule and their interest. We don't endorse a particular political party."
Those choosing to post are simply asked to abide by the following guidelines:
1) Work to deeply listen to others;
2) Engage the world…for the greater good of the community;
3) Attempt to be truthful;
4) Avoid gossip and harmful speech;
5) Seek common ground and points of agreement; and
6) Work to heal relationships.
The purpose of All Together Now!'s page is to "build bridges between the islands of hope that exist all around us, often in obscurity," Adam says. "We wish to help them grow." All Together Now! connects activist organizations and individuals to build community and increase its impact. "We are completely funded by the founding members of the organization. We have no outside funding," Adam explains. "Many of us didn't know how to get involved, where to turn to make a difference. We thought we could help make that easier for others in the future."
The group is currently hoping to increase the viewership of the site, find organizations with which to partner and local people who may want to be directly involved with the operation of the website. "We intend to host a meeting located in Ferndale within the next month, the date and location are to be determined," Adam explains. "We hope to partner with a few other organizations, also to be determined. We wish to reach out to like-minded individuals and organizations and find ways we can work together. All are invited. We need help with outreach," according to Adam, "And with the operation of the website."
Residents of Ferndale and surrounding communities are encouraged to contact the group at alltogethernowcontact@gmail.com to get involved.  All Together Now!'s mission is clear: "If we pull together…if we stand together…in this moment and the next…gently, we can change the world. All together now."
Organizations can easily post events by visiting atnmi.org, and individuals can also subscribe to All Together Now's! newsletter.