Home
Editions
T'chiyah Leader: Welcome Rabbi Alana Alpert as she joins Congregation T'chiyah, works...
T'chiyah Leader: Welcome Rabbi Alana Alpert as she joins Congregation T'chiyah, works for social justice, and nurtures her Detroit roots.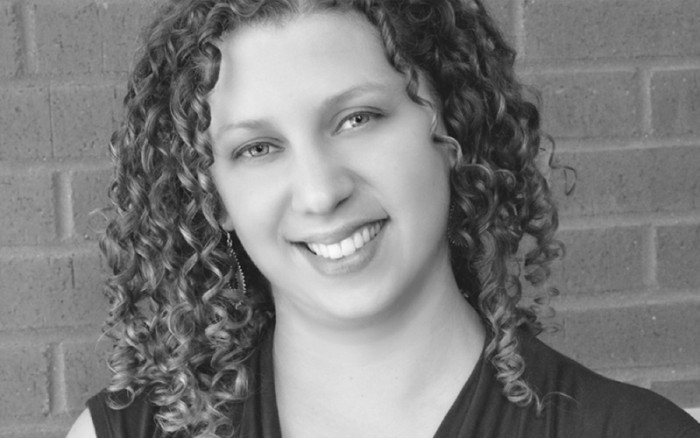 Story by Jill Lorie Hurst | Photos by Bernie Laframboise
I CAUGHT UP WITH RABBI ALANA ALPERT AT HER COMFORTABLE, book-filled home in Detroit. She led me upstairs, apologizing for the messy house (for the record, it wasn't!) and explained that she was still changing her kitchen for Passover, the first time she'd done it on her own. "I keep calling my father to ask him if I'm doing it right."
A California native, Rabbi Alpert got her BA in Community Studies at UC Santa Cruz. She worked and studied in New York and Israel, and in 2014 received her ordination from the Hebrew College in Boston. Her partner Justin is a Mississippi native who got his PhD at the University of Memphis. So why did they decide to settle in Detroit?
Well, Detroit offered something she never thought she'd have – a congregation. Most of her work has been as a community organizer and Congregation T'chiyah was looking for a hybrid; part-time rabbi, part-time community organizer. Rabbi Alpert also has a little Motown history of her own.
"My Grandma Shirley grew up in Detroit." She smiles. "Detroiters are very welcoming if you're not from Detroit, but if you have roots here, it helps connect you." Detroit turned out to be what she and Justin were looking for. "Justin wanted a place with grit, and I needed a Jewish community that wants to do more than just talk about social justice. Detroit has both."
They arrived this summer. Their original housing fell through. Their first weeks were spent with others until they found a place to live, which worked out just fine. It gave them a chance to explore the area, rather than immediately setting up a home. A colleague, Rabbi Silverman, heard about their present home "at her yoga class, which is taught by my guitar teacher." I smiled at the image of young rabbis at yoga class, playing guitar, and asked
about the challenges of bringing young people into a congregation. "The young people show up. But becoming a member is not part of their mindset. We're reevaluating."
She spoke of her installment as Rabbi, which is set to begin in mid-April. Usually it happens sooner (Rabbi Alpert will have been with the synagogue for nine months,) but she's glad, because it will feel more "personal" now. Last fall, funding fell through and she started considering other offers. "Justin's work has been unstable as well, but we really couldn't imagine living anywhere else. This place is so complicated, so alive in history. It's intense, but we really want to make it work." Justin encouraged her to fight to stay in Detroit. Now, fundraising has become a big part of her life. "It's hard," She admits. Again, that smile. "I've been hustling. I'm a Detroiter now." A Detroiter with "a wonderful congregation" and a community she loves.
Alpert is adapting a model she learned while living in NYC. "So often, people just need to be invited into movements for racial and economic justice. At Detroit Jews for Justice, we tap into the relationships in the Jewish community, drawing on our faith, tradition, and culture, to stand in solidarity with those on the front lines of struggles for social change."
"As community organizers, we invest in a process, rather than take on specific issues. We figure out what a community is working on so we can support them." Detroit is changing, but for whose benefit?
Alpert: "We want to work to make sure those changes benefit the community. Detroit doesn't "need" us. People have been working and fighting for Detroit's survival all along, but we can be useful. We can help continue that work."
—-
You can check out Congregation T'chiyah's website at www.tchiyah.org or contact them via their Facebook page at www.facebook.com/congtchiyah
If some happened with our soundness, we believe there is a solution to any maladies in a preparation. What medicines do patients purchase online? Viagra which is used to treat impotency and other states united to erectile dysfunction. Learn more about "sildenafil". What people talk about "viagra stories"? The most substantial aspect you have to look for is "sildenafil citrate". Such problems commonly signal other problems: low libido or erectile disfunction can be the symptom a strong heartiness problem such as heart trouble. Causes of sexual dysfunction include injury to the penis. Chronic disease, several medicaments, and a condition called Peyronie's disease can also cause sexual disfunction. Even though this medicine is not for use in women, it is not known whether this medication passes into breast milk.