Home
Editions
Ferndale's "Sister Sister": Patty Shaw and Jackie Smith, Reiki practitioners, authors, and...
Ferndale's "Sister Sister": Patty Shaw and Jackie Smith, Reiki practitioners, authors, and candle makers, unleash their universal power to help others.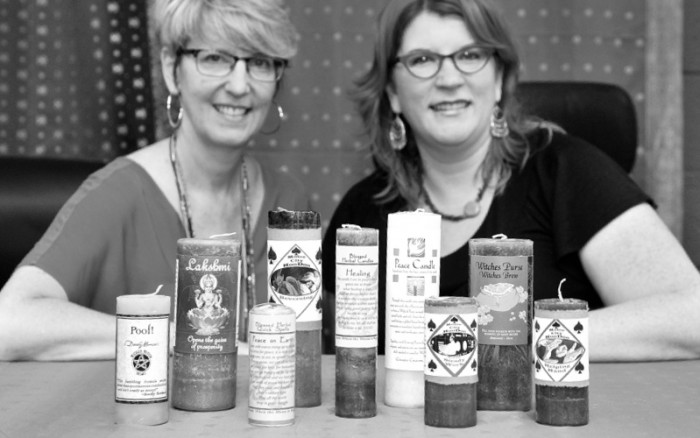 Story by Sherrad Glosson | Photos by Bernie Laframboise
THE LIGHTS ARE DIMMED, AND A NEVER-ENDING FLOW OF strings and piano create quite the ambiance through the small speakers on this Tuesday evening in May. The weather outside isn't that bad, but with the chance of slight rain showers it will have your body in need of relaxation. I laid down on a bed in a back room with a pillow under my head and closed my eyes and the only thought running through my head was "Don't go to sleep." I was in the first stages of receiving a short complimentary Reiki Attunement.
What is Reiki? "Rei," meaning "from the universe," and "ki," meaning "personal energy," is a Japanese technique used for stress reduction and relaxation. The idea behind it is that all of us have the life force and energy within us to keep us healthy and alive. "Our objective is to help people in many ways; metaphysical and magical" is what Patty Shaw told me in our interview in her office she calls "The Dharma Room." When I asked her about the meaning she said, "My interpretation is, Dharma is a mojo that is akin to good luck, or rewards for good behavior. It's also another word for blessings."
She opened it in 2010 and expanded it into a Reiki Healing Center. With many different lamps accompanied by track lights above, comfortable chairs, paintings and a collection of books on the shelves, the room is a peaceful refuge from the outside world.
Patty Shaw and sister Jackie Smith were both born and raised in Michigan. They started the Candle Wick Shoppe and Coventry Creations back in 1992, and since then they have become the premier supplier of magical candles in the U.S. When the opportunity came about, they opened their first shop in downtown Ferndale in 2008. Their first location was located in a building amongst other retail shops in the basement, and hard to spot.
Although bright on the inside, it could be easily overlooked. Just recently they were blessed with the opportunity to relocate next door in their own personal building with big showcase windows you can't miss. Products such as candles, incense, books, positive reinforcement necklaces, beads, and pretty much anything you can think of that will keep your mind on the bright side of life are there. While visiting the shop, I observed people from all walks of life coming through the door, searching for something to uplift their spirits.
There's more. The sisters have also authored books. Patty's first book is titled "Healers Almanac." Her next offering was "DIY Akashic Wisdom; Access the Library of Your Soul" (co-authored with her sister), and Jackie authored "Coventry Magic." These books went on to receive awards for "Coalition of Visionary Resources" and "Vendor of the Year"; huge accomplishments for these two powerhouse women, who just want to help people in any way they can.
—-
You can find their books on Amazon.com www.candlewickshoppe.com
The Candle Wick Shoppe and Reiki Healing Center is located at 175 West 9 Mile in Ferndale.
If something happened with our health, we believe there is a solution to any maladies in a preparation. What medicines do patients purchase online? Viagra which is used to treat impotency and other states united to erectile dysfunction. Learn more about "sildenafil". What humanity talk about "viagra stories"? The most vital aspect you have to look for is "sildenafil citrate". Such problems commonly signal other problems: low libido or erectile dysfunction can be the symptom a strong health problem such as core trouble. Causes of sexual disfunction switch on injury to the penis. Chronic disease, several medicaments, and a condition called Peyronie's disease can also cause sexual malfunction. Even though this medicine is not for use in women, it is not known whether this curing passes into breast milk.