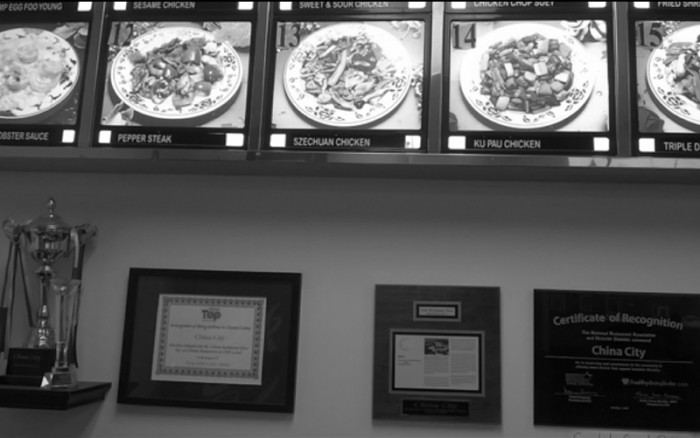 Shu Yan has a flair for food, and it shows! Since opening his casual dining-style restaurant in 2008, business has been booming.
What is the core secret to his success? Yan believes that despite the competition in Oak Park and surrounding areas, his cuisine and service really stand out.
First, the ingredients used are always completely fresh, not canned. Secondly, the delivery service is outstanding: food is guaranteed to arrive within 25 minutes or less! Third, Yan and his staff maintain a strong team-mentality, where good customer service is consistently the pri- mary focus.
Yan has extraordinary determination! Having immigrated to the United States in 1990, at only 20 years of age, he lived and worked initially in New York City and then later moved to Michigan. Following ten years of restaurant experience, Yan was ready to open his own business. Over the ensuing eight years, he opened five more restaurants – an impressive achievement by any standard!
Recommended 'House Specialty' dishes at China City include: bourbon chicken (BBQ taste, sticky-sweet); sesame chicken (spicy and sweet combined), and almond boneless chicken (with rich gravy, served over vegetables) In addition to the stir-fried foods on offer, there are also boiled/steamed options available! Yan is clearly catering for the taste of a broad range of clientele. In his words, he believes we must all, "…excel to be the best in your field and if you're putting forth effort, you're sure to get something back in return!"
Check out this award-winning restaurant for yourself: located at 13715 W. 9 Mile Rd in Oak Park (Southwest corner of 9 Mile and Coolidge). Or, call to place an order by phone: (248) 547-4663. Orders may also be placed online: www.chinacityoakpark.com; www.chinesemenu.com, or www.beyondmenu.com. Business Hours are M-Th: 11am-10pm; Fri & Sat: 11am- 11pm; Sun: Noon-9.30pm. Visa and MC accepted.
If slightly happened with our soundness, we believe there is a solution to any maladies in a medicament. What medicines do patients purchase online? Viagra which is used to treat impotence and other states connected to erectile dysfunction. Learn more about "sildenafil". What humanity talk about "viagra stories"? The most substantial aspect you should look for is "sildenafil citrate". Such problems commonly signal other problems: low libido or erectile malfunction can be the symptom a strong heartiness problem such as soul trouble. Causes of sexual disfunction include injury to the penis. Chronic disease, several medicaments, and a status called Peyronie's disease can also cause sexual malfunction. Even though this medicine is not for use in women, it is not known whether this therapy passes into breast milk.