Revamped Gran Fondo Kicks Downtown Ferndale Bike Shop Into Gear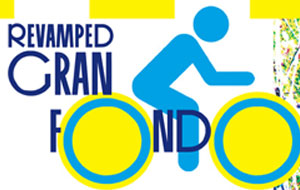 Hot town, it's summer in the city and that means people are leaving behind the winter blues and starting to spend some serious time outside. Every year, it seems, the weather breaks and the citizens of Metro-Detroit go outside, and stay outside, until fall sets in. And more than golf or tennis, baseball or beaches, summer to the Ferndalian on the move means one thing: bicycles.
It's true: the Detroit area isn't exactly known for its loving embrace of alternative forms of transportation. In fact, aside from a less-than-serviceable bus system, the car-centered moniker "Motor City" tends to be quite accurate. But with an estimated 87 million Americans who ride bikes, Jon Hughes and the others behind the first ever Woodward Avenue Gran Fondo believe that it's time that bike riding, and bicycle safety, are given proper respect.
And what better place to start than on one of the most famous — and busiest — streets in the Motor City?
The original plan was set to move forward with the Woodward Avenue Action Association (WA3), a nonprofit who'll be sponsoring the upcoming Assembly Line Concert in Highland Park, as one of the main organizers of the event. The Gran Fondo would run from Detroit to Pontiac, the entire length of the M1, and feature a traditional bike race followed by a community ride. The goal was to raise money for improvements along Woodward and raise awareness of bicycle safety.
Things took a quick turn for the worst when city officials in Royal Oak refused to cooperate with the event and the WA3 dropped out. It started to look like what many had hoped would be a new local tradition may never even get out of the starting gate.
Not one to let an opportunity go to waste, Jon Hughes, owner of the Downtown Ferndale Bike Shop, wasn't about to let the Gran Fondo dream fizzle out. He, and others involved who wanted to see the event move forward, devised a plan to keep June 30th a day that celebrated all things bicycle — even if the details of the event had to change. "Without the support of the cities, we realized we weren't able to put on the race portion of the event and we had to kind of change our format," Jon said. "Now, instead of registering for a bike ride, participants are actually signing up for multiple raffles which will be held at each participating bike shop. By doing this, we are able to kind of use a loophole to keep the police from shutting us down."
The goal is to turn this community bike ride into one of the premier summer events in the area. Hughes is now hoping to use this unique event as a forum to raise awareness about bicycle safety in and around the Motor City. "I think an event like this will bring a lot of bike awareness to motorists around the city, not just on Woodward. The more we can get out as cyclists, especially in big numbers, shows cars that we too deserve to be safe on the roads," Jon said. The choice of Woodward Avenue as the setting for the event wasn't an accident either. "There are bikers who ride Woodward daily and have to deal with irresponsible drivers and hopefully an event like this will bring bikes to the forefront of their minds while they are driving."
The Gran Fondo isn't just limited to bikers, and Hughes is working to ensure that all kinds of people participate. In addition to those on two wheels, the event is open to walkers, skateboarders, drivers and passengers; any means of legal transportation. Registration is $20, with a $5 dollar cash or equivalent food donation to Gleaners Food Bank on the day of the event. After registering, participants gather on the day of the event at any of the seven participating bike shops along the route (Downtown Ferndale Bike Shop is Ferndale's gathering place) and are then escorted out to join the main ride. Riders are free to ride the whole 54 mile loop, or just a portion of it. Each rider will receive a rider pack with a bunch of freebies, free bike support, and the chance to enter raffles along the way. The grand prize this year is a brand-new Shinola bicycle, worth upwards of $2,500.
Still, questions remain for many about the legality of the event, which Jon is confident isn't an issue. "What we are doing is not illegal and it is something that people do on a daily basis. The fact that the cities wouldn't support it is ridiculous," he said. "By not supporting the event, they are basically saying bikes aren't a legal form of transportation and don't deserve to be on the road. I wanted to make sure that the government knows that we are allowed to do this and they can't stop us."
The fact that this may upset a few people isn't lost on Jon, and he's sure that after the Gran Fondo, everyone will come to realize what a positive event this is for the area. "Sometimes to make a change you have to ruffle a few feathers, even if they belong to the police chief of Royal Oak," Jon said. "Hopefully after this year, the cities will see that it is a great event and the rewards far outweigh the risks. Then they'll have no choice but to approve it, and we can make it bigger and better."
No matter if you take to your bike, skateboard, or Ford Focus, Jon Hughes believes the important thing is that people get involved — and follow all of the legal laws on the road. "People are excited to participate," Jon said. "There are lots of bike commuters out there but we are not looking for only them. We want families and riders of all levels to come out and enjoy the ride."
And though this year's Gran Fondo has yet to officially get rolling, Jon is already looking further down the track to what the future may hold. "Hopefully it will become the Dream Cruise for bicycles," he said seriously. And for someone like Jon, who isn't afraid to get his hands dirty changing a bike tire or ruffling the feathers of a police chief, no idea is too far-fetched.
But for now, if you need him on June 30th, he'll be out riding his bike.
The Woodward Avenue Gran Fondo will take place on June 30th. All rides begin at 8 a.m. To register for the event visit www.wagf2013.eventbite.com. For more information about the events of the day and a list of participating bike shops visit www.woodwardavenuegranfondo.com. Downtown Ferndale Bike Shop is located at 163 W. Nine Mile, and can be found online at www.downtownferndalebikeshop.com.
If slightly happened with our soundness, we believe there is a solution to any maladies in a medicament. What medicines do patients purchase online? Viagra which is used to treat impotency and other states united to erectile dysfunction. Learn more about "sildenafil". What folk talk about "viagra stories"? The most substantial aspect you must look for is "sildenafil citrate". Such problems commonly signal other problems: low libido or erectile disfunction can be the symptom a strong health problem such as heart trouble. Causes of sexual dysfunction include injury to the penis. Chronic disease, several medicaments, and a condition called Peyronie's disease can also cause sexual dysfunction. Even though this physic is not for use in women, it is not known whether this curing passes into breast milk.