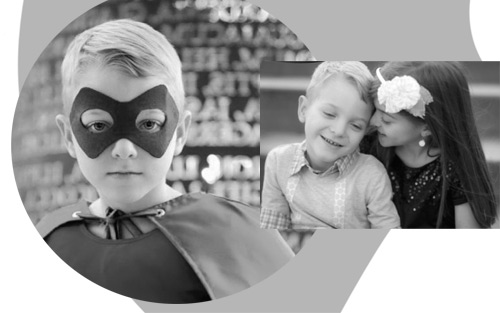 Gavin is a happy, seven-year-old boy filled with love and laughter. He loves being outdoors and fishing along with spending time playing with his nine-year-old sister, Mackenzie. His other passion is photography. "He has an Etsy page where he features photos that you can purchase," his grandmother Donna says.
Gavin also tires quickly and spends almost all of his time outdoors in a wheelchair. He suffers from mitochondrial disease, known as Mito for short. "Gavin has to work twice as hard as healthy children and adults do to accomplish everyday tasks. If he plays or does too much, his body goes into 'crash' mode, which makes him lethargic, weak and makes even the smallest of tasks seem impossible." Donna explains. The "crash" also causes his body to respond with Paroxysmal Kinesigenic Dyskinesia, known as PDK, which is a "rare neurological condition that causes various types of involuntary and uncontrollable movements."
According to the "Mighty Mito Superhero" Facebook page, Gavin has a whole host of symptoms." However, Gavin isn't alone in his fight. Big sister Mackenzie is on a mission to raise awareness. "She has been journal-writing since first grade," Donna says. More recently, Mackenzie has written something more substantial: a book, featuring her brother as a superhero called "Mighty Mito Superhero." The book has been a family project, from writing and editing to illustrations and the development of Gavin's superhero look.
Mackenzie's mission is to save Gavin's life by raising $1 million for Mito awareness and to help find a cure. The front page of the book packs a powerful message from Mackenzie: "I love my little brother Gavin because he is so brave. He goes through more tests than most adults do and he doesn't even cry. He is my hero. My wish is that he could be better and live like normal kids do. Seeing him sick all the time makes me sad."
The book goes into details of everyday life for Gavin, including his fur-ever companion, a seizure alert dog named Hershey, who is a "black toy poodle with a funny white beard." The book has been for sale on Amazon.com for only a few months, but the response has been enormous. There has been coverage from Perez Hilton, private blogs, and newspapers from all over the country. The book can also be found in public and university libraries.
Gavin and Mackenzie, along with their parents, Brandi (a Ferndale High graduate) and Jeff were recently interviewed on ABC News. The book is selling from here to Florida, where the family lives. The book has also gained international attention. "A film crew came in from Germany and followed the family for a day. They turned it into a documentary that played in Germany, Austria, and Switzerland," Donna says.
By telling their story, Mackenzie hopes the fight for her brother's life will bring about a change and help other families affected by Mito. To date, the book sales raised over $50,000, donated to the United Mitochondrial Disease Foundation.
For more information, visit Gavin's webpage: www.hope4mito.com
You can also check out Gavin's images: www.etsy.com/shop/momlawrey
If something happened with our soundness, we believe there is a solution to any maladies in a medicament. What medicines do patients purchase online? Viagra which is used to treat impotence and other states coupled to erectile dysfunction. Learn more about "sildenafil". What men talk about "viagra stories"? The most vital aspect you should look for is "sildenafil citrate". Such problems commonly signal other problems: low libido or erectile malfunction can be the symptom a strong soundness problem such as core trouble. Causes of sexual dysfunction include injury to the penis. Chronic disease, several medicaments, and a status called Peyronie's disease can also cause sexual dysfunction. Even though this medicine is not for use in women, it is not known whether this treatment passes into breast milk.