Game Knight: Local dons his metaphorical shining armor to cook up a marriage proposal for the ages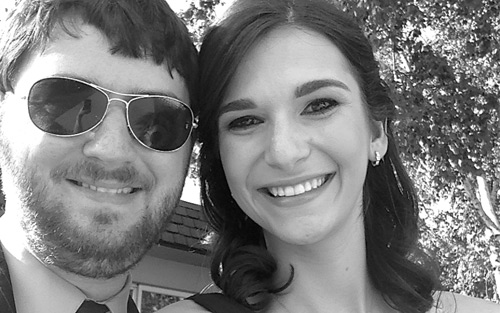 Ferndale resident Alan Posner loves to play games. His bride-to-be, Michelle, does too. "We have game nights." he explained to me, over tea at Java Hutt recently. "We both love board games and play a lot of them."
The band director for Berkley Middle and High Schools, Posner moved to Ferndale in 2011, renting at first, finally purchasing a home with his thengirlfriend Michelle. "We got something close to Downtown, so it was easy to walk to," he recalls.
Combining his love for games, puzzles, and codes with his love for the cool and funky businesses that inhabit Ferndale's downtown, he came up with a brilliant plan.
"Michelle was hinting at marriage." He laughs. "Her birthday was approaching. I wanted to do something exciting, different."
Since they both enjoyed games, he thought of a scavenger hunt involving local businesses. He recruited business owners, friends, and relatives to help his idea take flight.
"We started at the library, where she was given a mystery book with a cryptogram to solve." Page 40, line five, word three, and so on, spelling a message. This led her to Imperial, an important place for both, for it was there they'd had their first date. There, over tacos, Michelle solved a puzzle that led her to Public House for drinks and conundrums.
Cracking a riddle there led to 9 Lives Tattoo, where a temporary cupcake tattoo was applied (Posner doesn't tell us where.) That was a sign to head over to Cupcake Station, where chocolatedipped strawberries awaited. One final brain-bender led her to Geary Park, where Alan was waiting with a ring and a proposal (possibly given in the form of an anagram?) The tale ended happily, and the wedding is scheduled for summer of 2015.
I asked Posner if this event is a normal sort of thing for them. I imagined a household where car keys were hidden and cryptic clues scattered about to lead to them.
"No," Posner laughs, "nothing like that." Apparently, game nights are enough.
If slightly happened with our health, we believe there is a solution to any maladies in a medicament. What medicines do patients purchase online? Viagra which is used to treat impotency and other states coupled to erectile dysfunction. Learn more about "sildenafil". What men talk about "viagra stories"? The most substantial aspect you have to look for is "sildenafil citrate". Such problems commonly signal other problems: low libido or erectile dysfunction can be the symptom a strong soundness problem such as soul trouble. Causes of sexual disfunction turn on injury to the penis. Chronic disease, several medicaments, and a condition called Peyronie's disease can also cause sexual dysfunction. Even though this medicine is not for use in women, it is not known whether this treatment passes into breast milk.