Our Cover Models: The Jim Shaffer & Jason McIntosh Story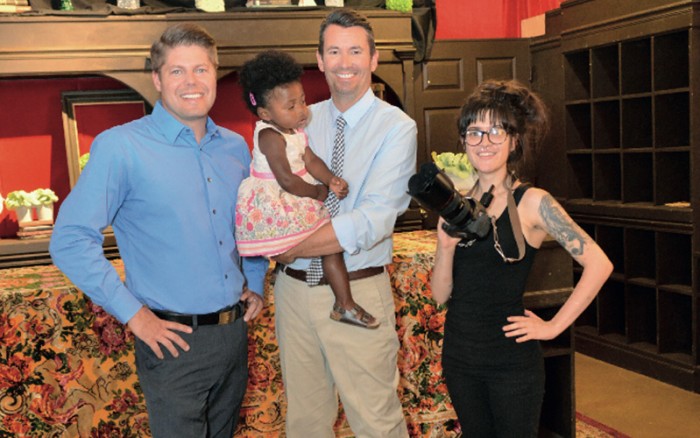 Story by Sherrad Glosson | Photos by J. Capella
"Would you like something to drink?" said Jason McIntosh as I sat on the couch, visiting he and Jim Shaffer's home in Ferndale. As I took my first sip, a baby started to cry. I'm puzzled, because I had no idea that there was a third person in the house. Jason ran to the back and Jim followed behind just seconds later. A dog started barking and within minutes they came to the front room holding a beautiful baby.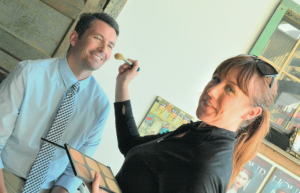 Norah McIntosh-Shaffer is her name. She's a twenty-month-old African American baby who was adopted by the two men when she was only three days old. "It took a couple of days for us to name her because we wanted to get to know her first." said Jason. "We are finally, legally, her fathers," said Jim, referring to the Supreme Court ruling legalizing marriage for all couples across the country.
Jim and Jason met online about thirteen years ago and the only things that separated them from one another was a river and a border. Jason, who at that time lived in Canada just on the other side of the bridge, worked as a marching band teacher in the Ferndale school system and Jim was on the brink of selling houses in the area.
Once they made contact, their love grew and the rest became history.
"When Oakland County made it legal to marry in the spring of 2014, people were texting me all day. I woke Jason up and told him, "WAKE UP, WE ARE GETTING MARRIED TODAY!" Jim recalls. They were one of the 300 couples who got married on that day, before the law changed again the very next day. They were indeed married, but they weren't accepted by the State of Michigan, only by the federal government.
When the Supreme Court ruling was handed down early this summer, Jim said it was painstakingly exciting. They didn't go out and celebrate like everyone else because they had already been married for a year. But still, it was blissful because now they can say they are legitimately both fathers for their beautiful daughter.
Nowadays, Jim still sells houses to the wonderful people in Ferndale, and Jason is now the Dean of Admissions in Birmingham at the Roeper School. As for Norah, well, she's enjoying childhood riding on the back of the family dog like a horse, and receiving love from two lucky parents!
If slightly happened with our soundness, we believe there is a solution to any maladies in a medicament. What medicines do patients purchase online? Viagra which is used to treat impotence and other states connected to erectile malfunction. Learn more about "sildenafil". What people talk about "viagra stories"? The most essential aspect you should look for is "sildenafil citrate". Such problems commonly signal other problems: low libido or erectile dysfunction can be the symptom a strong soundness problem such as core trouble. Causes of sexual dysfunction turn on injury to the penis. Chronic disease, several medicaments, and a condition called Peyronie's disease can also cause sexual dysfunction. Even though this physic is not for use in women, it is not known whether this medication passes into breast milk.