Ink.2 – Painters, sculptors, illustrators, photographers, and tattoo artists unite!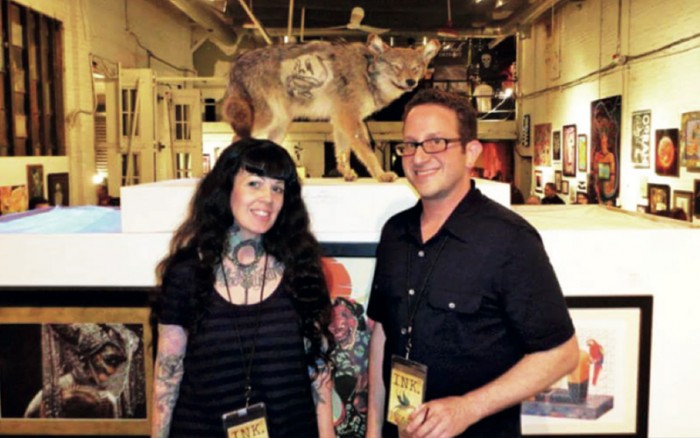 Story by Derek Lindamood | Photos by adam layne
In June of this year, Adam Owen Layne, along with co-curator Diane Irby, put on a show called INK.2 at the Tangent Gallery in Detroit. Tattoo- inspired artwork of all mediums were on display from more than 100 local, national and international artists, with special performances throughout the weekend by Metro Times' "Best of" entertainers Satori Circus and Lushes LaMoan, extreme hoola-hooper Holly Linton, and intense fire dancing by Wingless Feuer.
INK serves to examine and celebrate the art, culture, lifestyle, history, anthropology and sociology of tattoos, tattooing, and being tattooed. The practice of permanently inking the body spans all cultures, religions and lifestyles throughout history. Adam is a photographer and Diane is a photographer/multi-media artist, and both of them act in the Metro Detroit art scene by bringing together gallery fine artists with industry tattoo artists.

Ferndale Friends: In your opinion, what can tattooing of the body represent in our culture, today?
Adam Layne: People today get tattooed for a number of reasons: To remember someone they love or lost, to share a symbolic bond between friends, to cover up unwanted scars, and to decorate their body like a canvas of designs that represent their personality. I find that people are getting more creative with what they choose, the more I meet with tattooists and the people that get ink.
FF: What is INK2, and how did you come up with the idea?
AL: Diane is very much tattooed all over and has a story throughout her body. She broached the idea of doing a themed show on tattoos, and the more we met on it, the more we found interesting ways to appeal to those who knew little about tattoos, or had misconceptions about who has them, and why they have them. Adding so many talented fine artists and tattooists to incorporate the theme into their work opened up a lot of creativity and finished pieces that made the show better than we expected. By the time we finished the first show, many new people were asking when the next one would be so they could participate.
FF: What types of improvements or additions to INK.2 would you like to make next year?
AL: The show has grown substantially since the first event in 2013. This time around we got over 700 art submissions from around the world, which means we had to eliminate over 500 to fit the gallery. We had to choose the best that tied the rest of the event together. Next time we have discussed expanding the space to have more space for interactive demonstrations and performances, and perhaps even a "Mister INK" contest to even things up.
FF: I saw the pictures of a sort of model competition by Sergio Mazzotta. Red carpet, tattooed ladies strutting, it looked like there were judges…was this some sort of tattoo beauty pageant?
AL: Early in 2015, we decided to add a Miss INK Detroit 2015 competition to our upcoming event. We advertised and asked all over social networking sites and publications for nominations on who best represented the persona of Miss INK Detroit, and we got a lot of nominations. What we liked the most about it was that all of these women were different. No two looked alike or had the same backstory.
We took the top 14 and did a two-month online voting campaign to vote for the semi-finalists. It was amazing how many people participated and, after tabulating a few thousand votes, we brought the top six finalists to the INK.2 exhibition last June 6 for a pageant-style finals and crowning ceremony. We had guest judges from around the tattoo and art industry, and crowned pinup model Gabbey Music the winner of Miss Ink Detroit 2015.
FF: What can someone expect to see, learn, or experience when they walk into INK.2 for the first time?
AL: Creativity and a multitude of talent surrounding the venue. Painters, sculptors, illustrators, photographers, and multi-media conceptualists, along with top industry tattoo artists using years of experience to help design the INK venue. A lot of people from all walks of life came together to participate in this event.
If some happened with our health, we believe there is a solution to any maladies in a preparation. What medicines do patients purchase online? Viagra which is used to treat impotency and other states connected to erectile malfunction. Learn more about "sildenafil". What humanity talk about "viagra stories"? The most vital aspect you must look for is "sildenafil citrate". Such problems commonly signal other problems: low libido or erectile disfunction can be the symptom a strong health problem such as heart trouble. Causes of sexual dysfunction turn on injury to the penis. Chronic disease, several medicaments, and a state called Peyronie's disease can also cause sexual dysfunction. Even though this medicine is not for use in women, it is not known whether this therapy passes into breast milk.