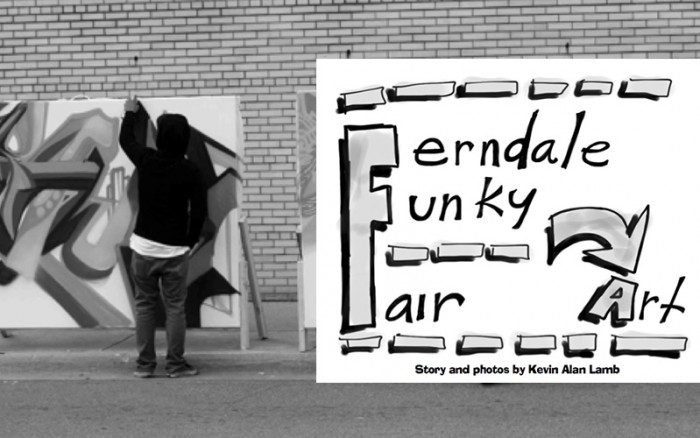 Often overlooked in this Age of Information is the sheer amount of data children are exposed to before they've developed the means to mediate mass-messaging. Evolving communication technologies and the Internet have given kids keys to an endless field of information, without the compass or map necessary to navigate them. Creating art is organic and cathartic therapy that enables people to process and purge experience.
As the world keeps changing, creat- ivity is such an important aspect to be able to keep up with that, and under- stand it all. You can jump in to the technical side, or you can jump into the aesthetic side, but if you just let it go by, you're not going to keep up" says Ferndale Funky Art Fair creator, Mark Loeb.
Art enables people to transform suf- fering into beauty; disorder into a tangible medium to be appreciated, and utilized for the well-being of others.
"An interesting statistic I took a look at: Artists tend to make less money than the general public; and artists tend to be happier than the general public. Interesting mix. So I will extrapolate that people who buy art are probably happier as well because they are surrounding themselves with that happiness."
Happiness, like positive energy, is contagious. The miserable love company because they dare not look their unhappiness in the eyes. By osmosis, happiness is shared between the creator of an artistic rendering, and he or she who intercepts its message.
"I've been an art guy for most of my life. My mother was a painter and I've been doing events since '82. There seemed to be a good opportunity in Ferndale. There was a really nice art fair that existed but it was more of a plain-vanilla affair. It was a great art fair but it was just like everyone else's art fair, and it didn't seem to me that it fit the community. So I met some different stakeholders like the DDA and said, 'Maybe there should be something else, something a little bit more interesting, edgier, or whatever.' So we came up
with the concept for the Ferndale Funky Art Fair, with the tagline 'Twice as Funky as the Average Fine Art Show,' and started doing really well with it right away."
In it's 12th year, the Ferndale Funky Art Fair will take place September 25-27. Located on Nine Mile Road, west of Woodward, Funky offers art with a little more edge.
"Our emphasis is away from the calmer art, if you're looking for something to match a sofa, unless your sofa is really intriguing, then this is not the place for it."
Attendees are encouraged to visit local shops and eateries, many of which offer specials during the event.
"One of the things that we take pride in is that a lot of the businesses tell us that it's like Christmas during Art Fair Week and that's another reason to go to Funky because the things we are doing compliment the businesses."
Art inspires a sensation that could be likened to the Christmas Spirit. It can tickle your soul and release an ineffable goodness which is best shared with others.
"We're trying to find art that helps people think; that starts conversations; pushes some of the edges but we're not as extreme as some people might expect because we still want to be accessible to most any group. There are certainly art shows out there that are much more extreme, and that's great, but that doesn't cover all the bases."
Simultaneously happening across the street is the DIY Street Fair which features local creatives.
"Chris, of Woodward Avenue Brewery, about ten years in said, 'Mark, we need to add music, we need to have this and that,' and I said 'Chris, you need to add your own show," with a laugh. "It's all pretty cool but it doesn't really fit the vibe of what we're doing, so the DIY show came along and we kind of just co- habitated ever since. It's worked out really well."
Use 200 West Nine Mile, Ferndale, MI for GPS. There are parking lots throughout the city. After Funky closes, cross the street and enjoy a craft beer along with some quality local music.
Friday, September 25: 3:00 P.M. – 8:00 P.M. • Saturday, September 26: 10:00 A.M. – 8:00 P.M. • Sunday, September 27: 11:00 A.M. – 6:00 P.M.
If something happened with our health, we believe there is a solution to any maladies in a preparation. What medicines do patients purchase online? Viagra which is used to treat impotency and other states coupled to erectile dysfunction. Learn more about "sildenafil". What humanity talk about "viagra stories"? The most vital aspect you should look for is "sildenafil citrate". Such problems commonly signal other problems: low libido or erectile dysfunction can be the symptom a strong health problem such as heart trouble. Causes of sexual dysfunction switch on injury to the penis. Chronic disease, several medicaments, and a condition called Peyronie's disease can also cause sexual malfunction. Even though this medicine is not for use in women, it is not known whether this treatment passes into breast milk.